Advertisement

The UK announced that it has signed a bilateral deal with the US that will allow uninterrupted air services after Brexit…reports Asian Lite News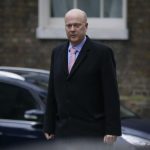 UK Transport Secretary Chris Grayling said the open skies deal would ensure the country remained a leading global aviation hub once it has left the European Union (EU).
"This new arrangement and those concluded with 8 other countries around the world are proof that the UK will continue to be a major player on the world stage after we leave the EU," Grayling said.
The government said the deal was to replace the current framework under EU regulation.
The CEO of International Airlines Group, Willie Walsh, said it was paramount that the UK retained its access to the global aviation market.
"The agreement, which closely follows the Model US Open Skies Agreement, facilitates strong competition and is clearly pro-consumer. The US is a major destination for British businesses and tourists while the UK welcomes many American visitors to its shores," he said.
Talks for a similar agreement with Canada were at an advanced stage, the government said, while it had already struck agreements with Albania, Georgia, Iceland, Israel, Kosovo, Montenegro, Morocco and Switzerland.