Advertisement

Italy has scored a "major victory" in a global health and nutrition resolution passed by the United General Assembly that safeguards traditional Italian food products, interior minister and deputy minister Matteo Salvini tweeted…reports Asian Lite News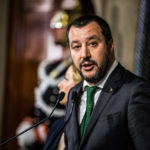 "Major Italian victory at the United Nations. A bid to outlaw typical Italian gastronomic products has been foiled," read the tweet.
"Also thanks to Italy's agriculture minister Marco Centinaio, we have stopped Italian delicacies such as olive oil, wine, ham or cheese being blacklisted on health grounds."
"This is good news for our country and for all our extraordinary producers. For once, also at the UN, common sense has prevailed," Salvini's tweet added.
The text of resolution approved by the UN General Assembly on Thursday made no reference to taxes on or colour-coded labelling for foods that contain unhealthy levels of fats, sugars or salts, proposals contained in a previous draft of the resolution.
Italian farmers had slammed the proposals as a threat to their country's traditional products.