Advertisement

The White House, has confirmed that deputy National Security Adviser Mira Ricardel was leaving her position after First Lady Melania Trump's office issued an unprecedented public statement calling for her ouster…reports Asian Lite News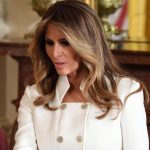 In a statement, press secretary Sarah Sanders said: "Mira Ricardel will continue to support the President as she departs the White House to transition to a new role within the Administration.
"The President is grateful for Ricardel's continued service to the American people and her steadfast pursuit of his national security priorities," CNN reported.
The statement released by Melania Trump's office on Tuesday seemed to come out of the blue and put the focus squarely on Ricardel, who was not one of the more well-known members of the White House team before Tuesday afternoon.
"It is the position of the Office of the First Lady that (Ricardel) no longer deserves the honour of serving in this White House," Melania Trump's Communications Director Stephanie Grisham said in Tuesday's statement.
An informed source said that Ricardel quarrelled with the First Lady's staff over her October trip to Africa on issues including seating on the plane and use of National Security Council resources.
Ricardel seemed to have crossed a line in taking on the First Lady's office over the trip, making what some viewed as challenging requests and being obstinate, a White House official told CNN.
Sources said the President told advisers on Tuesday that he had decided to fire Ricardel but that he was giving her time to clear her desk.
Ricardel served as National Security Adviser John Bolton's right hand woman for nearly seven months.
She was appointed to the deputy national security post in May, one month after Trump named Bolton to replace Gen. H.R. McMaster.