Advertisement

At the UN where often aging politicians and diplomats hold forth on global issues, for a change young YouTube sensation Lilly Singh took the stage to remind them that the future belonged to the youth and they have the key to solving the world's problem…reports Asian Lite News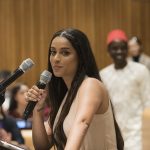 When investments are made in educating the youth, "they become the beacon of light the world needs", Singh, who is also the Unicef Goodwill Ambassador, told the audience of world leaders and youth at the high-level Youth2030 event.
Singh, who is a Canadian of Indian descent, has over 11 million followers on YouTube, has authored the bestseller, "How To Be A Bawse", has a role in HBO's film adaptation of "Fahrenheit 451" and tops the Forbes Magazine Top Influencers List in the entertainment category.
The event saw the launch of the UN Youth Strategy of Secretary-General Antonio Guterres.
Singh said that the world was moving so fast that the platform that brought her fame, YouTube, did not exist 30 years ago.
As someone who did not face poverty, conflict or displacement and found success, she said that when she compared herself to other young people, "I practically feel I won the lottery."
All young people should have access to education and technology, she said.
World Bank President Jim Yong Kim recalled that the watchwords of the rebellious youth of the 1960s and 1970s were "Don't trust anyone over 30".
"Don't trust us," he said, on education spending or climate change. "Make the decision for the world you want to live in."
Guterres said that through Youth2030 — the UN's strategy is to engage with and empower young people — "I want the UN to become a leader in working with young people: in understanding their needs, in helping to put their ideas into action, in ensuring their views inform our processes."
He said: "Too often, young people are excluded by development programmes; ignored in peace negotiations; denied a voice and a seat at the table. At the same time, young people are a vast source of innovation, ideas and solutions."
It will "open new routes to engage and involve young people, and amplify their voices," he added.