Advertisement

The first batch of the Failaq al-Rahman rebels and their families evacuated Syria's Eastern Ghouta area on Saturday evening….reports Asian Lite News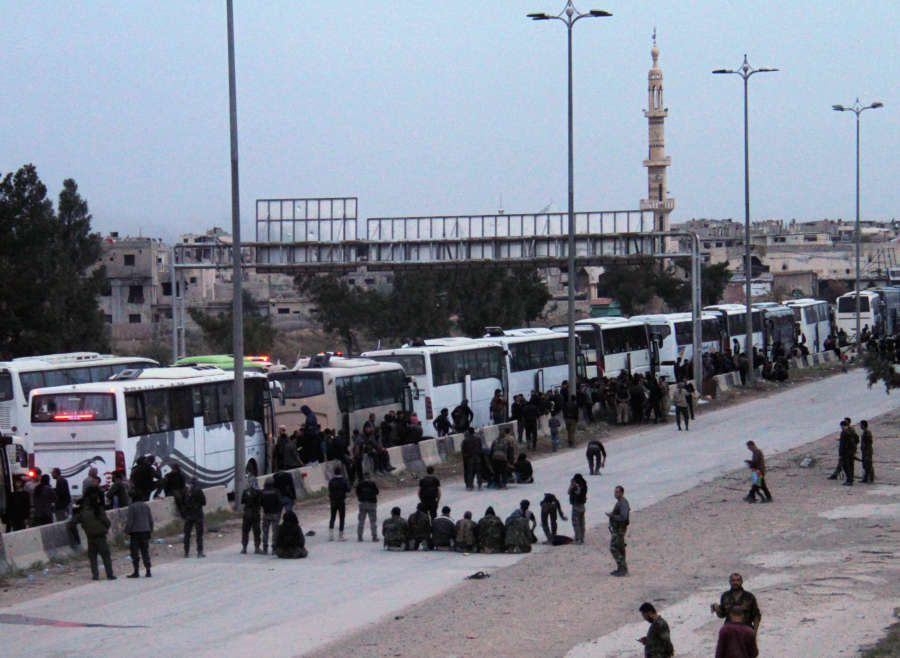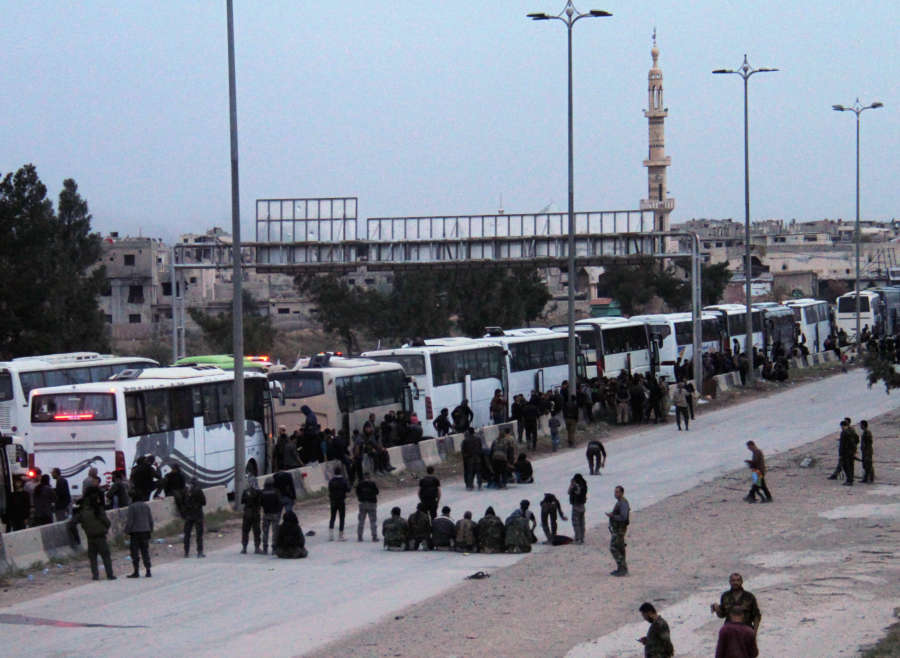 Up to 17 buses transporting 981 rebels and their families evacuated areas in Eastern Ghouta through a crossing point on the outskirts of the town of Arbeen in Eastern Ghouta.
The convoy headed toward rebel-held areas in the northwestern province of Idlib, under a recently-reached deal with the Syrian government under the Russian mediation.
Ahead of the rebels' evacuation, a total of eight people kidnapped by the rebels in Eastern Ghouta were released, as part of the deal that was reached before.
A day earlier, the state TV declared the agreement for the evacuation of Failaq al-Rahman rebels and their families from new areas in Eastern Ghouta countryside.
According to the deal, as many as 7,000 rebels and their family members will leave areas of Jobar, Zamalka, Arbeen, and Ayn Tarma in Eastern Ghouta, and the deal covers the main rebel groups in control of those areas, namely the Failaq al-Rahman, and the al-Qaida-linked Nusra Front.
The agreement will also see the release of kidnapped people by the rebels ahead of their evacuation and lists of names were handed over to the Russian side, the report said.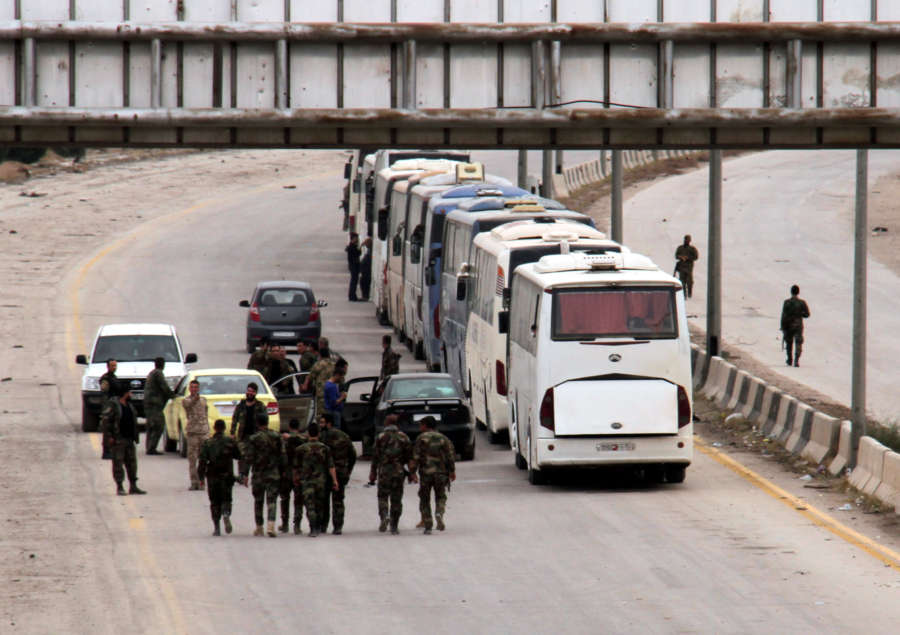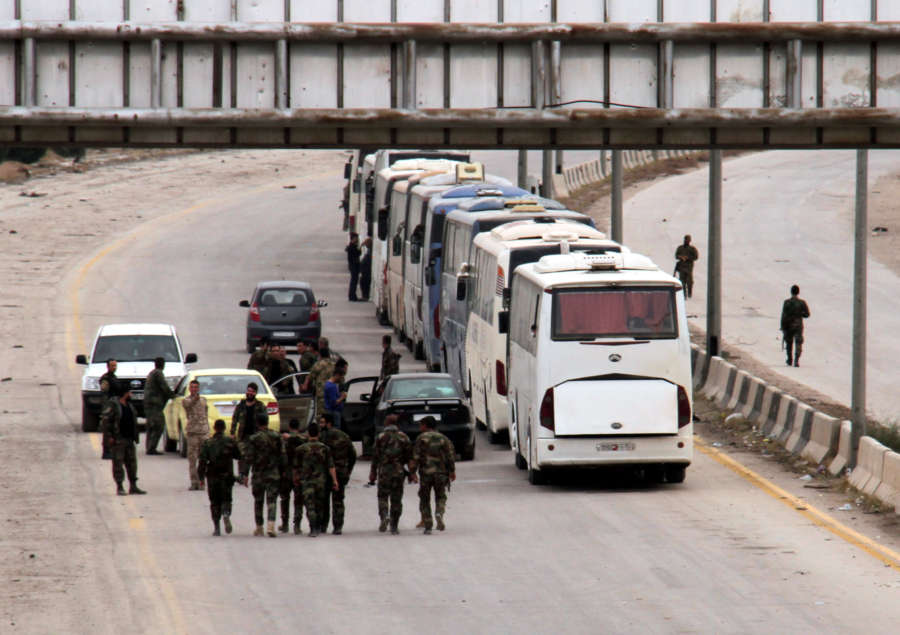 The fresh deal comes a day after the Failaq al-Rahman group declared a unilateral cease-fire to negotiate its withdrawal from the region.
The War Media, the media wing of the Syrian army, reported that the Failaq al-Rahman rebels, or the Rahman Legion, declared a cease-fire in the central part of Eastern Ghouta as of midnight Friday.
These areas have been the launching pad for firing mortar and rocket shells on the Syria capital of Damascus throughout the last seven years of crisis.
This development came as the Syrian army has so far captured over 90 percent of Eastern Ghouta in an offensive that has been dragging on since late last month.
Eastern Ghouta, a 105-square-km agricultural region consisting of several towns and farmlands, poses the last threat to the capital due to its proximity to government-controlled neighborhoods east of Damascus and ongoing mortar attacks that target residential areas in the capital, pushing people over the edge.
Four major rebel groups are currently positioned inside Eastern Ghouta, namely the Islam Army, Failaq al-Rahman, Ahrar al-Sham, and the Levant Liberation Committee, known as the al-Qaida-linked Nusra Front.
The UN humanitarian agencies have sounded the alarm about the worsening humanitarian situation for 400,000 people in that region, where activists said around 1,000 people have been killed since late last month by the heavy bombardment and military showdown in areas of Eastern Ghouta.
As the Syrian army advanced in Eastern Ghouta, tens of thousands of civilians have fled toward government-controlled areas for the first time in six years, with activists placing the number of the civilians that have so far left at 120,000.