Advertisement

In the past two Olympics India have won eight medals and the majority of these have come from athletes managed by the non-profit Olympic Gold Quest programme, led by former hockey skipper Viren Rasquinha…writes Tridib Baparnash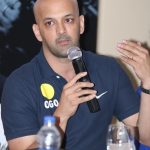 But it hasn't been an overnight journey for Rasquinha and his team, especially in a diverse country like India where sports wasn't a voluntary choice until a few years ago when the likes of Saina Nehwal, Mary Kom, Sushil Kumar and P.V. Sindhu started winning Olympic medals.
None of the Olympic medallists come from well-to-do backgrounds and that's where the challenges of organisations like the OGQ start. And one of the possible solutions these organisations depend on is crowd funding.
Ask Rasquinha about the challenges involved in crowd funding and the former India centre-half counts a number of obstacles involved in the process.
"Crowd funding mainly comes from donations from individuals and corporates but it's much easier to get crowd funding for pressing needs like building toilets, but when it comes to sports the job gets tougher," Rasquinha said during an interaction at the SJFI's inaugural Young Reporters Programme.
"The challenges mainly revolve around conceptualisation, marketing, budget and the time constraint involved in it. In India, crowd funding is more subtle unlike in foreign countries."
Elaborating on the subject further, Rasquinha said crowd funding is easier for individual sports but it isn't a good idea for team sports.
"From our experience when India's ranking in a team sport is over No.100 and want to rise to No.20, it is a long and tedious process. Crowd funding for team sports isn't a very good idea as the process needs to be more specific and involve short term goals," he said.