Advertisement

India's premature exit from the ongoing men's hockey World Cup has raised a few questions, especially on the most experienced player in the current outfit, goalkeeper P.R.Sreejesh, who was held responsible for leaking the deciding goal in the 1-2 loss to the Netherlands in the pulsating quarter-final, a couple of days ago…writes Tridib Baparnash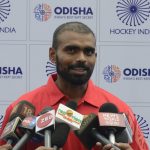 But Sreejesh, the former India skipper and a seasoned goalkeeper, found the backing of another yesteryear star and India's captain during the 1988 Seoul Olympics — Maneyapanda Muthanna Somaya — who felt that the country is still searching for an able replacement for the Kerala custodian.
"Sreejesh is undoubtedly one of the best goalkeepers in the world. He may have had a bad day during the India-Netherlands game but you cannot rule out his contribution to the Indian side's success," Somaya told IANS during an interaction at the SJFI's inaugural Young Reporters Programme.
"Being a goalkeeper any mistake is magnified. The major question is do we have a substitute who could match his standard?
"Normally goalkeepers have a long career and that brings in the maturity. It's not about his age, we have 37-39 year old goalkeepers in other international teams, so that must be just a number," he added.
Somaya also backed the young Manpreet Singh for successfully shouldering the responsibility of the side while maintaining that the midfielder must be given a longer rope with the captain's armband.
"Manpreet is an outstanding captain, he may not be the best of communicators but the way he sends the message to his team is commendable. It takes a great amount of maturity to take over the responsibility of a young team where you also have some experienced campaigners," he said.
"There is no doubt that Manpreet can lead India for a long time. I have never found him wanting on the emotional and physical front that has also helped the team gel together in crunch situations," he added.
Somaya, who served as Executive Director of Bharat Petroleum post his retirement in 1988, urged Hockey India and the team management to allow Manpreet the freedom and weightage to execute his decisions and build a team for the future.
Referring to a question if India missed the services of possibly one of the world's best centre half and the former skipper Sardar Singh during their campaign at the ongoing World Cup, Somaya felt the timing and platform was apt to test and groom a younger player in the midfield before the Tokyo Olympic qualifiers.
"Sardar has been a star performer for the country, in fact the best centre half in the world, but how much did we achieve under him? Maybe we reached the final of some tournaments but did we win?"
"With very little time left for the Tokyo Olympics, I think this was a good chance to groom a younger player who could man the midfield swiftly with Manpreet," he maintained.
"Whether Sardar could have played as fast as a youngster, going into the Olympics, I am doubtful of that fact. May be that was the thought the Indian selection committee gave while picking the side.
"Plus I am not too sure if he had already announced his retirement before the World Cup squad was announced," he signed off.