Advertisement

Mumbai terror attack mastermind Hafiz Saeed's Jamaat-ud-Dawa (JuD) and the Falah-i-Insaniyat Foundation (FIF) are no more on the list of banned outfits after the presidential ordinance that proscribed them under a UN resolution lapsed, a court here was told…reports Asian Lite News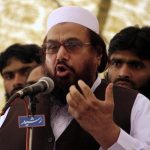 During a hearing of a petition filed by Saeed, his counsel informed the Islamabad High Court that the presidential ordinance had lapsed and it had never been extended.
Deputy Attorney General Raja Khalid Mehmood Khan confirmed that the ordinance had lapsed.
The petitioner had challenged the ordinance under which his organisations had been banned for being on the watch list of the UN Security Council.
In February, former President Mamnoon Hussain promulgated an ordinance amending the Anti-Terrorism Act, 1997, with regards to proscription of terrorist individuals and organisations to include entities listed by the UN Security Council – in a move to declare JuD and FIF as proscribed groups.
Saeed contended in the petition that he established JuD in 2002 and cut off all ties with the banned Lashkar-e-Taiba (LeT), but India continued to malign JuD for its past association with the terror outfit.
The petitioner said he was kept in detention in 2009 and 2017 due to India's pressure.
He added that the UN Security Council had passed a resolution against JuD after which the government of Pakistan put it on the watch list.
The JuD chief termed it against the sovereignty of Pakistan that an ordi­na­nce was issued to ban his organisation.
According to a list updated on September 5 on the National Counter Terrorism Authority's website, 66 organisations have been banned in the country and JuD and FIF were not among them.
However, the two Hafiz Saeed-linked organisations were "under watch by the Ministry of Interior".