Advertisement

Sri Lankan Parliament Speaker Karu Jayasuriya said that in the midst of the political crisis prevailing in the island nation, he was compelled to accept the status of the earlier government till the new political alliance proves its majority in Parliament…reports Asian Lite News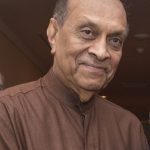 In a statement, the Speaker said that a majority of lawmakers in the 225 member Parliament were of the opinion that the recent changes made in the Parliament were undemocratic and inconsistent with Parliamentary traditions.
"At a time it has been brought to my attention by the majority that the lawful summoning of Parliament has been prevented and the rights of the Members of Parliament have been usurped, in the name of justice and fair play, I have to make my stance known to the world," Jayasuriya was cited as saying by Xinhua news agency.
"I wish to emphasize that I am compelled to accept the status that existed previously until such time that the new political alliance prove their majority in Parliament," he added.
The Speaker said he was further of the opinion that following the request submitted to him by 116 parliamentarians stating that the decision made by the President in sacking Prime Minister Ranil Wickremesinghe was unconstitutional and undemocratic, their call for Parliament to be summoned immediately was also "extremely reasonable".
Sri Lanka has been plunged into a political turmoil since October 26, when President Maithripala Sirisena, in a surprising move dissolved the Cabinet, sacked Prime Minister Wickremesinghe and replaced him with former President Mahinda Rajapaksa.
Sirisena made the decision after his United People's Freedom Alliance pulled out of the national unity government which it had formed with Wickremesinghe's United National Party.
A new caretaker government has since then been appointed, with Wickremesinghe and other political parties calling the move illegal and urging Speaker Jayasuriya to convene Parliament to prove their majority.
On October 27, Sirisena prorogued Parliament till November 16, but on Sunday evening he issued a special gazette notification saying Parliament would convene on November 14.