Advertisement

Russian President Vladimir Putin said all sorts of collaborations were possible among BRICS nations, and that cooperation in the field of art and in humanitarian affairs was being looked into…reports Asian Lite News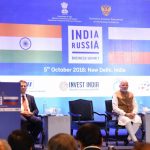 "Be it in the field of finance or economic partnerships, BRICS brings meaningful content to various areas. Art and humanitarian cooperation are all possible.
"We are thinking about it… We will discuss with our colleagues and look at agendas in this direction," Putin said, while interacting with young innovators from India and Russia.
He said interaction among the young people specially school students will contribute to strengthening the relations between India and Russia.
"We can together work in many interesting areas like artificial intelligence and also human intelligence."
Prime Minister Narendra Modi and the Russian President jointly interacted with a group of 20 talented students — 10 Indian and 10 Russian — who are currently part of a collaborative innovation workshop in IIT-Delhi.
Putin appreciated the efforts made by scientists towards the development of the world, saying: "I really envy those who have devoted their lives to science. Science as an art is the most significant thing that one can do."
"Humankind exists with developments in science and mathematics. We should understand it in a broader sense. It is also very important to research the origins of the universe.
"States like India and Russia that enjoy good scientific growth should work in this direction," he said.
Modi said the innovation workshop, combining the students of Russia and India, was a great present to him by Putin.
"I share a very strong friendship with President Putin. The best gift from him for me is that he gave me a chance to meet all you talented kids.
"For the future of Russia, President Putin's biggest contribution is that he utilised his intelligence and emotions in this direction (indulging with the young innovators)," he said.
Urging the youngsters to have a scientific temper, he said: "You have to have a scientific temper to show what can be be given to the world, to the poor and the future generations."
"At every stage, we need to have a scientific temper… Without innovation, the world would have been stagnant," Modi said.