Advertisement

US President Donald Trump and First Lady Melania Trump lit the National Christmas Tree outside the White House and wished all Americans a "Merry Christmas"…reports Asian Lite News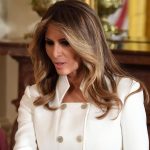 The tree is located at the Ellipse in President's Park south of the White House.
On Wednesday night, Trump gave the honour of lighting up the tree to Melania, who flicked the switch after a countdown initiated by the President and seconded by attendees to discover a tree illuminated in green and red.
"Merry Christmas, everybody," Trump exclaimed after dedicating a few words to those affected by the "devastating wildfires, destructive hurricanes and terrible tragedies" that have plagued the United States in recent months.
Around the large National Christmas Tree, as usual, 56 smaller trees were installed, whose decorations were designed by school children dedicated to each of the country's 50 states and territories, including Puerto Rico.
Before the ceremony, the First Lady defended the red Christmas trees she has installed inside the White House which generated some controversy.
"We're in the 21st century, and everybody has a different taste. I think they look fantastic. I hope everybody will come over and visit it. In real life, they look even more beautiful. You are all welcome to visit the White House, the people's house" Melania Trump told reporters accompanying her.
This year's White House Christmas decorations' theme is "American Treasures", where the colour red has made a big appearance with 40 towering crimson topiary trees in the East Colonnade and on 14,000 ornaments in the Grand Foyer and Cross Hall.
The First Lady's office described the red motif: "The choice of red is an extension of the pales, or stripes found in the presidential seal designed by our Founding Fathers. It is a symbol of valour and bravery".
This holiday season, the White House will host 100 December open houses and receptions, the same as last year. And they expect 30,000 visitors to walk through the halls on holiday tours.