Advertisement

An interview with Padmabhushans Radha Raja Reddy -Kuchipudi dancing couple, gurus and choreographers. Their names are synonymous with Kuchipudi dance form and are regarded as being solely responsible for bringing it on the cultural map of the world. An exclusive with the legendary greats by Richa Grover for Asian Lite News.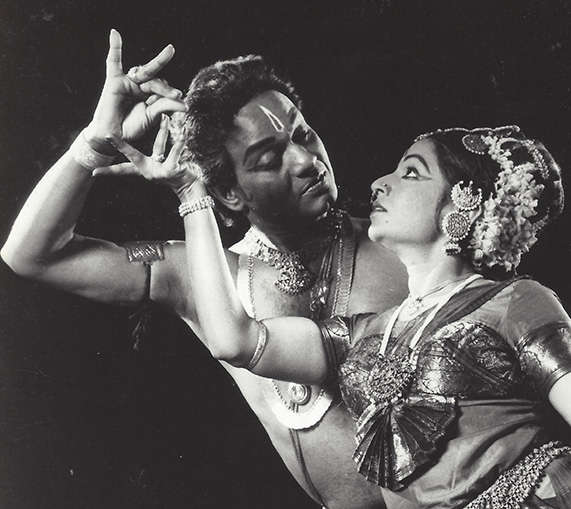 At what age did you both start learning to dance and how old were you when you committedly started your dancing career? Tell us about your early days in the field of kuchipudi.

Since childhood both Radha and I used to watch the Bhagavatham and Yakshaganam (street plays) which were very popular in our region at the time.  Our families used to regularly sponsor such troupes and so, we got manyopportunities to watch these plays.  As we grew both of usnurtured a secret desire to be Kuchipudi Dancers but since we belonged to agricultural landlord families considered a higher caste at the time, it was not permissible. Being a boy, I would trail these groups of professional dancers when they visited our villages, but Radha could only spend hours in privacy with her friends trying to mimic the dance postures and movements that they had seen on stage. Eventually we ran away from our home to pursue our dancing dreams.
It was only when I was 20 that I along with Radha moved to Eluru, West Godavari District, the town of our Guru, Sri Vedantam Prahalada Sarma  to be to learn dance from him. I was taught only Tandava aspects and Laasya aspect was taught to Radha by our Guru.  We also received tutelage under at Kuchipudi Village under Sri PVG Krishna Sarma.
Thereafter we received a scholarship from the government tolearn choreography from Smt. Maya Rao in Delhi. Maya Rao was one of the leading choreographers at the time and had received choreography training in the Soviet Union. It was here that we came to understand how the world of dance was progressing and we began to work towards bringing more professionalism and creativity in our performance so that it suited the modern stage.

What is the essence of kuchipudi dance form setting it apart from other Indian classical dance forms and how and why was it you chose to pursue kuchipudi?

Kuchipudi Dance is combination of Temple Dance (Devotion) as well as Theatre (Bhagavatham and Yakshaganam).  It also consists of the Tandava(Purusha/majestic)and Lasya (Prakriti/lyrical) elements.  Kuchipudi as a dance form connects to the audience in a better way since it encompasses Natyadharmi (Conventional)and Lokadharmi (Realistic) which evokes Rasa in the audience. 
Kuchipudi Dance originated from Telugu Land (now Telangana and Andhra Pradesh) and since it is our native place we grew up watching this form of dance. Constantly watching this form of art kindled an interest and initiated us on our journey.  

What is the role of discipline in the life of a professional classical dancer? How long on an average have you dedicated to practice each day?

Discipline plays an integral role if one desires to achieve any goal.  Classical Dance, as a form of art in itself needs lots of dedication and Sadhana (practice).  If one aspires to achieve heights in life, self-discipline is the key to it. A daily routine is helpful in keeping the body fit and nimble. As Kalidasa said :
'Shariramadyam Khalu Dharma Sadhanama'
It is our foremost duty to keep the body fit as it is the best instrument to reach the goal of life.
Just like a musician keeps his flute or violin tunes, a dancersbody is our instrument which we need to keep tuned in order to be able to dance beautifully. On our journey towards pursuing this art, we used to practice for 6-8 hours on a daily basis and the practice was not limited to dance movements but also included learning of meaning and essence of the same which helped us get into the character of the performance.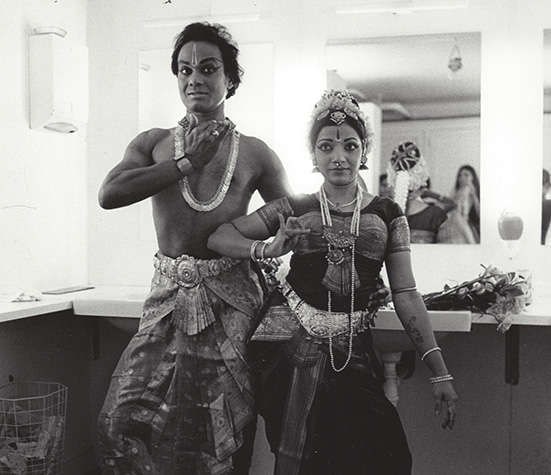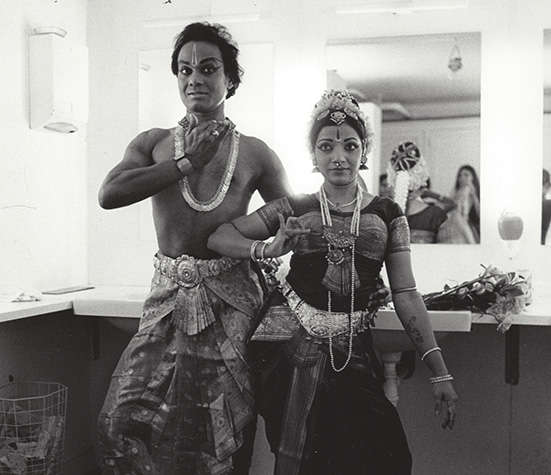 Was this journey to international acclaim and national honours a tough one? What are the challenges that face classical dancers that deter them at times to commit to dance as a full time profession in India?
Frankly, when we began our journey in this beautiful form of art, there was nothing but immense passion for this dance form and we never imagined that we would reach so far.  The beginning of our career was full of challenges. Shunned by our families we had no financial support. We had to work to support ourselves and pursue our passion at the same time. We had no mentors and no network to support us. But we did not give in to these hurdles and kept on bouncing back even when we were pushed to the limits.  We always believed 'where there is a will there is a way', and as we worked hard opportunities presented themselves and were able to make them work in our favour.
In India, dance as a full time profession does not fetch the dancers the kind of emoluments that are sufficient to run their household affairs. The struggle is long and hard and very few succeed. As result we lose a lot of good dancers to circumstances beyond their control.
Tell us how you both synchronise your performances? Is it challenging at times? What are both your strengths and weaknesses when it comes to performances together?
As I told you, both myself and Radha grew up watching the Bhagavatham and Yakshaganam plays and fortunately both of us had keen interest in this dance form.  Growing up, learning and hence practising together also played a vital role in our synchronisation. We also went all of life's hardships together which built in us a great understanding and ambition to succeed. We also nurture a healthy competition amongst which keeps us challenged and motivated. 
We represent in our dance the balance of feminine and masculine energies of man and nature and this is what creates a great conviction in our audiences.
Do you use your art form and choreographies to address social issues that are relevant to the times? Do you think art has a role to play in social development and change?

Dance has always been a representation of man's deepest desires. Man has always danced to express himself. Even in the times when Yakshaganas used to travel from village to village to entertain and educate people occasionally they would take up social issues and present before the ruler. So dance as tool of communication and especially of socially issues is not new and it certainly hasn't stopped. In one our productions 'Bharatha Bharathi' revolves around respect for all religions, peace, non-violence and truth to prevail in our society.  Another production of our, 'Rasaanubhuti' is enactment of Nine basic emotions which underlies human existence.  In this, for each emotion, we endorse issues prevailing in our society. 
We feel that the matters related to social development can be very well brought up through the medium of art since we have focused audience in front of us and the message can be well conveyed. Dance usually strips it bare and touches the soul by conveying messages very subtly. More by invoking a feeling in its audience rather than directly preaching. And as dancers we feel privileged to be involved in this art and having this power to reach people.
Please share with us the various ways and means by which you have made Kuchipudi popular in north India and the world?
When we came to Delhi, on government of Andhra Pradesh scholarship to train in the art of choreography, we did not have any set platform for us except our single-minded dedication towards this art helped us and this instigated us to move ahead and hone our skills. We brought in new techniques of presentation which made Kuchipudi more suitable to the modern stage. In fact, we are the first dancing couple to present Kuchipudi dance in its full-length recital form. We have systematised the presentation of solo, duets, groups and glimpses of traditional dance dramas to suit the modern generation. As a dancing couple when we come on stage as the male and female energies we bring out the beauty of Kuchipudi dance :
'Sringara Veera Souhaardam Lasya Tandava Saujanyam'.
Since Kuchipudi is a dance form, from Telugu land (Andhra Pradesh and Telangana) hence the music and verses used to be in Telugu and Sanskrit but because of our international exposure and the time we spent in northern India we introduced Hindi and Urdu verses in Hindustani Classical music to Kuchipudi in order to connect to a larger audience. When suitable we have also used English verses without compromising authenticity of the dance form.
It is clearly mentioned in the granthas particularly Natya Shastra, the sacred book for dance, that the language as well as music for dance can be changed if it creates a greater conviction in its audience.
We are solely responsible for bringing Kuchipudi to cultural map of the world.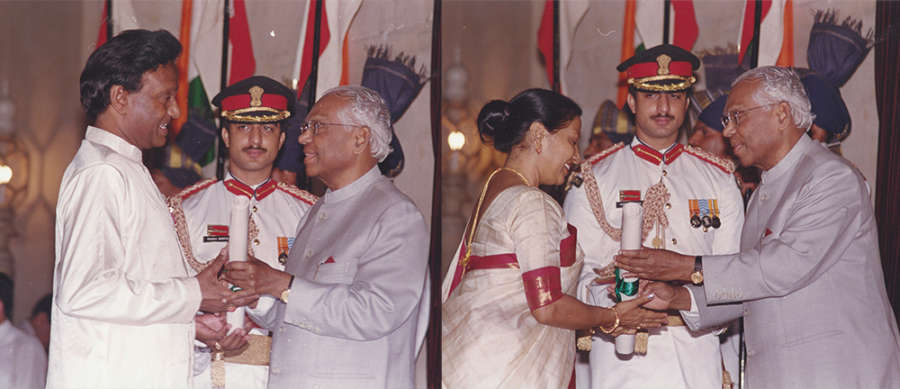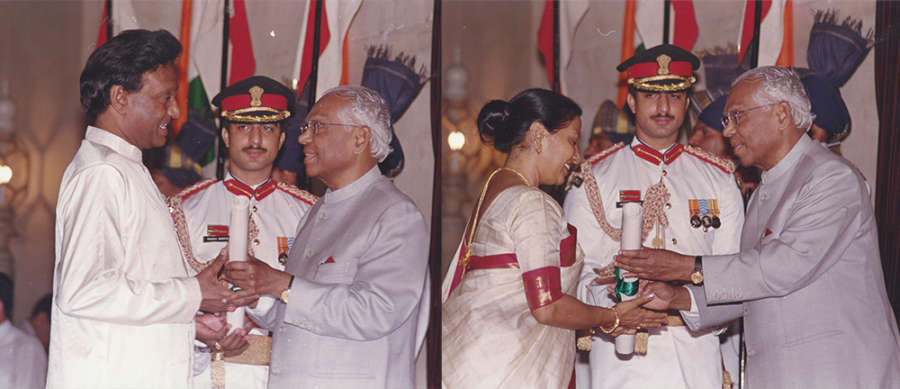 How do you define success and what does it mean to you? What words of wisdom would you give young artists who are looking for shortcuts to success and stardom? What and who do you give credit to for your success?

We feel that when we work single-mindedly towards our aspirations, success is bound to come.  Our sincerity and honesty are the key which helps us to achieve the unattainable goals.  Our advice to youngsters is that 'there is no short-cut to success'.  Just pursue your dreams with full sincerity without giving up and the Universe will find a way for you to achieve your dreams.
As far as we are concerned, we were fortunate that both of us were destined to come together not only as life partner but also as partners who shared the same passion i.e. our love for Kuchipudi Dance.   That being the starting point, our hard work and not giving up in the face of adversities moved the universal powers to help us achieve great success in life. Along the way we have had many well-wishers who believed in us and in our work. 
What are your upcoming shows, projects and events that you are working on that your fans and audiences can look out for? Any plans of a show in UK anytime soon?
'Mahanatam', the Lasya–Tandava combination is one of our project which has toured three continents, has won much international and national acclaim.  Besides this, 'Bhagavadajjukeeyam' a satirical drama written by Bhodhayana around the advent of Chrisitian era with a stress to ridicule and make fun of the then living style of Buddhist monks who came into its fold not by love of it but as it offered an easy livelihood, has been presented in Delhi as well as other parts of the country and it has been appreciated and acclaimed by the audience.  Last year we premiered'Rasaanubhuti' based on the Navarasas or nine sentiments to Delhi audience which was very well received. We hope to tour with this world wide soon.  
At present we do not have any plans for a show in UK. But do hope suitable platforms will present themselves in the future.
Any words of inspiration to young aspiring professional kuchipudi dancers worldwide? What's your vision for thefuture of kuchipudi dance form?
We would urge the younger generation to put in their heart and soul to learn not only the dance movements but also to learn the depth of Sahityam (literature), so that they can bring out the essence of the dance in a better way.  We find a lot youngster presenting dance items without paying much attention to researching the subject in depth hence often making callous errors.
We also urge them not compromise on the grammar of the dance form while experimenting Saadhna and dedication are the two things they should cling on to.  
Because of its uniqueness of being combination of Nritta(pure dance), Nritya(rhythmic gestures with expressions) and Natya(Drama) Kuchipudi Form of Dance has a brilliant future since more and more audience can connect to it and this is evident from the number of youngsters who are joining in to learn this dance form.