Advertisement

Actor-turned-politician Shatrughan Sinha, who has been critical of Prime Minister Narendra Modi and BJP President Amit Shah, is keeping the cards close to his chest about whether he would join the Rashtriya Janata Dal and contest the coming Lok Sabha elections on its ticket…writes Subhash K. Jha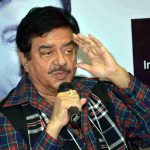 "I've been advised by my family to not make any official announcement till January 14. The time is not right until then. But my closeness to and fondness for Laluji and his family is no secret.
"As far as contesting the 2019 elections goes, my constituency will always be Bihar. Once a Bihari Babu always a Bihari Babu," he said.
He was replying to a question whether he was officially joining hands with the jailed RJD leader Lalu Prasad, whom he met in prison in Ranchi recently.
Sinha, who has been attacking his party too, said BJP was practising politics of vendetta on him.
Excerpts from the interview
Shatruji, what is this about the VIP treatment being withdrawn at airports for you?
It is nothing but the politics of vendetta being followed by the honourable Prime Minister's dedicated soldiers who think he will be pleased with such malicious attempts to pull me down.
But why give such privileges in the first place?
I wasn't given the so-called VIP treatment to make me feel important. It is for health reasons that I am driven directly to the flight. Otherwise I am happy to mingle with the janata. I've been as close to them all my life as possible. I'd happy to travel economy class.
Then why the VIP treatment?
Like I said it's for health reasons. After my heart operation, I was advised not to exert myself. After the leg operation I've been forbidden from walking long stretches.
The reason being given for the withdrawal of the privilege is one of security?
The entire airport authority escorts me to the aircraft, and suddenly I am a security threat? Is this some kind of a joke? As I said this is merely vendetta politics.
Do you think it's to do with your joining hands with Lalu Yadav?
Of course it is! They first withdrew the privilege, as you call it, from Laluji and now me. And mind you other politicians like Ram Vilas Paswan have been given the VIP privilege at the airport. Why am I being singled out for this treatment?
You tell me?
Nowadays you have to make friends with the friends of those in power. Some of my colleagues from the film industry are very good at doing that. I can't pretend to like my political compatriots if I don't like them. Nor can I pretend not to like those whom I am close to.