Advertisement

The new Tamil Mammootty-starrer "Peranbu" which opened on February 1 and which has been described variously by critics as a masterpiece and a life-changing experience, left me wishing it was both but is actually neither a masterpiece nor a life-changing experience, for, the life that it offers to those who are born less equal than others, is not acceptable to any person with even a shred of sensitivity or self-regard…writes Subhash K. Jha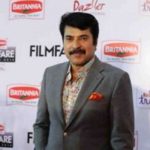 "Peranbu", which means "Resurrection" in Tamil, is not so much about resurrection as mortality, the slow death that we die every day as life drags us down to levels we are not willing or even able to accept. It is about a spastic girl, Paapa's growing-up years with her single parent, her Papa Amudhavan, played by Mammootty.
I am not going to savage the performance of the girl playing the spastic character. Let's just say she's even more annoying than Anushka Sharma in "Zero".
Now, Mammootty is an actor of reformative abilities. He can change in front of our eyes from a boorish uncouth misogynistic cop in Kasaba to a loving, though disturbingly distant father in this film.
Really, more than a tremulous ode to the father-daughter relationship "Peranbu" is a hat-tipping counter-homage to the patriarchal domination of the South Indian industry where the male heroes can get away with any kind of violence against women, from getting them kidnapped and molested to referring to their menstrual cycle in a less than respectful manner on screen ("Kasaba").
Mammootty as the empathetic father in "Peranbu" is so sensitive to the girl's anatomy and its changes that she cannot comprehend, it's almost like he's exchanging places with his disabled daughter to feel her pain. He gently feeds her, makes faces to humour her (all in one long-shot displaying the transformative superstar-actor's bravura talent), cleans a dirty bathroom with his own hands so she could use it and buys and applies the sanitary napkin when she has her periods.
Kamal Haasan in "Sadma" couldn't have done more for Sridevi.
Jesus Christ, this is not a man. He is an angel in disguise. To his credit, Mammootty manages to manoeuvre his cornily saintly character into the hemisphere of the human. But I still got the feeling that this was a superstar trying to muster all the sensitivity that he can towards the female sex.
"Peranbu" is like one tall order picked from a posh menu to placate the universal appetite for posh pacification. Mammootty shines in every frame, as only the most skilled cinematography (Thani Eashwar) can make him. His eyes convey aeons of pain and resignation. It's the look of a man who has come to terms with his immovable destiny of doom.
There are no enduring glimmers of hope in Amudhavan's life. His wife has left him to let him look after their spastic daughter who is quite a handful. She is whiny, demanding and unreasonable. And when she attains puberty she begins to ogle at boys on television and from her window. It doesn't take Paapa's papa long to figure out what Beti wants…So he goes looking for a suitable male sex worker.
Wait, there is more of this – all progressively non-progressive self-annihilative methods of punishing oneself for fathering a damaged child. The film suggests that atonement in such a circumstance can be had by subjecting the patriarch to almost three hours of humourless parenting, punctuated by bouts of preposterous self-flagellation.
I came away from "Peranbu" feeling ravaged and guilty. This joyless humourless sunless ode to fatherly self-punishment is like a lengthy interrogation at a police station where a man is questioned and tortured for a crime he never committed until he finally accepts his guilt just to escape the torture. It is a punishing disengaging film that forgets cinema is supposed to serve one other vital function apart from rumination.
Entertainment. A component tragically missing in this film that serves as a serious unwitting campaign for institutes for disabled children. Or how about just protected sex?