Advertisement

US President Donald Trump has said that China "broke the deal" in trade talks, ramping up hostilities ahead of negotiations between the two sides to end a tit-for-tat trade war…reports Asian Lite News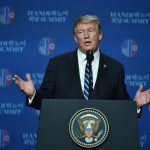 On Twitter, Trump accused Beijing of attempting to run out the clock on his administration in the assumption it will be dealing with a Democratic administration after 2020, CNN reported.
Speaking at a rally in Florida later Wednesday, Trump said the new tariffs were because China "broke the deal".
"You see the tariffs we're doing?" the President asked his supporters. "Because they broke the deal."
"The (Chinese) Vice Premier is flying in tomorrow (Thursday), good man, but they broke the deal. They can't do that," he added.
"If we don't make the deal, nothing wrong with taking in over 100 billion a year. We never did that before."
His remarks came afterthe Chinese government also on Wednesday threatened to retaliate, as its top trade negotiator, He was heading to Washington for what was supposed to be among the last rounds of discussions with US tradenegotiator Robert Lighthizer and Treasury Secretary Steven Mnuchin.
In a tweet on Sunday, Trump promised to raise tariffs on $200 billion of Chinese goods, sending markets plummeting. The tariffs are to come into force on Friday.
Trump has also said the US could hit another $325 billion of Chinese goods with a 25 per cent tariff "shortly".
Despite that, the two sides are due to hold trade talks in the US on Thursday.
Tariffs on $200 billion of Chinese goods were supposed to rise to 25 per cent from 10 per cent at the start of the year but that was postponed as negotiations advanced.
The two sides have already imposed tariffs on billions of dollars worth of one another's goods, creating uncertainty for businesses and weighing on the global economy, said the BBC.
The International Monetary Fund has said the escalation of US-China trade tension was one factor to have contributed to a "significantly weakened global expansion" late last year as it cut its 2019 global growth forecast.