Advertisement

Russia has acknowledged that it has military personnel in Venezuela, saying the deployment is legal and does not alter the delicate balance of power in the region…reports Asian Lite News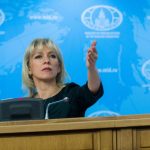 In a briefing on Thursday in Moscow, Foreign Ministry spokeswoman Maria Zakharova said that "Russian specialists" were on Venezuelan soil but declared their deployment to be "in accordance with the provisions of the bilateral intergovernmental agreement on military-technical cooperation" between Moscow and Caracas.
Asked at the briefing by CNN how long they would be deployed, she replied that the personnel would remain in Venezuela "for as long as needed, and as long as the government of Venezuela needs them".
Moscow has continued to back embattled Venezuelan President Nicolas Maduro, while Washington and more than 50 other nations recognise Juan Guaido, the head of the country's National Assembly, as the South American country's interim president.
Zakharova provided few specifics about the activity of the personnel but said their presence "doesn't violate international law, doesn't change the balance of forces in the region".
She added that Russia had delivered a shipment of humanitarian aid at the request of the Maduro government.
Kremlin spokesperson Dmitry Peskov said on Thursday that Russia was within its rights to send military specialists to Venezuela, CNN reported.
"Russia has a longstanding, highly developed and mutually beneficial relationship with Venezuela," Peskov said in a conference call with the media.
"Russia has contractual obligations based on previously signed documents, contracts to supply special equipment. To implement these contracts, Russia is taking the actions that its taking."
Peskov said Russia's relations with Venezuela should not worry third party countries.
The revelation comes a day after US President Donald Trump urged Moscow to "get out" of Venezuela following reports that Russian planes were arriving in the country.