Advertisement

New York city Mayor Bill de Blasio will officially launch his bid to contest the 2020 presidential election…reports Asian Lite News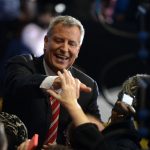 De Blasio's entrance into the race will bring the total number of Democratic candidates to 23, including Indian-origin Senator Kamala Harris and former Vice President Joe Boden, with nearly nine months before the first votes are cast.
An informed source told CNN on Wednesday that de Blasio will head out on the trail almost immediately following an appearance on ABC's Good Morning America where he will announce his candidature and then travelling to Iowa and South Carolina on his early itinerary.
The two-term Mayor, who in 2017 became the first Democrat re-elected to office in more than three decades, joins the race after months of deliberations.
De Blasio plans to highlight his record of liberal accomplishments in the nation's largest city, including enacting universal pre-kindergarten, raising the minimum wage to $15 an hour, and overseeing a drop in crime to an all-time low.
With an estimated 8.6 million residents, New York city has a bigger population than 38 states, including Washington, Colorado and Montana, whose governors or former governors are also running for President.
But only 36 per cent of the New Yorkers said that they have a favourable opinion of him, according to a recent poll from Quinnipiac University.
Given the city's unique global importance, de Blasio has overseen a police force involved in anti-terrorism and hosted world leaders at the UN, which is headquartered in New York.
De Blasio's predecessor, Michael Bloomberg, was also rumoured as a potential 2020 candidate but said in March that he would not run.
He is the last major candidate expected to enter the 2020 Democratic field, though there still might be surprise additions later.