Advertisement

Russian President Vladimir Putin and visiting US Secretary of State Mike Pompeo said that the two countries are willing to mend ties and build up cooperation…reports Asian LIte News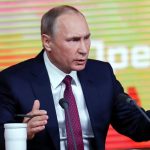 Before a closed-door meeting with Pompeo, Putin said he had an impression from a phone call with US President Donald Trump on May 3 that the latter is willing to restore US-Russia relations and jointly resolve issues of mutual interest.
"For our part, we have repeatedly said that we would also like to restore the relationship in full format. I hope that now the necessary conditions are being created," Putin told Pompeo.
Putin praised US special counsel Robert Mueller for "an objective investigation" that confirmed the absence of all traces of collusion between Russia and the current US administration.
The Russian President said Russia and the US have common interests in maintaining strategic stability, non-proliferation of weapons of mass destruction, resolving regional crises, fighting organised crimes, solving environmental problems, anti-poverty, and economic partnership.
Pompeo said that Washington and Moscow have different positions on some issues, but they also share interests and have potential to cooperate and work productively.
After the meeting, Kremlin aide Yuri Ushakov said Pompeo told Putin that Trump is ready to hold talks with the Russian leader during the G20 summit in Japan's Osaka in June.
Ushakov told reporters that Tuesday's meeting did not bring about a breakthrough in the Russia-US relations, but the discussion was still good and meaningful as the US side showed signs of a constructive approach toward an improvement in bilateral relations.