Advertisement

US President Donald Trump has dismissed a recent alleged breach of his Florida resort, saying he was "not concerned" about the incident…reports Asian Lite News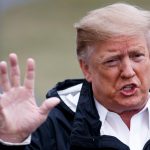 "No, I'm not concerned at all," CNN quoted Trump, when asked about the potential Chinese espionage at his Mar-a-Lago club.
Trump described an alleged breach of his club by a woman with Chinese passports and a flashdrive containing malware as a "fluke situation".
"I think it's just a fluke situation and I think the person sitting at the front desk did a very good job," Trump said, saying he's been briefed on the incident.
He added that the receptionist "was able to see things that other people were not, but no, I think it's just a fluke".
Trump's comments come as the Federal Bureau of Investigation (FBI) has begun investigating the security breach incident for the possibility that it was an espionage effort, a US official told CNN.
The investigation comes at the same time that a top House Democrat asked for a briefing on the security at Trump's Florida retreat.
The official said the FBI is doing what it has to do in these circumstances, when there is a foreign national involved and there is a possibility of counterintelligence or cyber security issues.
Federal prosecutors have unveiled charges against Yujing Zhang, a woman whom they accused of entering the President's resort illegally last month.
The Justice Department said Zhang was carrying two Chinese passports, and prosecutors have charged her with making a false statement to a federal officer and entering restricted property.