Advertisement

After the completion of the proposed merger of Gruh Finance into the lender, Bandhan Bank is looking to give a big push to affordable housing sector and has plans to further dilute the promoter's holding in it to 40 per cent…reports Asian Lite News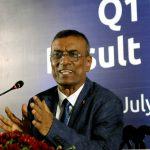 "We have got the approval from the RBI (for the proposed merger). Now we are awaiting permission from the SEBI and after that, we will approach NCLT," the bank's MD and CEO Chandra Sekhar Ghosh said.
Post-merger, the shareholding of Bandhan Financial Holdings Limited (NOFHC) in the bank would reduce from 82.3 per cent to 61 per cent.
"Ultimately it will go down to 40 per cent for which there is good plan for that," he said.
According to him, there has been a good demand for affordable housing with the demand pegged at two crore units.
"We will give a push for affordable housing," he said.
The lender on Thursday opened a new branch in Burrabazar, Kolkata, upping its bank branch count to 981.
By the end of this month, the city headquartered bank plans to open five more branches which will take its branch count to 986.