Advertisement

External Affairs Minister S. Jaishankar, who filed his nomination for the Rajya Sabha from Gujarat, will join a battery of luminaries to represent the state in the upper house of Parliament…reports Asian Lite News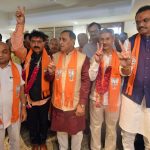 Jaishankar, who was the Foreign Secretary during the first Modi government, was inducted into the Union Cabinet by Prime Minister Narendra Modi after returning to power again.
Among the others, who went to the Rajya Sabha from Gujarat were former President Pranab Mukherjee, senior Congress leader Ahmed Patel, veteran BJP leader L.K. Advani, former Finance Minister Arun Jaitley and former BJP chief Bangaru Laxman.
Mukherjee was elected to the upper House from Gujarat in 1981 and represented the state till 1987. After holding prominent ministerial posts in various Congress government, Pranab da, as he is popularly known, went on to occupy the country's top position – of the President – in 2012.
Patel, who is the Treasurer of the Congress and a former political adviser to Sonia Gandhi, has been representing Gujarat in the Rajya Sabha since 1993.
BJP patriarch Advani became a Rajya Sabha member from Gujarat in 1976 as a Bharatiya Jana Sangh. The BJP came into being in 1980. Advani served as a party president and later went on to become Deputy Prime Minister in the Atal Bihari Vajpayee Government in 1999.
Jaitley was elected to the upper House from Gujarat for three consecutive terms starting from 2000 till 2018. Finance Minister in the first Modi government, he had opted out of the second due to ill-health.
The BJP's first Dalit President Bangaru Laxman was elected to the Rajya Sabha from Gujarat in 1996 when he was heading the party.