Advertisement

South Korean President Moon Jae-in said he was confident that a second summit between his US counterpart Donald Trump and North Korean leader Kim Jong-un would be held soon…reports Asian Lite News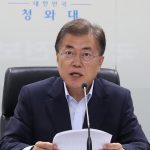 Delivering his New Year's address, Moon said that Kim's visit to Beijing earlier this week showed that a second US-North Korean leaders' summit was imminent.
"I believe Chairman Kim's China visit is a sign that the second North Korea-U.S. summit is not far away. China has continued to play a positive role in the process of inter-Korean dialogue, as well as U.S.-North Korea talks", Moon said.
In the televised press conference from the Cheong Wa Dae presidential office, he also urged Pyongyang to take more concrete measures towards denuclearizing the regime.
"I believe North Korea needs to take practical denuclearization steps more boldly if it wishes to resolve the issue of international sanctions because the issue of international sanctions depends on the speed of North Korea's denuclearization process", Moon said, although he also stressed the need for the international community to show reciprocal steps to hasten the process.
Moon's remarks came after Chinese state media reported that Kim during his talks with Chinese President Xi Jinping in Beijing, said his country will make efforts for the second summit with the US leaders to achieve results that will be welcomed by the international community.
During the talks, Kim said North Korea will continue sticking to the stance of denuclearization and resolving the Korean Peninsula issue through dialogue and consultation, according to Xinhua news agency.
Kim said he hoped that relevant parties will attach importance to and positively respond to North Korea's legitimate concerns, and jointly push for a comprehensive resolution of the Korean Peninsula issue.
Kim's visit to China this week was his fourth in the last year and came amid reported preparations for a second meeting between Kim and US president Donald Trump to resume denuclearization talks.
The first meeting between Kim and Xi in Beijing took place ahead of North Korea's participation in the Winter Olympics held in South Korea, which kicked off a process of rapprochement between the two Koreas.
The other two summits with Xi in May and June occurred soon after Kim's meetings with South Korean President Moon Jae-in, and with Trump in Singapore.
During the Singapore summit, the US and North Korea agreed to work towards denuclearization in return for security guarantees from Washington.
Talks are currently stalled due to the lack of a clear disarmament road map.