Advertisement

Israeli Prime Minister Benjamin Netanyahu has slammed the legal authorities over several ongoing corruption investigations in which he is a suspect…reports Asian Lite News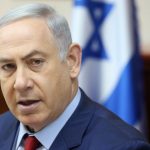 In a televised statement broadcast nationwide, Netanyahu accused the police of mistreating him in order to sabotage the election campaign.
"The investigation against me is biased," Netanyahu said
"During my investigations, I demanded a face-to-face confrontation with witnesses. I was refused. I asked again. I was refused again," he said.
"Today, I repeat that demand and as far as I am concerned, it should be on live television," he added.
Netanyahu and his associates, including his wife Sara, are entangled in a series of criminal investigations over bribery and other corruptions.
In February last year, the police recommended to indict Netanyahu for a series of corruption charges including bribery, fraud, and breach of trust in two other cases, "Case 1000" and "Case 2000".
In "Case 1000," Netanyahu and his family allegedly received expensive cigars, champagne, and jewelry worth about 1 million new shekels (about $268,200) from the Israeli businessman and Hollywood tycoon, Arnon Milchan, and Australian businessman, James Packer, between 2007 and 2016.
In "Case 2000," Netanyahu allegedly received bribes from Arnon Mozes, the publisher of Yedioth Ahronoth, one of Israel's largest newspapers.
According to the police, Netanyahu and Mozes held talks over an "exchange deal," in which Netanyahu would receive favourable coverage in Yedioth Ahronoth in return for promoting a bill and other measures that would limit the distribution of Israel Hayom, Yedioth's main rival.
The police announcement cast doubts on Netanyahu's ability to end his current term, with the opposition calling for his immediate resignation.
Another case involved Netanyahu and the country's largest telecom company, Bezeq.
General Attorney Avichai Mandelblit has yet to decide whether to indict Netanyahu over these cases.
In recent days, media reports said that Mandelblit intended to take the decision before the snap elections in April after a hearing.