Advertisement

New Zealand Prime Minister Jacinda Ardern has called for a global fight to root out racist right-wing ideology following last week's deadly attack on two mosques in Christchurch…reports Asian Lite News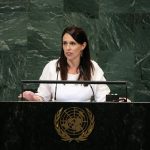 Talking about the rise of right-wing nationalism she said: "This was an Australian citizen but that is not to say that we do not have an ideology in New Zealand that would be an affront to the majority of New Zealanders".
She said there was a responsibility "to weed it out where it exists and make sure that we never create an environment where it can flourish".
"But I would make that a global call," she said, adding that "what New Zealand experienced here was violence brought against us by someone who grew up and learned their ideology somewhere else".
"If we want to make sure globally that we are a safe and tolerant and inclusive world we cannot think about this in terms of boundaries."
Ardern also rejected the idea that a rise in immigration was fuelling racism and defended New Zealand's record on accepting refugees.
"We are a welcoming country. I utterly reject the idea that in any way in trying to ensure that we have a system that looks after those who choose to call New Zealand home, that we have perpetuated an environment where this kind of ideology can exist," she said.
Fifty people were killed and dozens injured when 28-year-old Australian national Brenton Tarrant opened fire in two mosques in New Zealand's Christchurch on March 15.