Advertisement

When the NHS is struggling and in crises with shortage of resources, and the Government embarking on highlighting health issues that matter to public, Oldham is far ahead in its strides to tackle these issues through its army of community volunteers…reports Asian Lite News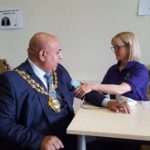 Oldham just hosted its highly successful ninth annual Health Awareness Day on Saturday 18th May, with hundreds of visitors participating throughout the day.  The project initiated by Sathya Sai International Organisation in partnership with Oldham Council, NHS and Positive Steps has become an annual feature of the town.  The project is aimed at raising awareness of common health conditions, providing on the spot free health screenings for blood pressure measurements, diabetes, cholesterol, dental and eye checks to providing information on complementary therapies, yoga, meditation, homeopathy, and ayurvedic treatments.
At the Opening ceremony the Mayor of Oldham Cllr Javid Iqbal praised the volunteers for giving up their Saturday rest day for the benefit of the community and in particular he thanked Sathya Sai International Organisation for setting a wonderful example for others to follow. He said "Such selfless service should be the aim of our lives which not only bring tremendous benefits to the community but inspire others to follow on this path".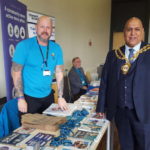 The Manager of the Oldham Libraries Ms Subnum Hariff-Khan in her Welcome address said "It is a great privilege to be part of this project, and to see that the Library not only helping the community but also saving the NHS £27.5 million per annum through such projects.  Libraries play an important role in the community providing excellent platform for benefiting activities.  We encourage reading as a good hobby for our own well being. Just six minutes of reading a day reduces stress levels by 67% and drastically reduces risks of dementia".
The event was well planned with creating a family fun day atmosphere where children joined in playing games, Lego building, colouring, and treasure trails around the library.  There were variety of stalls providing health information and advice covering topics such as healthy eating and fitness, GP and pharmacy advice, volunteering activities and information and support for older people.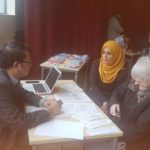 Cllr Zahid Chauhan, Cabinet Member for Health and Social Care said "We look forward to welcoming residents to the library where they can have a free health check and learn from a range of health professionals who are on hand to show people simple measures to improve their health and wellbeing. The fact we are celebrating our ninth Health Awareness Day shows how important the event has become on our annual calendar. Our thanks go to the volunteers from Sathya Sai organisation, our staff and partners for organising such a valuable event."
The Regional Chair of Sathya Sai International Organisation said that the members of this spiritual organisation operate in 126 countries taking Sathya Sai Baba's teachings of "Love All Serve All" into the community. He said "Sathya Sai Baba teaches that all religions are based on the human values of love, peace, truth, right conduct, and non violence.  They are all different paths to the same end goal.  The aim of our organisation is for us to realise our inherent divine nature, and one way of doing that is by taking part in selfless service.  If you want to serve God, then serve mankind, each of whom is built in God's image. Our organization also supports other community projects in Greater Manchester. One such initiative is supporting the Asylum Seekers Welcome Project, which is run by the Oldham Baptist Church and the Unity Food Project.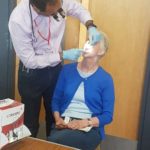 Health Awareness Day Coordinator Bharat Sisodia said, "It is wonderful to see how well this event is being received by the community, attracting hundreds of extra visitors to the Oldham library on a Saturday. It is not possible to host such an unique event without the selfless dedication of our volunteers and support from Oldham Council and NHS. It is very satisfying for all of us when we receive feedback from so many individuals of their experiences on how much they have benefited by visiting these events. When certain health conditions are picked up at early stages not only they can save lives, extend life span, free one from pain and sufferings but also in the long term a huge financial savings made for NHS and local Council in providing health care. Our thanks go to everyone involved with this highly commendable project."