Advertisement

President Xi Jinping called on Taiwan to reject independence by terming it a "dead end" and embrace "peaceful reunification" with China…reports Asian Lite News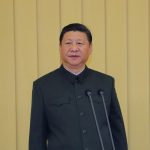 Xi made the remarks at a gathering to mark the 40th anniversary of the issuing of the "Message to Compatriots in Taiwan" — which seeks peaceful reunification under the principle of "one country, two systems."
While Taiwan is self-governed and de-facto independent, it has never formally declared independence from the mainland. Beijing considers the island to be a breakaway province and Xi's comments were in line with China's long-standing policy towards reunification.
Calling both sides a part of the same Chinese family, Xi said: "Reunification is the historical trend and the right path, Taiwan independence is … a dead end."
"Taiwanese people must understand that independence will only bring hardship," he said, adding Beijing would never tolerate any form of activity promoting Taiwanese independence.
Xi said his country reserved the use of force in the process of reunification with Taiwan, although he said that it will be directed towards external and separatist forces from the island.
"We make no promise to renounce the use of force and reserve the option of taking all necessary means."
"Chinese don't fight Chinese," said the President, adding that the use of force will be a way against the interference from external forces and the small number of "Taiwan independence separatists" and their activists.
He also said that relations with Taiwan were "part of China's domestic politics" and that "foreign interference is intolerable".
Beijing "reserves the option of taking all necessary measures" against outside forces that interfere with peaceful reunification and Taiwanese separatist activities.
Xi said that China should be and will be unified and added that "it is a historical conclusion drawn over the 70 years of the development of cross-Strait relations, and a must for the great rejuvenation of the Chinese nation in the new era".
The Chinese leader's speech came a day after Taiwanese President Tsai Ing-wen gave her own New Year's address, in which she called on Beijing to "face the reality of the existence of the Republic of China," referring to the island by its official name.
She also urged Beijing to "respect the commitment of the 23 million people of Taiwan to freedom and democracy".
In 2018, Chinese pressure on Taiwan increased as the latter attempted to participate in international organizations.
Taiwan lost three diplomatic allies in 2018 due to pressure from Beijing, including the Dominican Republic and El Salvador.