Advertisement

Lawyers working for President Donald Trump's former campaign chairman Paul Manafort have accidentally revealed the clearest evidence of coordination between the campaign and Russians…reports Asian Lite News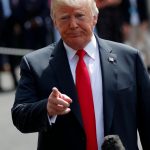 Parts of a court filing that were meant to be redacted by Manafort's legal team, were released publicly.
According to the filing, Manafort discussed a Ukrainian peace plan with his close Russian-intelligence-linked associate, Konstantin Kilimnik.
He also shared polling data related to the 2016 presidential campaign with Kilimnik.
The details are the closest public assertion yet in Special Counsel Robert Mueller's cases of coordination between a Trump campaign official and the Russian government, as Kilimnik is believed to be linked to Russian military intelligence.
The Ukraine peace plan that they discussed likely would have dealt with Russian intervention in the region.
At around the same time, Russian government operatives were allegedly hacking Democratic computers to help Trump and orchestrating a social media propaganda scheme to sway voters against his electoral opponents.
Kilimnik has long been suspected to be central to Mueller's investigation into Russian influence in the 2016 presidential election. The revelations in the court filing on Tuesday seem to confirm that.
The filing also acknowledges he met Kilimnik in Madrid. Later Tuesday, Manafort spokesman Jason Maloni said that meeting was in January or February 2017, after Trump was elected.
There are other two known meetings during the campaign between Manafort and Kilimnik.
Kilimnik has not entered a plea in US courts and Manafort has pleaded guilty to the witness tampering allegation and has been convicted on several lobbying-related financial crimes.
Manafort has been in jail since June 2018, after prosecutors accused him of attempting to sway witness' testimony against him while he was under house arrest.
He was convicted by a jury in a Virginia federal court for eight tax and bank fraud charges.
The former official will be sentenced for those crimes in February.