Advertisement

The captured Indian Air Force (IAF) pilot will be freed on Friday "as a peace gesture", Pakistan Prime Minister announced, hours after Foreign Minister Shah Mehmood Qureshi said that Imran Khan was ready to talk to his Indian counterpart Narendra Modi to de-escalate tensions between the two neighbours…reports Asian Lite News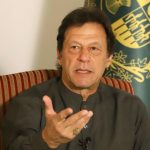 Wing Commander Abhinandan Varthaman of the IAF was captured by Pakistanis on Wednesday after an aerial engagement between the air forces near the Line of Control (LoC). He parachuted and fell into Pakistani territory.
Addressing a joint session of the National Assembly, Khan said: "In our desire for peace, I announce that tomorrow, and as a first step to open negotiations, Pakistan will be releasing the Indian Air Force officer in our custody."
He told Parliament that the India-Pakistan situation should not "get out of hand" otherwise "Pakistan will have to retaliate", the Dawn reported. The joint session of Parliament was called to discuss the rising tensions with India.
"The only purpose of our strike (on India on Wednesday) was to demonstrate our capability and will. We did not want to inflict any casualty on India as we wanted to act in a responsible manner."
Tensions spiked between two countries after the Pakistan-based Jaish-e-Mohammed (JeM) claimed responsibility for a suicide bombing that killed 40 CRPF troopers in Jammu and Kasmir's Pulwama on February 14.
India, in retaliation, carried out pre-dawn raid strikes on a JeM terror camp in Balakot in Khyber Pakhtunkhwa and killed a large number of terrorists and their trainers.
Khan on Thursday told Parliament: "I had said that if India does something then we will respond. India violated the UN Charter. India gave us a dossier today, two days after they attacked us.
"Could this not have been done earlier? We had already offered to investigate and cooperate."
Alleging "war hysteria" in India, he said: "I'm afraid there might be a miscalculation. Countries are ruined because of miscalculation. War is not a solution. If India takes any action, we will have to retaliate.
"Indian media created war hysteria. Our media showed solidarity and acted responsibly."
He said he tried to call Modi on the telephone on Wednesday because "escalation is not in our interests nor in India's".
Earlier in the day, the Pakistan Foreign Minister said the same that Khan was ready to talk to his Indian counterpart over telephone to defuse tensions.
Stating that the current situation arose because of Kashmir, Khan told Parliament: "I want to ask the Indian public about all that has happened over the past four years. There is an indigenous movement in Kashmir. At one point, Kashmiri leaders had not wanted separation, but because of Indian brutality, today all they demand is independence.
"Shouldn't they (Indians) ask why a 19-year-old agreed to become a human bomb? How long will Pakistan be blamed for everything in Kashmir? And asked to take action without any proof?" he asked.
"I have a feeling that the Indian public does not agree with the current government's warmongering. If their media had seen what our media has seen over the past 17 years, they would not have created this war hysteria."
Stressing that talks about Kashmir were important, he said: "The situation should not get out of hand or Pakistan will have to retaliate.
"I hope the international community will play its part to ensure the situation does not escalate beyond this."