Advertisement

Even 12 years after she survived an acid attack by a jilted lover during a train journey to Delhi from her hometown Varanasi in Uttar Pradesh in April 2006, Pragya Singh remains a beacon of hope for scores of such burn victims. The 35-year-old gritty Pragya has helped about 200 women victims of acid attacks undergo 300 surgeries for free and gave them not just legal and financial aid but also a job to rebuild their lives…writes Bhavana Akella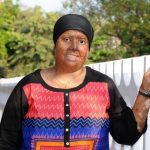 "The horrific incident happened 12 days after my marriage when I was 23. A vindictive ex-lover threw acid on my face and body while I was asleep in the train. I was in intensive care for several weeks and had 15 surgeries over two years to open my nasal cavity and mouth which got burnt," recalled Pragya to IANS.
Living in Bengaluru since 2007 with her husband and later giving birth to two young daughters, Pragya set up Atijeevan Foundation in 2013 to make lives of other burn victims better and happier.
Though the traumatic incident made Pragya hope for cosmetic surgeries to erase the burns and make her face look as it was before the gruesome attack, she learned to accept her appearance to march ahead in life.
"I realised soon that there was no end to surgeries, which can only change face slightly and improve appearance. I reconciled to the inevitable, as regaining the original face was wishful thinking," she said.
Determined to get back on her feet, Pragya put an end to the reconstruction surgeries once her vital organs became functional.
"Instead of being a victim, I decided to be the change for other women who are hapless victims of such a heinous crime. I have been fortunate to have a supportive family financially and emotionally during the treatment and recovery phase," noted Pragya.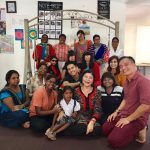 Acid attacks on women in their 20s are mostly by men whose romantic advances were rejected, or spurred by family feuds, including dowry harassment and land disputes.
"Women account for about 80 per cent of acid attacks, while the remaining 20 per cent are on men and children," said Pragya.
The caustic attacks with sulphuric or nitric acid, on sale at chemical stores, melt skin tissues to expose bones and cause damage to eyes, leading to partial vision or blindness.
"Each surgery for restoration of functioning of nose, mouth and eyelids cost a whopping Rs 60,000-1 lakh, depending on the intensity of the acid burn," revealed Pragya.
"Some of the victims undergo 35-40 surgeries after a severe burn, which are expensive and cause distress for years to them and their families," she said.
Her foundation provides acid burn survivors a holistic support system and has tied up with over 15 private hospitals across the country to provide quality medical care to acid burn patients. The NGO, which functions on private donations, also bears the surgery cost for women victims who cannot afford it.
One such survivor, Deepmala Tiwari, 28, a resident of Balrampur, about 170km northeast of Uttar Pradesh's Lucknow, was attacked with acid by her husband in 2014.
"My husband turned insecure after he learnt that as a teacher at a state-run school in Balrampur I made more money than him and threw acid on me," she recollected.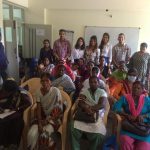 Unable to afford the treatment, she reached out to the foundation after learning about it through a friend.
"Pragya has been in touch with me ever since, and the foundation took care of all the costs for me to receive over 10 surgeries and filled confidence in me and my family to continue leading our lives," she recounted.
She also received a course in computer science before returning to her teaching job in Balrampur. Deepmala now supports other acid attack victims as a coordinator for the foundation.
"The foundation and Pragya have been by my side through all the medical procedures and legal battle, after which my husband was imprisoned for 14 years," she added.
Deepmala in turn referred the foundation to 23-year-old Reshma Khatun, who suffered an acid burn at the age of 19 after she rejected a man's proposal for marriage.
"With the foundation's support, I could complete a vocational course in computers and find a job," Noida-based Reshma told IANS.
Reshma, who works as a housekeeping staff at a star hotel in Noida, said an acid attack makes earning a living difficult, with employers reluctant to hire the survivors.
"It is inspiring to see women like Pragya showing the way for other women and men that life does not have to stop with an acid burn," Reshma told IANS.
According to the National Crime Records Bureau (NCRB) of the Union Ministry of Home Affairs, there were 200 cases of acid attacks on women in 2016 alone, although NGOs estimate the number of such attacks to be about 500-1,000 across the country.
"Seven of our field workers are acid burn survivors. When they visit homes of fellow victims, the understanding among them and their families is better as life need not stop because of the attack," said Pragya.
With the help of volunteers, the foundation also hosts camps and workshops for the burn survivors across cities and towns in the country, offering free legal assistance, medical treatment and counselling.
"We empower burn patients with skills and vocational training for enhancing their livelihood. We help them in learning computer skills, handicraft making or pursuing higher education. Enabling surgeries are not enough as they need a purpose to get back to normal life," said the burn-survivor-turned-activist.
Following the Supreme Court's 2015 ruling directing states to consider acid attack victims as disabled for jobs, India Inc, which was hesitant to hire burn patients, have been open to include them in their workforce, as part of their quota to include the disabled in their companies.
"There are challenges in placing burn survivors in the industry as lot of corporates are reluctant to hire them. The few companies coming forward to hire them are paying low wages considering them as incapable of doing their job," Pragya noted.
Even as she admits that ban on sale of acid in the market was not feasible, as it is used for industrial products and sanitation, she wants states to regulate its supply in a diluted form across the country.