Advertisement

Ace Indian actor Atul Kulkarni to tocuh UK shores soon. The exclusive event at Manchester  University entitled  "In conversation with Atul Kulkarni at Manchester University, " will be heard discussing cinema, activism, politics of Mahatma Gandhi …reports Rahul Laud for Asian Lite News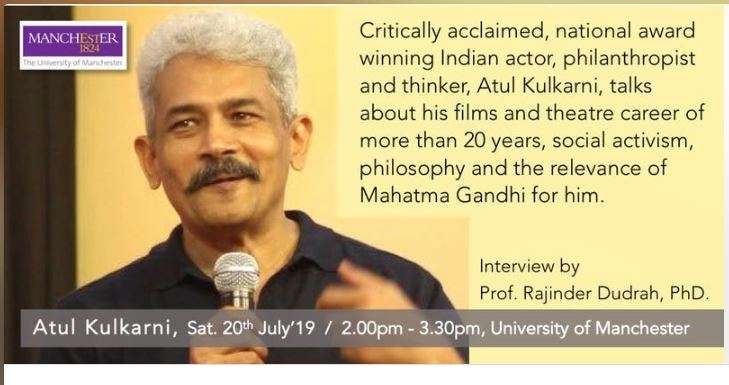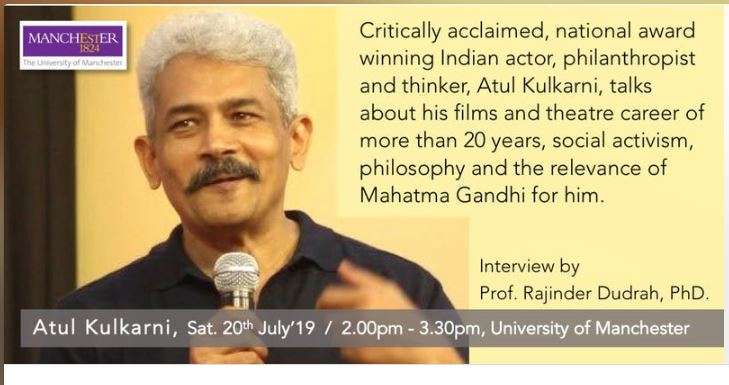 Atul Kulkarni needs no introduction to a film buff. Having won two prestigious Indian National Awards from the President of India , this talented actor has given stellar performances in Marathi, South Indian films and Bollywood. He is a critically acclaimed actor, philanthropist, writer, thinker and speaker. To those uninitiated, Atul who is an alumnus of   India's premier drama school – the National School of Drama.
He will be Interviewed by Professor Rajinder Dudrah, PhD  at the Theatre B, Roscoe Building, University of Manchester on Saturday 20th July 2019, between 2pm – 3.30pm. This FREE EVENT will give academics, his friends and fans an opportunity for some time to interact with him Atul after the event.
This event is organised by the University of Manchester in association with Friends of QUEST, UK. It is reported that the relevance of Mahatma Gandhi for Atul will draw significant interests from various members of the audience as this year is also commemorated as the 150th birth anniversary of the Mahatma.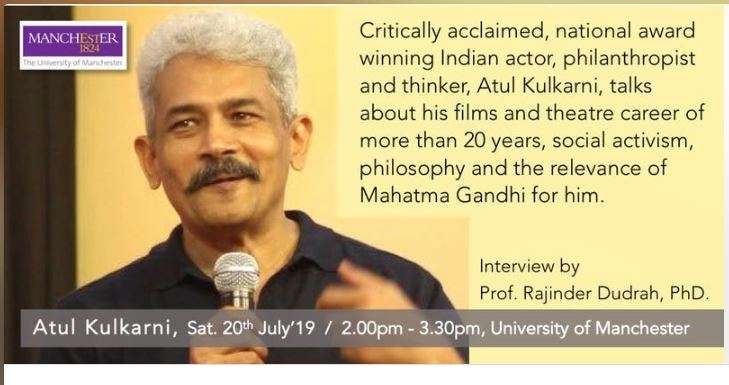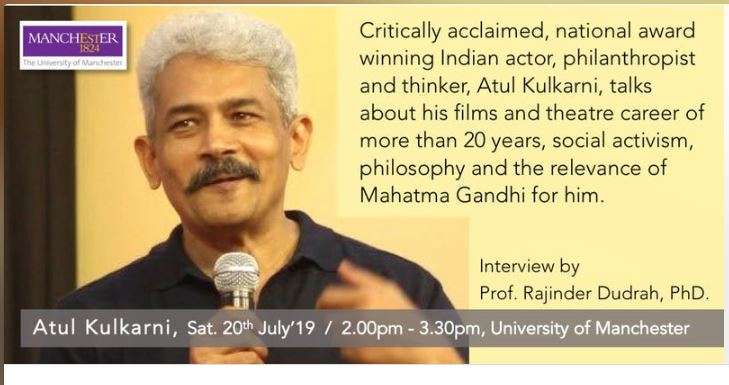 This event also creates awareness about QUEST, founded by Atul Kulkarni. In the UK ,Ani Kaprekar, Dr. Anupama Shotri and Dr. Milind Shrotri work as Friends of QUEST, UK – who are local champions of QUEST.
With a premier institution like the Manchester University hosting the event adds huge creative cultural value to Bollywood and brings a quality interaction to Manchester audiences on an academic platform.
Professor Dudrah teaches Cultural Studies & Creative Industries, at Birmingham school of media, Birmingham city university. He was previously Senior Lecturer in Screen Studies at the University of Manchester, where he held senior roles as Director, Centre for Screen Studies and Head of Dept of Drama (2007-2010). Audience will be offered an interesting insight into Atul's professional acting career ,   social activism, philosophy and the relevance of Mahatma Gandhi for him.
Atul on stage is remembered for his pivotal role of Mahatma Gandhi in a multi-award-winning play "Gandhi Vs Gandhi", performed in three languages with more than 400 shows.  He has under his belt a successful film and theatre career spanning more than 20 years. He has acted over 150 films in eight languages.
As a President of QUEST, a research / action NGO working in the field of primary education in rural and tribal areas of India, Atul contributes to the education of underprivileged children in India.
Link to book, Limited seats. – https://www.eventbrite.co.uk/e/atul-kulkarni-at-university-of-manchester-tickets-63914792866
For details about quest/event contact Ani Kaprekar – 07976984582