Advertisement

Indian Independence Day Celebrations at busy Kings Cross station attracts thousands of travellers. An Inspiring Indian Women Initiative captured the attention of the British public ….reports Asian Lite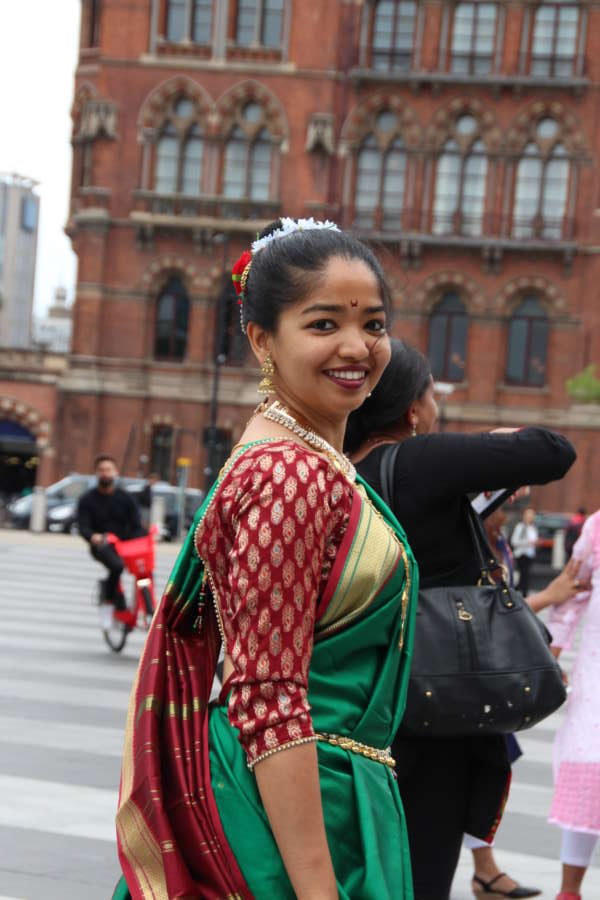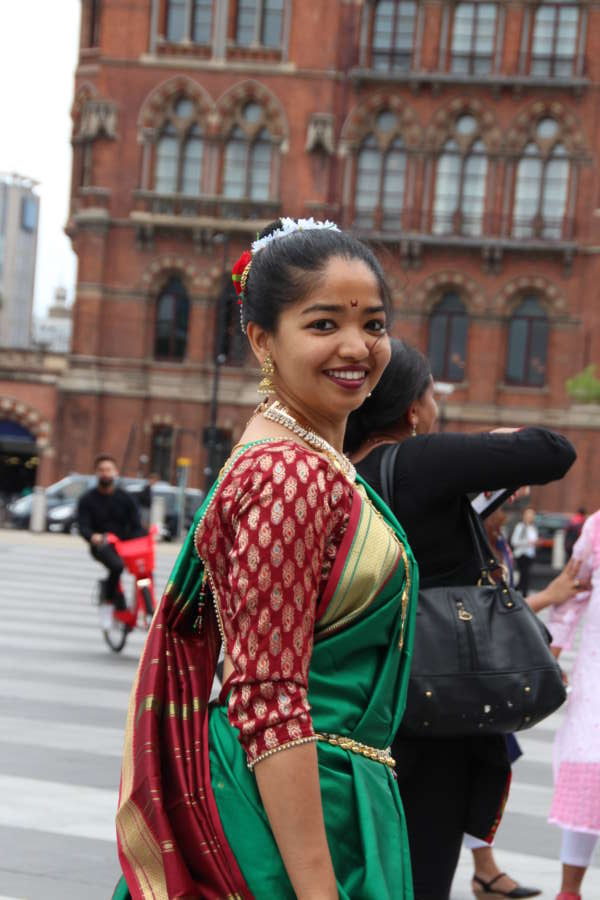 Like always, IIW always aspires to take the noise of Indian spirit of celebration amidst non-Indians.  The purpose is to make the passers-by pause and listen to the Indian beat, the colours of India, the unity in diversity, the Bhangra beats, the Garba beats and the Jai Ho echo. Where else could be the best place to make some noise be, other than the most iconic and historic station in Central London, Kings Cross!
Soon the extravaganza began, with Veena Storm from StormV Academy, at the helm of weaving the various states of India into one beautiful garland.
The atmosphere at the iconic station was upbeat! Audience participation was equally fantastic!  The event was successful in spreading the message of Indian Independence day celebrations with people stopping by and even joining in. The initiative was all about reinforcing the values of love, peace, happiness and brotherhood.
Most of them who participated were non-professional mothers, passionate to make a difference to society. It was all about bringing together everything that connects the necklace of colourful India!!
Various performances are as follows, Garba and Punjabi Dance by Rhythm Arts & Dance Academy, Choreographed by Shine Krishna . Participants were – Aman Sharma, Pooja khetrapal, Deepika nandwani, Ashna and Alka Pardesi.
Indhradhanush kids – (Nilanjana) presented (BENGALI FOLK), (JAI HO)  : Abrita Chatterjee, Shreya Paul, Sneha Paul, Rishika Mazumdar Sneha Paul, Little amazingly talented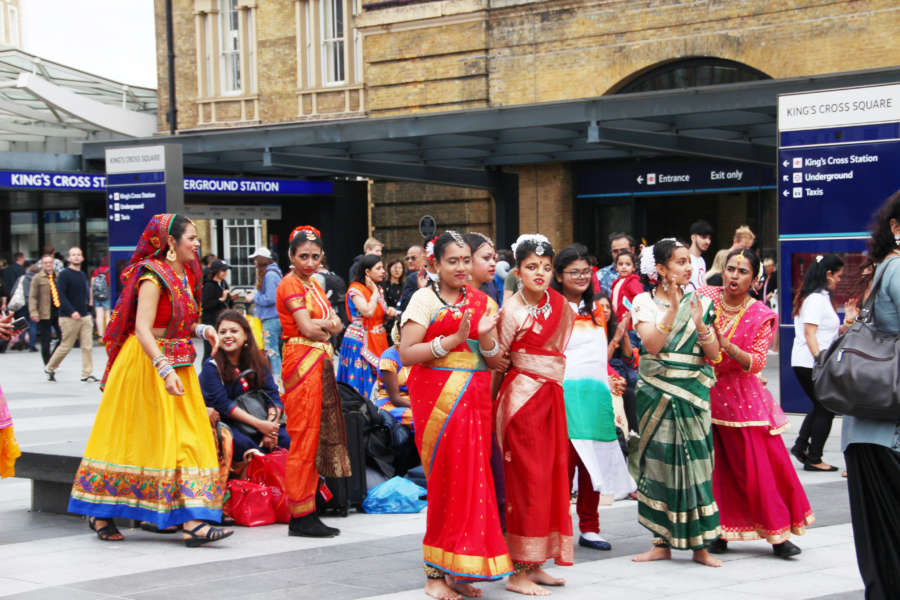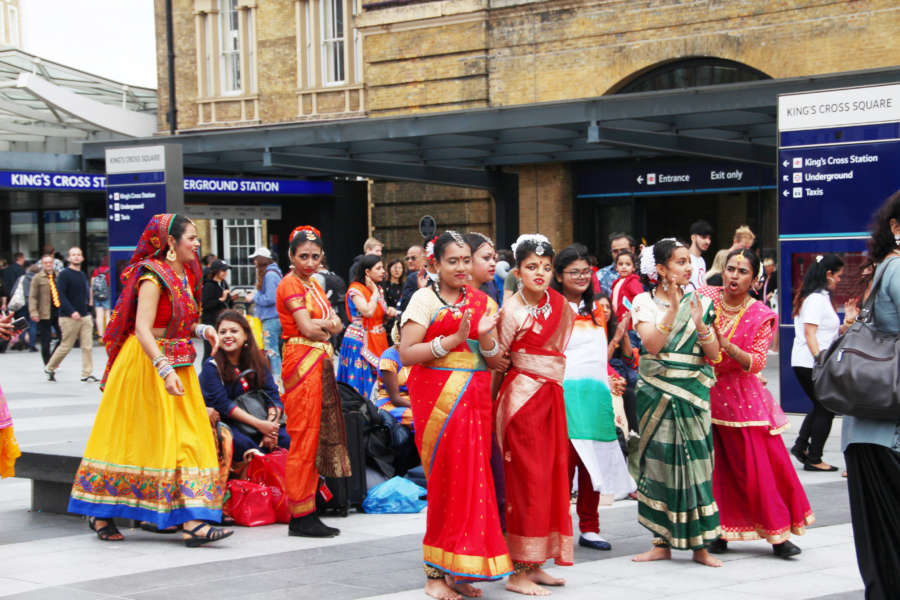 Saha sang (VANDE MATARAM .
Manali Soni presented Dholna from Rajasthan while Sneha Sanghani Shah performed a patriotic number and Ketaki Ranade Bhat performed Lavani from Maharashtra.
Chinu Kishore from NEICCUK (North Eastern Indian Cultural presented the beautiful Bihu dance from Assam.  Audience were awestruck watching beautiful Indian SemiClassical and Cuban Salsa fusion by Alkananda Mohapatra & Dayana Toncheva.
In the classical side, Bharathanatyam was superbly performed by beautiful Raeshma Venkatesan and classical fusion of Bharatnatyam and Kathak was presented by extremely talented Sowmya J Krish & Anusha Jagannathan
Bhavisha Patel, Manali Soni, Shital Kamdar, Rajeshwari , Usha Parmar performed on a very popular patriotic Bollywood number. Their tricolor costume was very eye catching. The icing on this cultural showcase was a beautifully sung, Aai merey watan ke logon by 9 year old Tanisha Biswas.
The curtain call was equally joyous when everyone including the commuters joined in to various popular songs like Jai ho, Vande Matram etc.
Much of the success of the event owes to Rashmi Narvekar and Sowmya  J Krish. The DJ of the day was Ananth. Photographer of the amazing clicks is Mr C.K Naidu and the videography was done by Kush.
On this Independence Day, we take a minute or two to thank for such a precious gift. Take time to cherish our life and our motherland. Not forgetting the sacrifice made by our heroes who have made this day a reality.  And this honest initiative was also to scream to the world that India is a country to be reckoned with.  Happy Independence Day 2019!