Advertisement

British Prime Minister Theresa May convened the weekly Cabinet meeting as the government prepares to defend its Brexit plan in Parliament once again after a vote originally scheduled before Christmas was controversially delayed due to its palpable lack of support among the opposition…reports Asian Lite News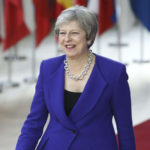 May met her senior Conservative Party officials at her official Downing Street residence in London a day before the debate on the UK's departure from the EU was set to recommence in the House of Commons, the country's lower chamber of lawmaking, before a rescheduled vote on January 15.
Faced with the prospect of defeat in the chamber, there has been more debate in the UK on the possibility that the government could delay Article 50, the measure that May triggered to set the country on course to leave the EU on March 29, 2019, but Brexit Minister Stephen Barclay diminished this option.
He told BBC Radio 4's Today show that he had not discussed extending the Article with EU officials, contradicting media reports suggesting otherwise.
May delayed the initial vote, slated for December 11, when it became clear she was to face considerable opposition not only from the opposition Labour Party and other smaller parties in the chamber — such as the Scottish National Party – but also from the Northern Irish Democratic Unionist Party, which props up her government, and a clutch of pro-EU Conservative Members of Parliament.
On December 12, May was forced to see off a no-confidence motion lodged by right-wing members of her own party.
One of the key sticking points in the debate has been the future of the Irish border and how to maintain an open and tariff-free frontier between the Republic of Ireland, an EU member state, and Northern Ireland, a UK territory, post-Brexit.
The EU has consistently said that the draft Brexit deal was not up for re-negotiation, but has offered to clarify points in the document.