Advertisement

British Prime Minister Theresa May ended speculation, that a vote on her under-fire Brexit deal may be deferred again, insisting that the vote would go-ahead in the House of Commons as planned next week…reports Asian Lite News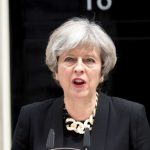 In an interview on the BBC's main weekly political programme, May said: "I want to see this deal go through. If the deal is not voted on, then actually we are going to be in uncharted territory."
The vote should have taken place last month, but it was deferred with May saying it was clear it would be defeated.
Opposition MPs and politicians from her own Conservative Party have threatened to oppose her Brexit Withdrawal bill when they finally vote next week. If that happens it makes the prospect of a no-deal Brexit more likely than ever.
She said on Sunday she would set out new measures on the Northern Ireland border issue, and also look at giving MPs more say in shaping negotiations over future trade relations.
Asked in the interview what had changed since last month, May said the European Union had agreed to some changes, and she was continuing to talk to European leaders as she tried to give MPs the confidence to support her deal.
One of the stumbling blocks remains concerns over the so-called backstop arrangement aimed at averting a hard border between Northern Ireland and the neighboring Irish Republic.
Many MPs, and the Democratic Unionist Party (DUP) which shores up May's minority government, have demanded guarantees that the backstop will never be used.
May said: "The deal is on the table. We've got people who want to see their perfect Brexit. And I would say don't let the search for the perfect be the enemy of the good. The danger there is that we end up with no Brexit at all."
She said she truly believed what she had negotiated with Brussels was a good deal for Britain, and that it was up to its opponents to spell out the alternatives to it.
May has refused to rule out bringing her deal back to Parliament if it is voted down next week.
On the same program Jonathan Ashworth, shadow health secretary with the main opposition Labour Party, said Labour was committed to voting against May's deal.
"If that is voted down, it is incumbent upon the government to come forward with alternative proposals and try to renegotiate," Ashworth said.
MPs return to Westminster Monday after the festive and new year break, and will resume debate on the Brexit bill on Wednesday, with the crucial vote expected in the early part of the following week.
Britain is scheduled to end its member of the EU on March 29, with government planning for a no-deal scenario already being stepped up.
A major exercise is planned Monday involving 1,500 heavy goods vehicles taking part in a No Deal rehearsal. The aim is to test government plans to use a disused airport close to English coast seaports as a holding area to avoid gridlock on motorways serving the port of Dover.