Advertisement

The forthcoming Bank holiday weekend brings internationally yoga and meditation practitioner Swami Jyothirmaya to London followed by UK's reputed Yoga Jam led by Bhavini Vyas…Rahul Laud reports for Asian Lite news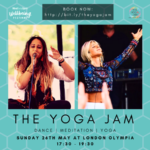 Swami Jyothirmayah will be touching down in London for a few hours on Bank Holiday Monday 27 May. He will be a Headline Speaker at the Mind Body Spirit Festival in London! Swami Jyothirmayah will be hosting 'Way to Happiness', a special event of knowledge and wisdom and a mass meditation where 500 people are expected to experience breathing techniques and meditate together at an Iconic venue and one of London's landmarks.
Swamiji has been in the UK hosting packed events with hundreds of people meditating together who then leave elevated in laughter and joy.
Swami Jyothirmayah presents with both a profound depth of experience and joy, with laughter regularly heard from his audiences, and ancient wisdom delivered in the lightest of manners. At the forthcoming festival the organisers claim the audience will experience the highest knowledge of the mind, delivered in an effortless manner to assimilate into living a joyful daily life.
European Director of The Art of Living, Swami Jyothirmayah is a highly regarded international teacher and lecturer on yoga and meditation, and senior disciple of world renowned spiritual leader Gurudev  Sri Sri Ravi Shankar.
Swamiji has addressed a diverse range of audiences, conducting 'Meditation & Happiness' workshops featuring take home techniques for busy lifestyles. With these simple but powerful techniques you too can experience how to be healthier, happier, more relaxed & more knowledgeable in everyday life.
Tickets available at: https://www.mindbodyspirit.co.uk/london/workshop/swami-jyothirmayah/way-to-happiness-with-swami-jyothirmayah
or via bit.ly/2VFF2LF
The day before Swami Jyothirmayah's event, Bhavini Vyas, Emma Bonnici and friends will be celebrating together hosting The Yoga Jam on SUNDAY 26 MAY between 17:30 – 19:30. THE YOGA JAM is "The creative fusion of contemporary beats & rhythms with ancient Sanskrit mantras, yoga & meditation. Yoga Jam presents the perfect blend of sound & silence, movement & stillness," says Bhavini Vyas.
The Yoga Jam is an alcohol-free event inspired by The Art Of Living Foundation – one of the largest volunteer based, humanitarian & educational Non-Governmental Organizations (NGOs) in the world.
Bhavini Vyas says , ''We've been inspired by so many people, both from here and from around the world, and salute all the honourable yogis out there who have the same goals as us.''
People from all over the world (including countries such as Argentina, Australia, Germany, France, Austria, Bulgaria, Lithuania, India, Singapore and Mayalsia to name a few) support Yoga Jam's and its mission to get more youths meditating and doing yoga, and making it an integral part of our busy urban lifestyles.
Bhavini Vyas has been a classically trained musician since early childhood and naturally this combined with her lifelong immersion in Yoga and Meditation.
Bhavini works for the International Art of Living Foundation and she is the Co-Director and lead singer of The Yoga Jam, presenting the creative fusion of contemporary beats & rhythms with ancient Sanskrit mantras, yoga and meditation since 2011.
The Yoga Jam encourages people to explore their inner world and cultivate a more self-reflective practice; it is a regular event at the annual 'Om Yoga Show' and other yoga festivals including 'International Yoga Day'.
Emma Bonnici has been studying Yoga and Ayurveda for over 12 years. Emma's Yoga practice has always been very inspired by her Indian teachers of Ashtanga Vinyasa, Sivanada, Iyengar Yoga & Ayurveda.
Emma believes our energy changes according to the place we live; the seasons and our lifestyle. She focuses on the energy of the students in her classes and incorporates elements of the different yoga practices with music into each class.
Emma is inspired to help others discover the true bliss that already lies within them. She is actively involved in community outreach projects across East Africa and India. Emma is lead yoga teacher of The Yoga Jam.
Tickets available via https://www.mindbodyspirit.co.uk/london/workshop/the-yoga-jam/the-yoga-jam-featuring-bhavini-vyas-emma-bonnici-friends
Or via bit.ly/theyogajam
The goal of the Mind Body Spirit workshop programme is to offer the very best in teaching and life-changing experiences of healing, personal growth and transformation.
The structure of Festival and the workshop schedule is designed to maximise attendees' exposure to as many life-enhancing and positive ideas and concepts as possible.
The workshop programme offers an unparalleled opportunity for Festival attendees to learn from and experience a range top UK and international teachers and facilitators in a supportive environment, at affordable prices.