Advertisement

Interaction organised by Confederation of British Industries at the Cavalry and Guards Club….writes Taha-Coburn Kutay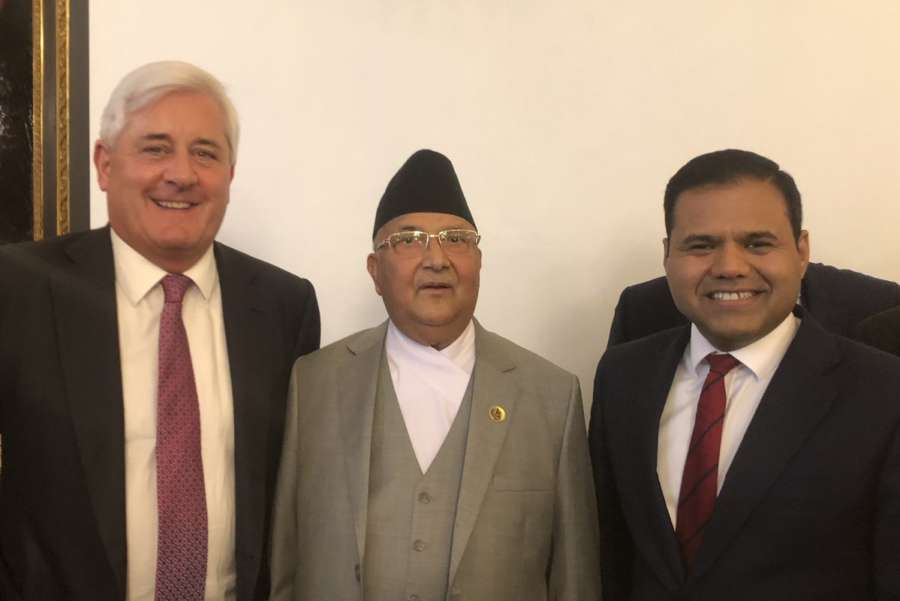 Mr. Paul Drechsler CBE, Vice President of CBI welcomed the Prime Minister of Nepal Hon. KP Sharma Oli at The Cavalry and Guards Club for an interaction with business leaders and Nepalese diaspora.
Accompanying the PM were the Minister for Foreign Affairs Hon. Pradeep Kumar Gyawali, Ambassador Dr. Durga Prasad Subedi to the United Kingdom and Republic of Ireland and Foreign Policy advisor Dr. Rajan Bhattarai. Mr. Paul mentioned the business relationship between the UK and Nepal has grown over the last two centuries and how UK businesses have invested in Nepal in key strategic areas which are growing year on year giving confidence to the business community in UK.
Deputy Mayor of London (Business) Mr. Rajesh Agarwal was also present on this occasion and he in his welcome speech for the PM mentioned the importance of the strong Nepalese diaspora in London and their contribution to the thriving economy of London. Mr. Agarwal stressed on the point that London is open for business and will like to see more Nepalese investment in London and vice versa in Nepal.
The PM in his remarks mentioned although the UK and Nepal have had a relationship for over two centuries but PMs only from Nepal have visited the UK and it has not been reciprocated by the UK PMs. He requested the UK to reciprocate the same to further strengthen the relationship between the two countries. The PM highlighted about the recently held investment summit in which business leaders from various parts of the world participated and made the summit a success for Nepal. He invited businesses from the UK to invest in Nepal after a strong and stable government has been elected by the people of Nepal. The Nepalese economy is growing at 6.5% which is one of the highest in the world.
Mr. Prashant Kunwar, Vice President (Nepal) UK Asian Business Council, gave his remarks as the vote of thanks. Mr. Kunwar thanked the PM, Mr. Drechsler CBE, Mr. Agarwal for taking out time from their busy schedules to be present for the event. He mentioned that the event was confirmed on Friday 7th June and had to make frantic calls and send emails over the weekend to invite people. He thanked all the business leaders, the Nepalese diaspora who attended the event and invited people to Nepal to invest as that is the need of the hour.