Advertisement

The 9ft high, 800kg statue crafted by renowned Indian artist Ram V Sutar will be the first in a series of public realm improvements in the city's Medieval Quarter. Its location and scale is carefully considered in the context of the space, and there will be pedestrian and disabled access….reports Asian Lite News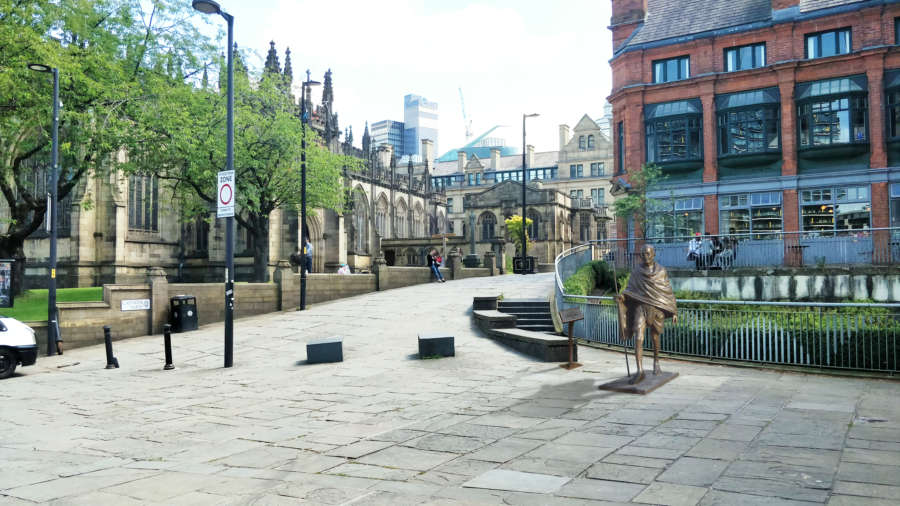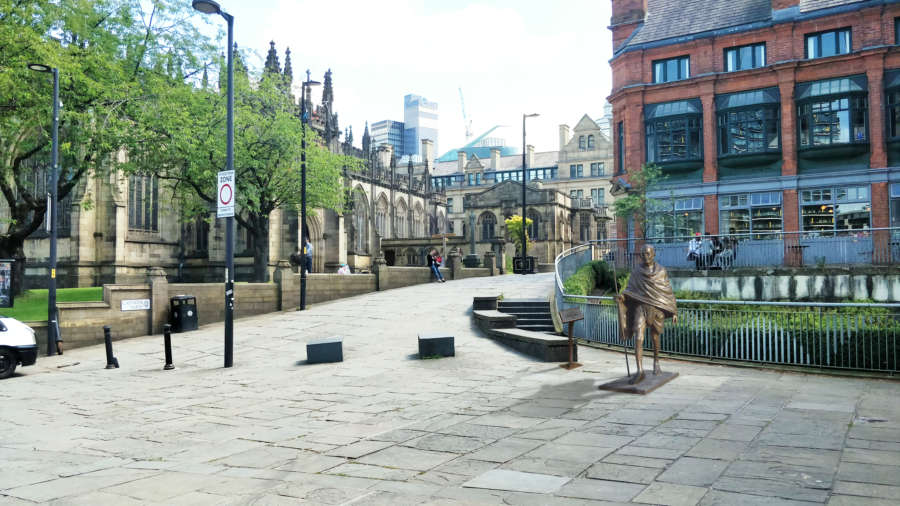 Abraham Lincoln, Queen Victoria, Friedrich Engels, suffragette leader Emmeline Pankhurst have something in common. Their statues are visible at prominent spots in and around Manchester city centre. A campaign has been launched to install a statue of Mahatma Gandhi near the Manchester Cathedral.
During a 1931 visit to the UK, Gandhi visited textile mills in Lancashire, travelling from London to Blackburn via Manchester, to meet with mill workers and explain the Indian perspective on the boycott of British goods that was damaging their industry. During this visit, Gandhi attracted large crowds of admirers and received a warm welcome.
A bronze statue of the iconic spiritual leader Mahatma Gandhi is being proposed outside Manchester Cathedral in the 150th anniversary year of his birth (1869 -2019). The International Day of Non-Violence is marked on 2nd October, the birthday of Mahatma Gandhi, to disseminate the message of non-violence, peace, tolerance, understanding through education and public awareness.
The icon of Peace, Mahatma Gandhi project is initiative of Shrimad Rajchandra Mission Dharampur UK (SRMD UK), a worldwide spiritual movement headquartered in India. Shrimad Rajchandra was Mahatma Gandhi's spiritual guide and attributes the foundations of his values of non-violence and self-improvement to him.  "This man has won my heart in spiritual matters, and no one else has made on me the same Impression." – Mahatma Gandhi, Modern Review, June 1930.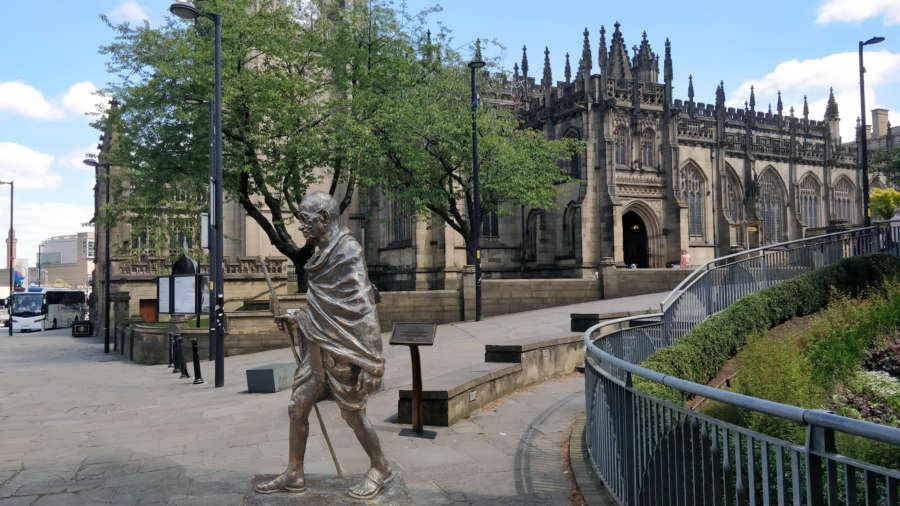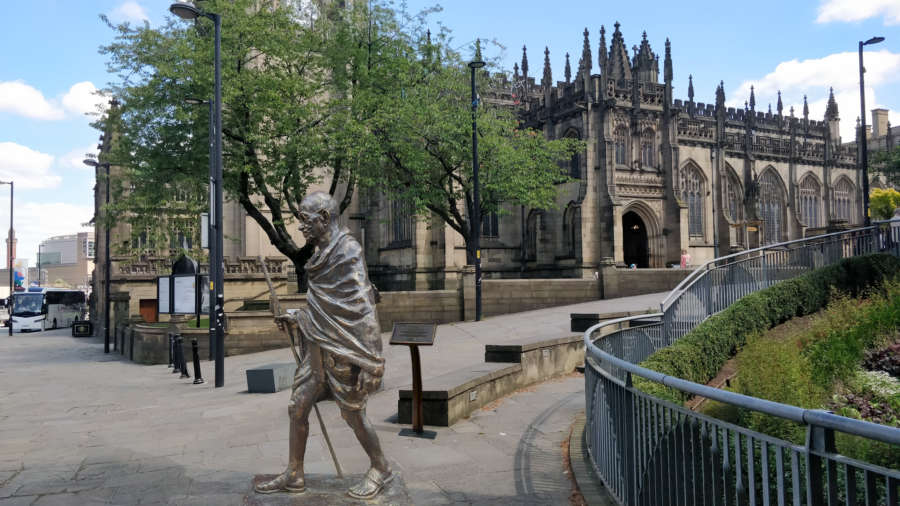 Subject to planning permission, the 9ft high, 800kg statue crafted by renowned Indian artist Ram V Sutar will be the first in a series of public realm improvements in the city's Medieval Quarter. Its location and scale is carefully considered in the context of the space, and there will be pedestrian and disabled access.
If planning approval is granted, the unveiling of the statue will take place in November, 2019. The project is supported by Manchester Cathedral, Manchester City Council, High Commission of India, Greater Manchester Lieutenancy office and the Manchester India Partnership. Letters of support have been received from local business owners and representatives from both religious and non-religious organisations across Manchester and beyond.
Following the 2017 Arena attack, Manchester's unique civic pride displayed the values of non-violence and compassion. We are inspired by the people of Manchester for their strength, decency and community in the face of this unparalleled tragedy.
A statue of Gandhi in central Manchester will ensure that the heart of our politics and democracy can all be blessed with his ethos and wisdom today, tomorrow and for generations to come. Gandhi taught all to not use war and violence, but instead, use peaceful protests.
The statue will express harmony between form and function, place and purpose, history and present. Manchester, as UK's second largest city has stood together against those who would seek to destroy multi-racial, multi-ethnic societies.
Gandhi regarded nations not as abstract legal entities but as agglomerations of human beings with names, noses, aches and smiles, and international relationships should be founded on interdependence and love.
"You must not lose faith in humanity. Humanity is like an ocean; if a few drops of the ocean are dirty, the ocean does not become dirty," said Gandhi during his fight for freedom. "Non-violence is the greatest force at the disposal of mankind. It is mightier than the mightiest weapon of destruction devised by the ingenuity of man".
Mahatma Gandhi's teachings remain as potent today as when he first said, 'be the change that you want to see in the world.'