Advertisement

Gents and ladies resplendent in dazzling outfits, many in their national dress, and clutching their invitation cards were ushered through the palace gates, through corridors and up red-carpeted stairs to the White Drawing Room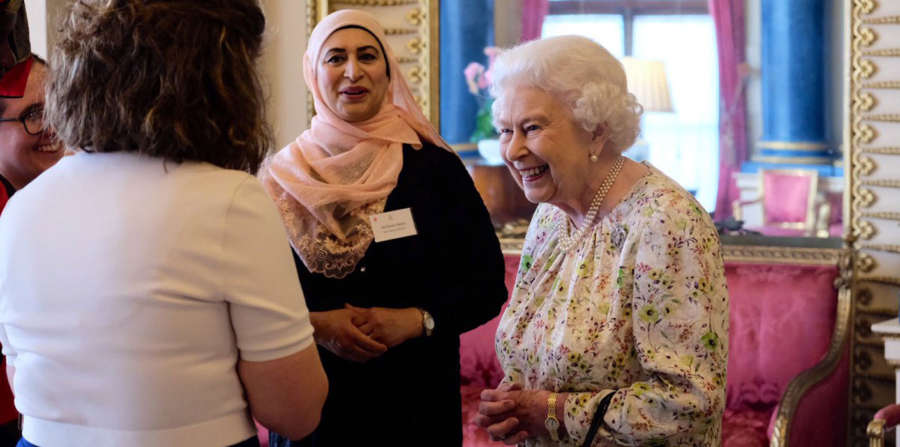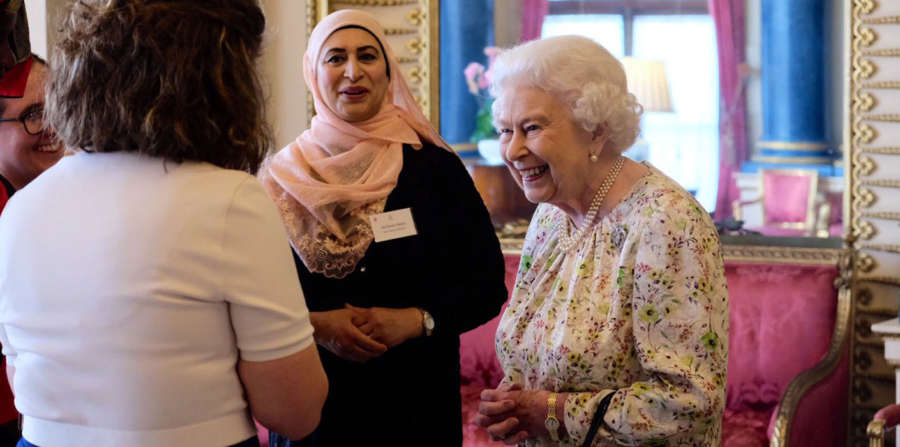 A faith reception hosted by Her Majesty the Queen brought together representatives of different faiths, beliefs and communities. Held at Buckingham Palace, the event for many was a once-in-a-lifetime opportunity to meet the royal who, as head of the nation and head of the Commonwealth is keen to celebrate religious diversity in the UK and throughout the Commonwealth.
Gents and ladies resplendent in dazzling outfits, many in their national dress, and clutching their invitation cards were ushered through the palace gates, through corridors and up red-carpeted stairs to the White Drawing Room. Here, guests entered one by one in orderly fashion and shook hands with The Queen as their names were called out by the Master of the Household, Tony Johnstone-Burt, CB, OBE. Dressed in a floral frock and elegant white gloves, The monarch, 93, coordinated her look perfectly, completing the ensemble with a black patent Launer bag and court shoes.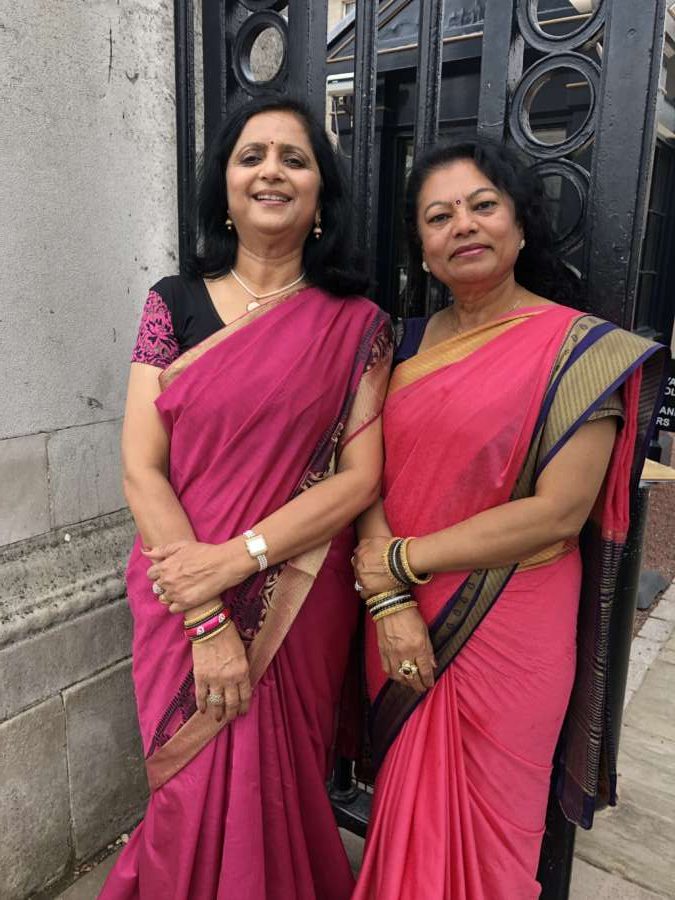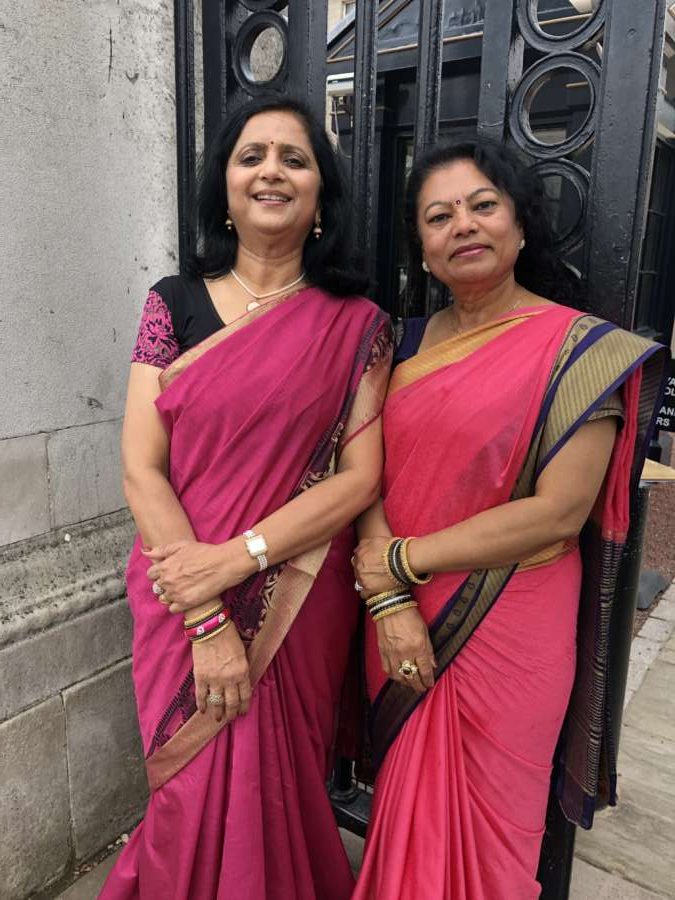 A report by New Philanthropy Capital (NPC) found that more than a quarter of all charities in the UK have an association with faith. Among the 160 invited guests were volunteers, community workers and those bringing about positive change in their local neighbourhoods. Such as those supporting young people to help them reach their full potential, bringing people together through cooking, providing food and clothing to the homeless, giving time and attention to the lonely, supporting refugees and asylum seekers and campaigning against knife crime and radicalisation.
The guest list included: Krishnaben Sisodia and Surajben Agravat from the Indian Association Oldham; Atta Yaqub, Business Development Manager, The Prince's Trust in Glasgow; Ms Shobha Sharma who sits on the steering committee of Sandwell-based Women Interfaith Group; Rachid Choaibi, Head of Youth and Communities at Making Communities Work & Grow, a charity; Bhavnaben Parmar from BAPS Swaminarayan Sanstha; volunteer Mohammed Ilyas Patel from Blackburn; Jal Iqbal, mental health development worker from Blackburn; 24-year-old Imam Muhammad Habibur Rahman Khan from Dunfermline Central Mosque & Islamic Centre; Asma Ali, founder member of the Scottish Muslim Association; Vinaybhai Shah, Director of Interfaith Relations at Institute of Jainology; Kumar Mehta from Navnat Vanik Association; Mrs Rhoda Ibrahim from the Somali Advice & Forum of Information; Venus Carew of the Baha'I faith who runs a peace maker club for children in Scotland; Rachael Cox from Celebrating Sanctuary Birmingham; Nighat Khan of New Vision 4 Women; Kulwinder Singh Johal from Guru Nanak Football Club in Leicester; and  Esmond Rosen, Barnet Multi-Faith Forum.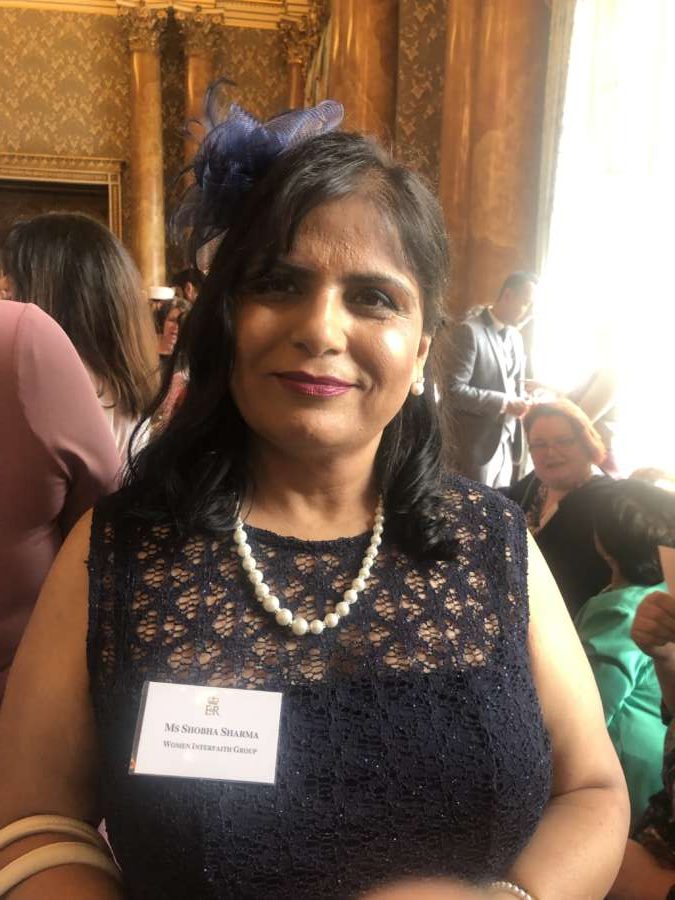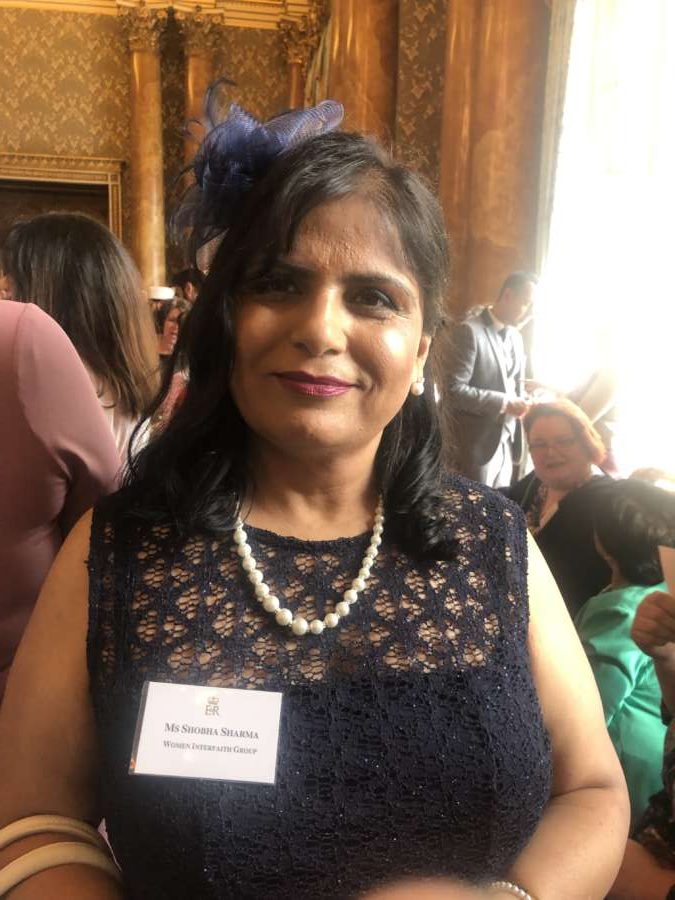 Distinguished guests included The Duchess of Gloucester, Housing Secretary James Brokenshire – who, along with the Mayor of the West Midlands Andy Street is going to India next week – Baroness Eaton, The Lord Bourne of Aberystwyth, MPs Andrew Gwynne, Jim Shannon, Tim Farron, Stephen Timms, Ms Hilary Patel, who leads on Faith, Race and Integration at the Ministry of Housing and diversity champion Sir Kenneth Olisa OBE, the first black Lord-Lieutenant of Greater London.
The Commonwealth represents a global network of 53 countries and almost 2.4 billion people, of whom 60 per cent are under 30 years old. In her speech at the formal opening of the Commonwealth Heads of Government Meeting, or CHOGM, in London last year, The Queen said: "Here at Buckingham Palace in 1949, my father met the Heads of Government when they ratified the London Declaration, which created the Commonwealth as we know it today – then comprising just eight nations. Who then — or in 1952, when I became Head of the Commonwealth — would have guessed that a gathering of its member states would one day number 53, or that it would comprise 2.4 billion people?"
She went on to say: "It remains a great pleasure and honour to serve you as Head of the Commonwealth and to observe, with pride and satisfaction, that this is a flourishing network.  It is my sincere wish that the Commonwealth will continue to offer stability and continuity for future generations, and will decide that one day The Prince of Wales should carry on the important work started by my father in 1949.  By continuing to treasure and reinvigorate our associations and activities, I believe we will secure a safer, more prosperous and sustainable world for those who follow us: a world where the Commonwealth's generosity of spirit can bring its gentle touch of healing and hope to all."