Advertisement

Speaking to an enthralled audience of over 7,000 at the SSE Arena, Wembley and over 300,000 thousand people worldwide watching online – BK Shivani, the inspirational voice of the Brahma Kumaris, delivered a powerful message that when we change our thoughts, we change our world. BK Shivani says: The Shift the World Needs is the Shift that Takes Place Within Myself…writes columnist Riccha Grrover for Asian Lite International – Photo credits: Prakash Radhakrishnan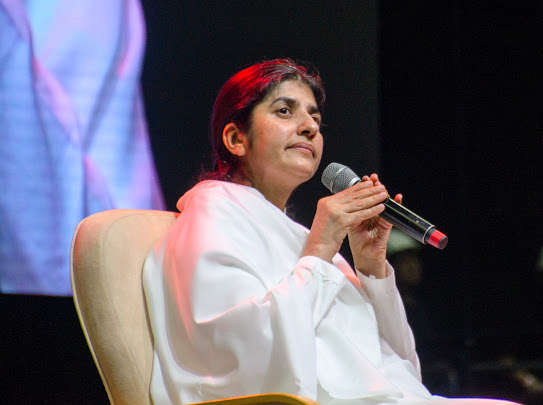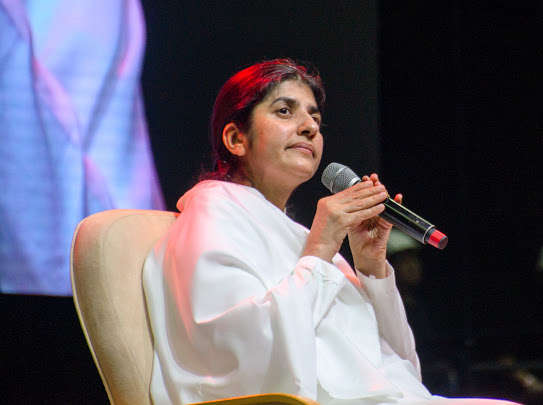 Speaking to an enthralled audience of over 7,000 at the SSE Arena, Wembley on a Sunday evening – and over 300,000 thousand people worldwide watching online – BK Shivani, the inspirational voice of the Brahma Kumaris, delivered a powerful message that when we change our thoughts, we change our world.  Sharing her conviction that a new and more positive world is an imminent reality, she made it clear that this shift simply requires a shift within myself – to only allow thoughts in my mind that are pure, powerful and positive.  No one and no situation can affect my thinking, if I choose not to allow myself to be influenced.
Inviting the audience to make a pledge to be free from anger for one week, the gathering was also challenged to give up hearing the news first thing in the morning and last thing at night, as well as suggesting that the first hour of the day be spent preparing mentally for the following 23 hours.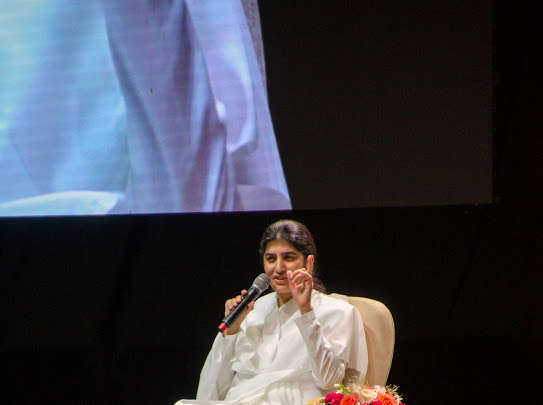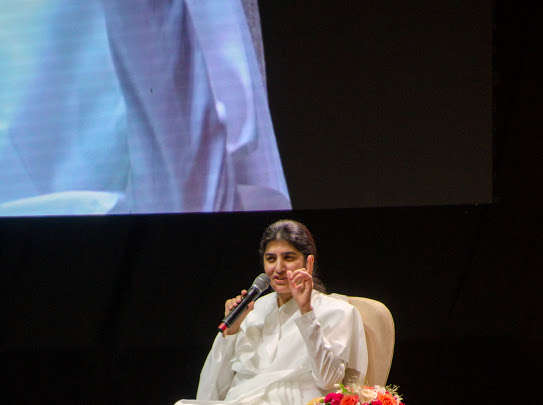 "We can shift to a world where peace is normal, and unconditional acceptance isn't just to be read in quotes on social media posts. I cannot change people, just myself.  Situations and people's behaviour are the outside stimulus in our life.  But what I think, regardless, is my choice… This hall will vibrate at the frequency of peace as we create peaceful thoughts."
BK Shivani's talk on the theme "Fast Forward to New Possibilities" recognised the frustration that many people are feeling in relation to the pressing issues of today – and the need to really see positive signs of change – whether it be uncertainty surrounding the future of the UK in Europe, climate change or the disappearance of aspects of the natural world, finding new ways to tackle old problems has become an urgent priority.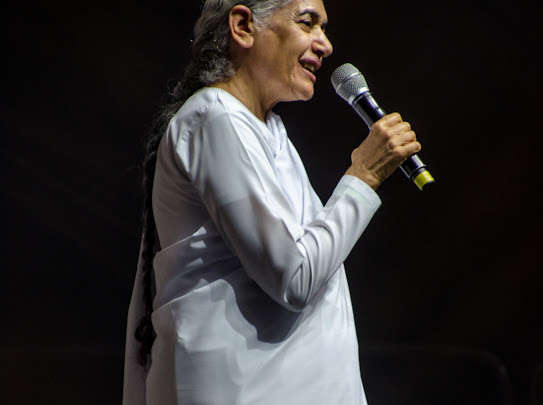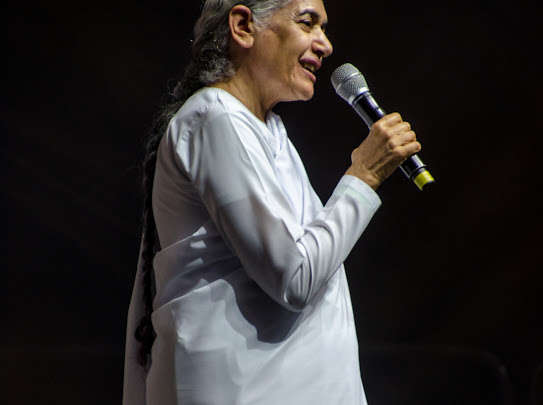 The key to change, as BK Shivani spelt out, is the daily practice of meditation and using the power that comes from this practice, to transform our own negative attitudes and habits.  "It may seem a small thing", she said, "but replacing every thought of anger, greed, jealousy, ego or attachment with a thought of loving kindness, towards myself and others, regardless of the situation I find myself in, is like dropping a pebble in the water and watching the ripples spread out and affect others positively too.  When each of us can learn how to do this, the world will automatically be a different place…" She then asked everyone: "Are you ready? Will you do it?"
BK Shivani goes on from her London show to speak at 12 more cities over the next 19 days, as part of her European 'Awakening' tour.  Tickets for all three UK venues, which were given free of charge, were taken up in record time.
Sister Jayanti, the European Director of the Brahma Kumaris and CEO of Brahma Kumaris (UK) was encouraged to see the huge take up of tickets for all the live shows.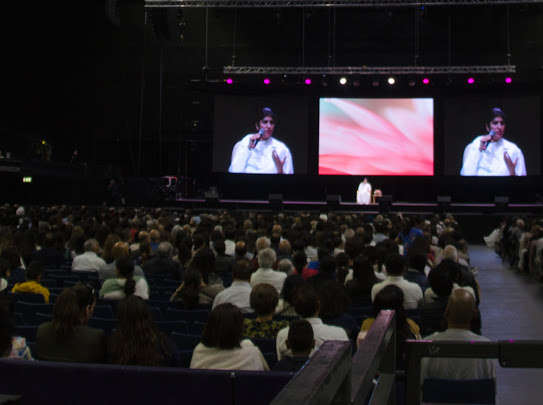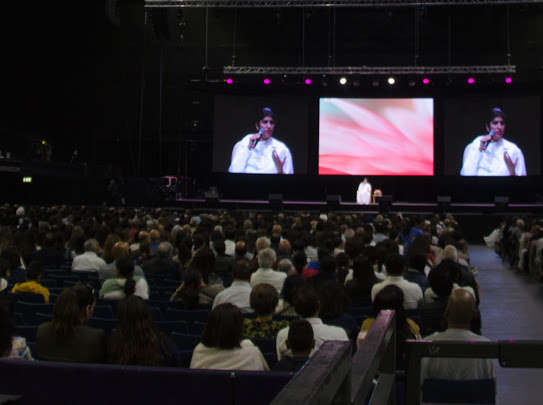 "Thousands of people in the UK have been practising and teaching Raja Yoga meditation over the past 45 years.  It seems that the Brahma Kumaris' method of 'world transformation through self transformation' is being taken up by a wider audience.  Across the UK, there are over 40 different venues where we are offering daily meditation classes free of charge.  I think we will be seeing an even greater take up of all the different services we offer in the coming months."
Brahma Kumaris (UK) is a registered charity that teaches Raja Yoga meditation as a way of experiencing peace of mind and a positive approach to life. Courses, talks, workshops, meditation sessions and retreats are offered in locations around the UK.  BK Shivani's UK tour is supporting Brahma Kumaris (UK)'s Global Retreat Centre Refurbishment .
Project www.globalretreatcentre.org.  Brahma Kumaris (UK) is part of a network of organisations in 110 countries across the world, including a presence throughout the UK and Europe, which work with local and national organisations to make a positive contribution to both individuals and the communities in which they live. www.brahmakumaris.uk