Advertisement

The All-Party Parliamentary Group on Indian Traditional Sciences has organised a series of events marking International Day of Yoga in London recently…..reports Asian Lite News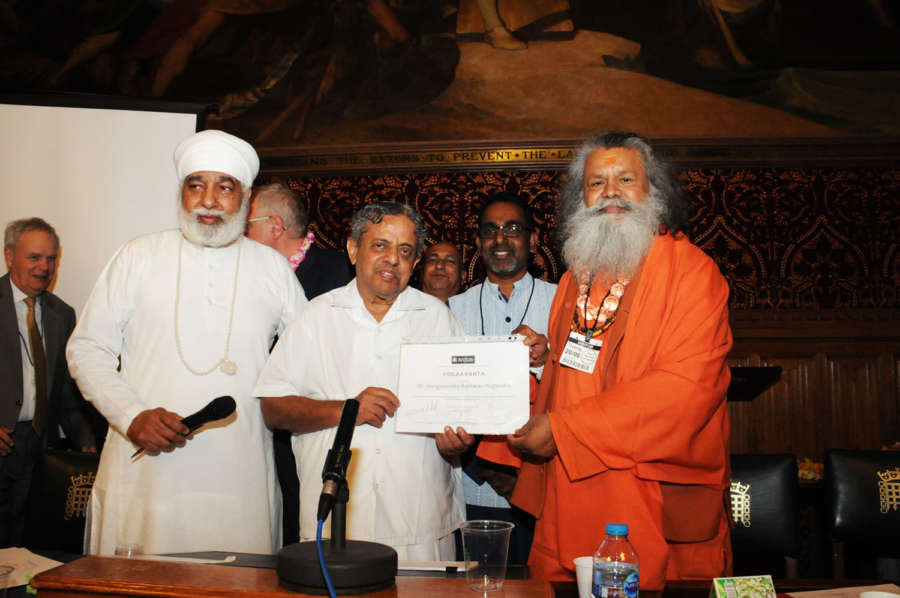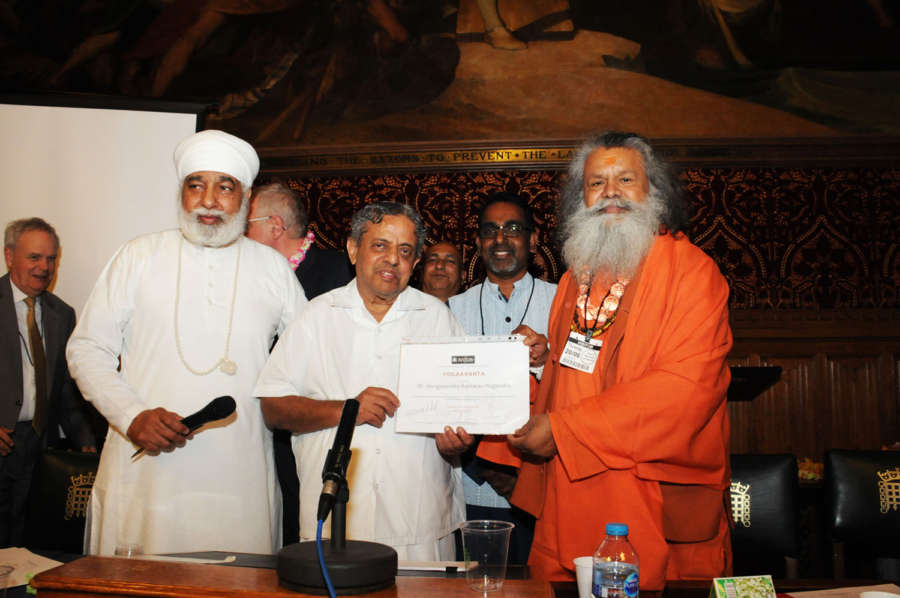 The All-Party Parliamentary Group on Indian Traditional Sciences has organised a series of events marking International Day of Yoga in London recently. The first event was hosted at the House of Commons, second event took place at the Nehru Centre and third event took place at Victoria Tower Gardens in the backdrop of Palace of Westminster.
During the event at the House of Commons that marked 5thInternational Day of Yoga, parliamentary host Rt Hon Tom Brake MP extended welcome on behalf of APPG-ITS to all the attendees who flew in from as far afield as Austria, Belgium, Czech Republic, Ireland, Slovenia, Spain, Sweden, India, Malaysia, Singapore and USA. He read the proposed one-million signature petition to the European Parliament on Traditional Medicines, the Early Day Motion No. 2465 tabled by him and a message from HM Queen on the occasion.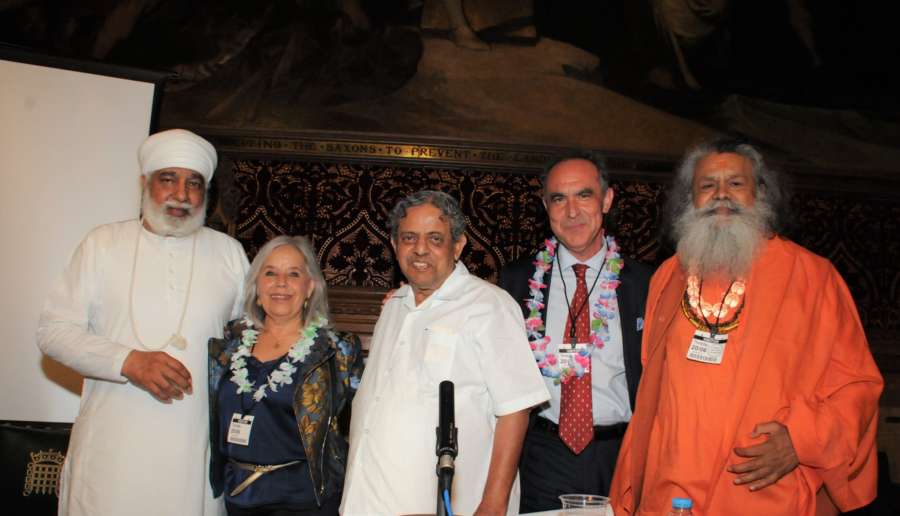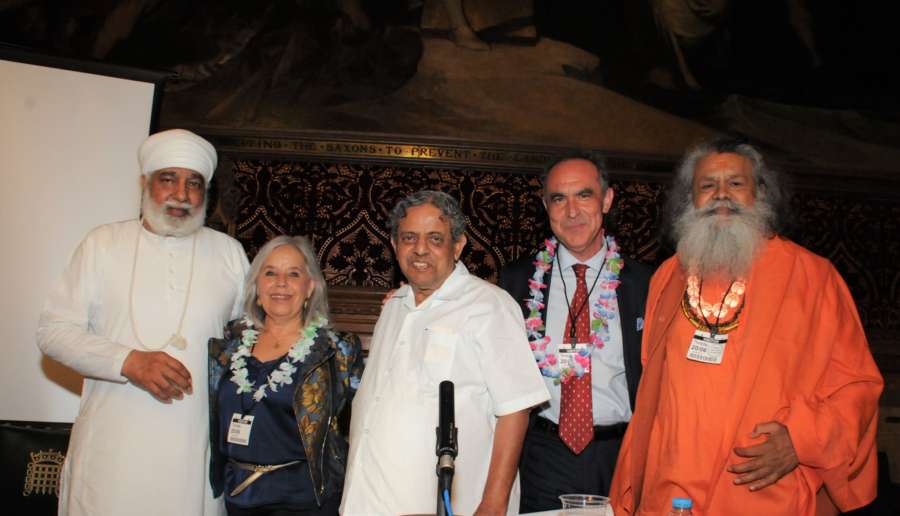 Asi Bachara, a Bhajan and Flamenco by Soprano Elena Greandia from Spain, captivating dance presentation titled Tributes to Shiva- The Yogi by acclaimed dancer Ragasudha Vinjamuri, demonstration of Yoga postures by Shamji Ladha were enchanting and spellbinding.
Virendra Sharma MP, Rohit Vadhwana from the High Commission of India and NLA Haleem from the High Commission of Sri Lanka in UK were among the distinguished guests present, while Dr Tony Nader of Transcendental Meditation appeared via Skype. Prof John Porter, Prof Venkat Joshi, Joaquín Catalán, Dr Miguel Quel, Dr Juan Crespo de la Rosa, Yogi Ashokananda, Tomas Pfeiffer, Vidhi Sadana, Padma Coram, & Deborah Kalstan made powerful case for incorporation of Yoga into the health systems. Establishment of British Ayurvedic Medical Council, a self-regulatory body, representing the voice of all Ayurvedic bodies collectively in the UK was announced by Dr Shantha Godagama and Dr Mauroof Athique.
Dr HS Nagendra, Chancellor at S-VYASA Yoga University was presented with YogaAnanta Award, Swami Maheshwarananda Puri of Panchayati Maha Nirvani Akhara, Vienna, 99-year-old Pujya Shri Rambapa and Swami Anubhavananda Saraswati were given YogaRatna awards while Sister Jayanti of Brahma Kumaris was conferred with Indian Traditional Sciences Ambassador by the APPG-ITS.


Amarjeet S Bhamra, Secretariat at APPG Indian Traditional Sciences read messages of support from Shripad Naik, honourable Minister of AYUSH and Vaidya Rajesh Kotecha from the Ministry of AYUSH, Government of India.
During the Yoga Symposium at the Nehru Centre, fifteen prominent speakers from both traditional and modern medical streams, including Prof. Dr Tanuja Nesari from All India Ayurveda Institute in New Delhi, an autonomous organisation under the Ministry of AYUSH, Government of India,  spoke on the topics ranging from Raja Yoga Meditation and Climate Change, Yoga Movement for Global Well-being, Yoga Studies – Teaching and Research across the World. Yoga and Health to Eclectic Medicine and Integrative Medicine Applied to Cosmetics and Natural Nutrition. Shri Vinay Prabhakar Sahasrabuddhe MP, National Vice President of Bharatiya Janata Party, Namrata Kumar Deputy Director General of ICCR and Brij Kumar Guhare the Deputy Director of the Nehru Centre  have graced the occasion.
During the Yoga Exhibition at the Victoria Tower Gardens, Yogaprotocol, demonstrations, Surya Namaskar, chanting, song and dance for experiencing joy and wellness were hosted for public by various professionals and renowned practitioners.