Advertisement

World-renowned speaker BK Shivani will conduct live events in Leicester on June 20th, London on 23rd of June and Manchester on 24th June… Once in a lifetime opportunity to experience the golden discourse  
"When I change, my world changes" – BK Shivani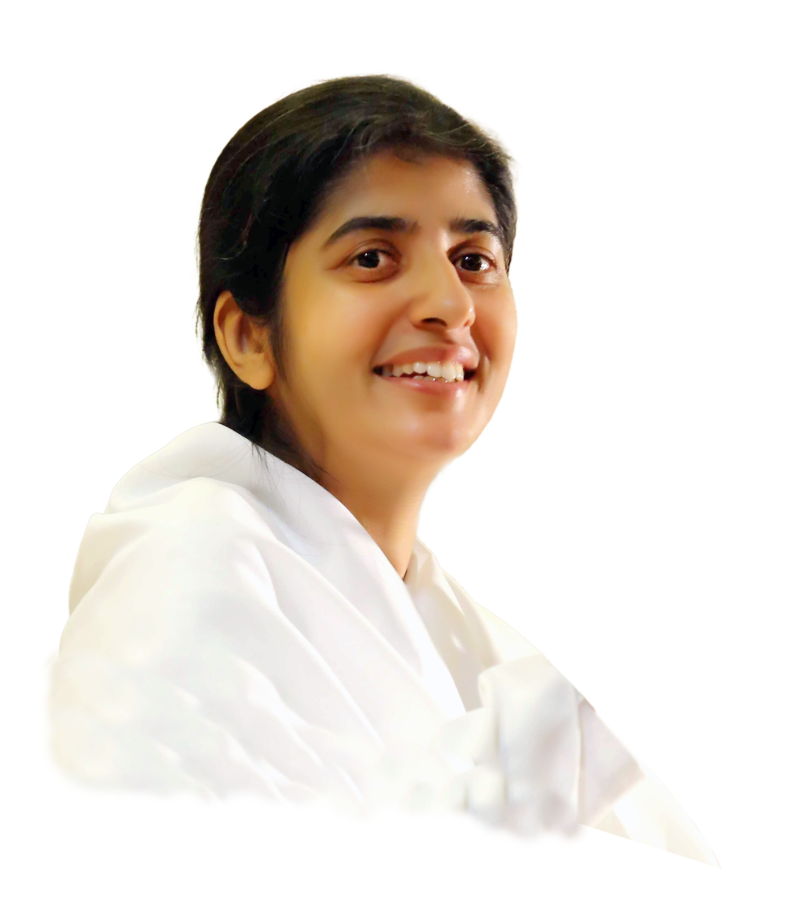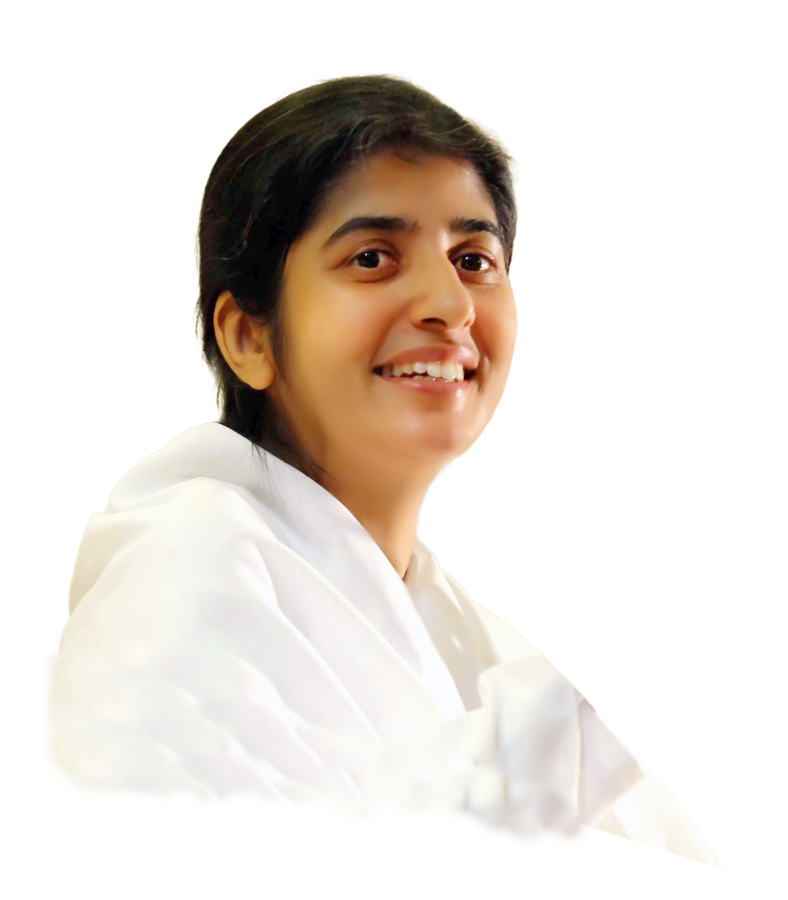 BK Shivani, a very modern face of India's ancient Raja Yoga, is coming to the UK for the start of her 'Awakening' European Tour.  For the past 12 years, her hit TV talk show in India has increasingly found an audience in countries right around the world, leading to live tours of packed out venues in major cities on all five continents. There was nothing planned about her meteoric rise to international fame.  In fact, there's no-one more surprised than BK Shivani herself.
BK Shivani arrives in London on June 17th to begin her tour of 13 European cities over the following 19 days, including three dates in the UK – Leicester, London and Manchester.
"BK Shivani speaks from a place of stillness and silence which enables her to tap into the innate wisdom we all share," said   Sister Jayanti, European Director of Brahma Kumaris and CEO of Brahma Kumaris (UK). .  But she doesn't just talk a good talk, she very much lives by what she believes.  I hope that people will experience the power of silence through her presence and through the words that she shares."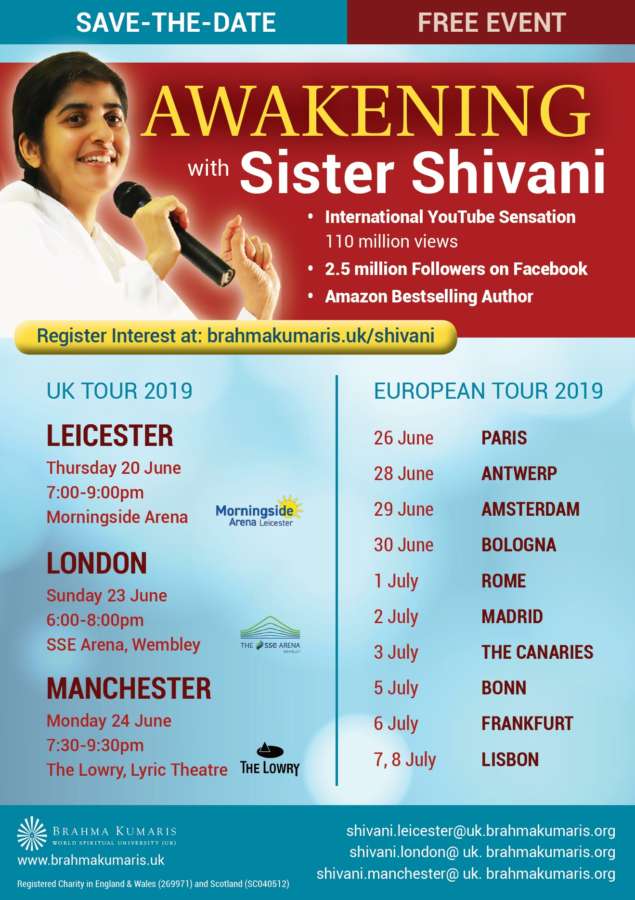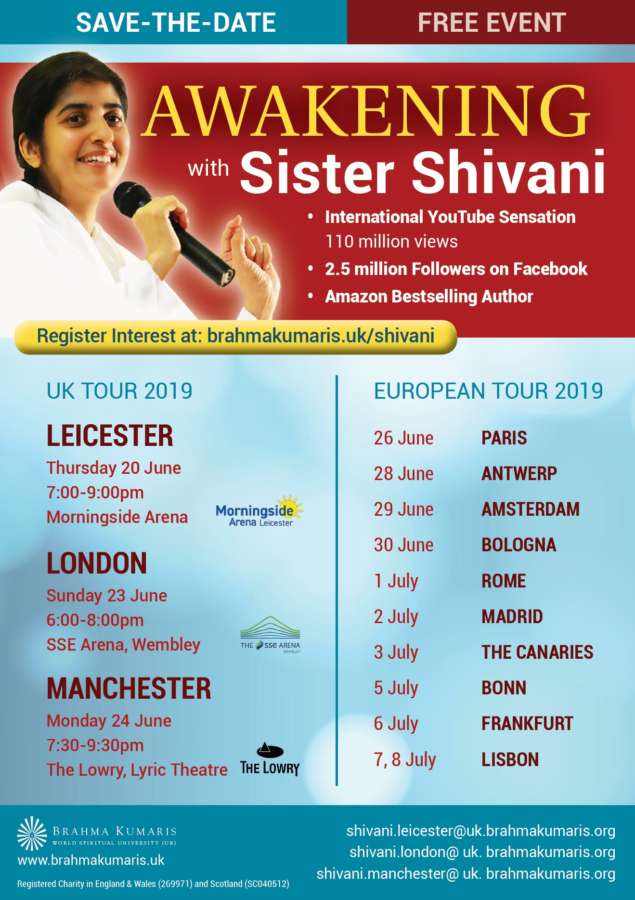 In 1996, as a young wife and gold medallist graduate in engineering, BK Shivani began practising and teaching Raja Yoga with the Brahma Kumaris, a global network with a presence throughout the UK and Europe.  Drawing on the many insights gained from her study of this form of yoga – a 'yoga of the mind' – she discovered a gift for translating the wisdom of these teachings into something very practical and relevant for today's world. This led to her being asked to host the TV talk show, 'Awakening with Brahma Kumaris' in 2007. The show became a runaway success – first in India and now in countries around the world – covering everything from how to improve relationships, be better parents, to leading happier, more fulfilled lives. Her unique blend of wit and wisdom and refreshing style are proving to be a much needed tonic for anyone whose spirits are in need of lifting.
Her huge achievement in becoming a young woman of inspiration to people of all ages and walks of life was recognised on International Women's Day this year by the Government of India who awarded BK Shivani the highest civilian honour for women in India – the Nari Shakti ('Woman Power') Award.
Her TV show and her social media following of almost 4 million (YouTube and Facebook) means she is in demand as a speaker around the world.  Her book Happiness Unlimited was a No.1 bestseller on Amazon India, Religion section.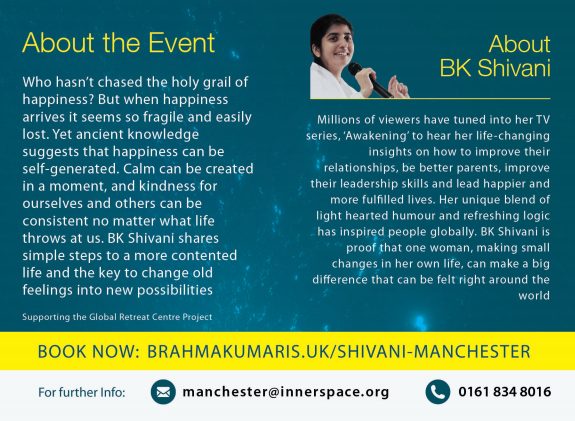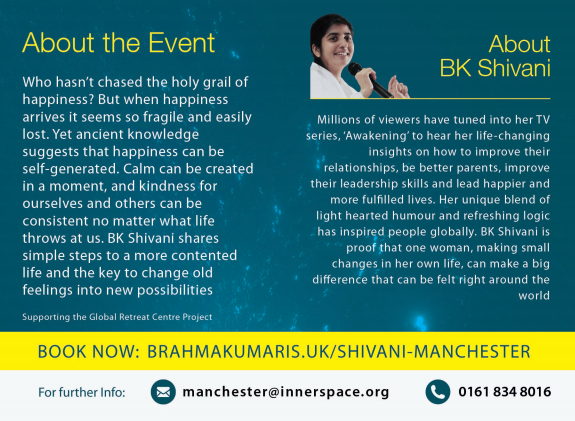 Brahma Kumaris (UK) is a registered charity that teaches Raja Yoga meditation as a way of experiencing peace of mind and a positive approach to life. Courses, talks, workshops, meditation sessions and retreats are offered in locations around the UK.  BK Shivani's UK tour is supporting Brahma Kumaris (UK)'s Global Retreat Centre Refurbishment Project www.globalretreatcentre.org.  Brahma Kumaris (UK) is part of a network of organisations in 110 countries across the world, including a presence throughout the UK and Europe, which work with local and national organisations to make a positive contribution to both individuals and the communities in which they live.
Tickets for all events are free of charge, booking required in advance – www.brahmakumaris.uk/shivani
Leicester                    Thursday 20th June (7.00 pm)         Morningside Arena
London                      Sunday 23rd June (6.00 pm)             The SSE Arena, Wembley
Manchester               Monday 24th June (7.30 pm)           The Lowry, Lyric Theatre