Advertisement

There is credible evidence that Saudi Arabia's Crown Prince Mohammed bin Salman and other high-level officials are individually liable for the killing of journalist Jamal Khashoggi, a UN special rapporteur said…reports Asian Lite News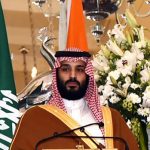 A report by UN extrajudicial executions investigator Agnes Callamard said the evidence merits further investigation by an independent and impartial international inquiry, the BBC reported.
Khashoggi, a Washington Post columnist and a critic of the Saudi Crown Prince, was killed and reportedly dismembered in October 2018 at the kingdom's consulate in Istanbul by a team of 15 agents sent from Riyadh. His body has not been found till now.
While Riyadh initially denied any knowledge of the incident, Saudi officials later claimed that a group of rogue operators, many of whom belong to the Crown Prince's inner circle, were responsible for the journalist's death.
The murder caused international outrage and provoked condemnation of the 33-year-old Crown Prince, also known as "MBS". Saudi authorities, however, insist they were not acting on the Crown Prince's orders.
In a 101-page report into Khashoggi's murder, Callamard urged the UN to "demand" a follow-up criminal investigation.
She did not make any conclusions on the guilt of the Saudi Crown Prince and King. Instead, Callamard said that there was "credible evidence meriting further investigation by a proper authority" as to whether the "threshold of criminal responsibility has been met".
Callamard said it was her conclusion that Khashoggi was "the victim of a deliberate, premeditated execution" and an "extrajudicial killing for which the state of Saudi Arabia is responsible under international human rights law".
There was no immediate reaction from Saudi Arabia.
"There is credible evidence, warranting further investigation of high-level Saudi officials' individual liability, including the Crown Prince's. Indeed, this human rights inquiry has shown that there is sufficient credible evidence regarding the responsibility of the Crown Prince demanding further investigation," she said.
According to Callamard, there was "no reason why sanctions should not be applied against the Crown Prince and his personal assets". She went to Turkey earlier this year with a team of forensic and legal experts and said she received evidence from Turkish authorities.
She said she obtained access to a recording of the killing and had received information about a "financial package" offered to Khashoggi's children.
Her report revealed gruesome, nearly minute-by-minute accounting of the events surrounding the killing. It also cited sounds of a buzzing saw that could have been used to dismember Khashoggi's body, media reports said.
Callamard said she received no response to her request to travel to Saudi Arabia.
Eleven people are on trial in Saudi Arabia over the murder in secret proceedings and five could face the death penalty.
Callamard named 15 suspects in the case, while the US State Department publicly identified 16 people for their alleged roles in the killing.