Advertisement

It is part of the enduring appeal of Wisden, the annual cricket almanack, now celebrating its 156 birthday, that it not only endures and is a book that every lover of the game wants to possess but has changed dramatically to reflect the times we live in. So, while there is much history in the 2019 edition, with many cricket events going back more than a century recalled with loving care,  there are all sorts of articles which both acknowledge the modern world and show that Wisden is keen to move with the times. So keen that there is a piece on blogs, electric cars and also the environment…writes Mihir Bose, former Sports Editor, BBC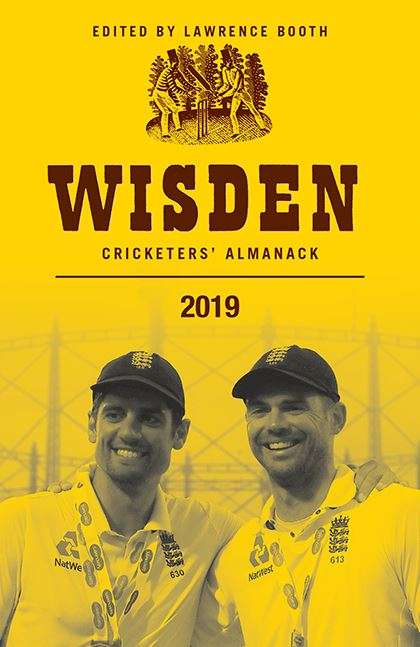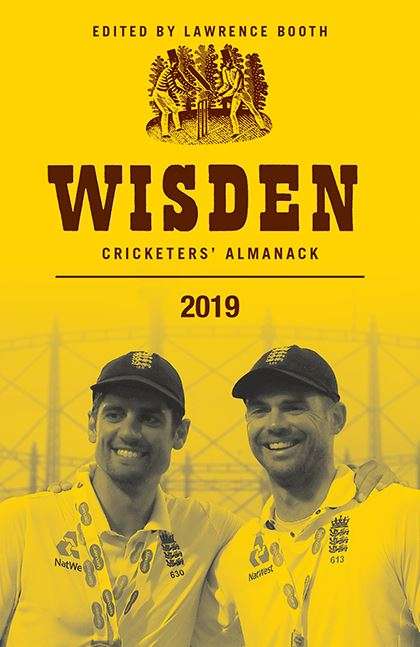 Imagine a squat, densely packed, yellow covered, book of 1540 pages of which 1236 pages are full of scorecards, statistics and match reports on cricket matches played all over the world many of which have taken place a year earlier. You would not expect such a publication to have much appeal in this day of social media.
Yet it is part of the enduring appeal of Wisden, the annual cricket almanack, now celebrating its 156 birthday, that it not only endures and is a book that every lover of the game wants to possess but has changed dramatically to reflect the times we live in. So, while there is much history in the 2019 edition, with many cricket events going back more than a century recalled with loving care,  there are all sorts of articles which both acknowledge the modern world and  show that Wisden is keen to move with the times. So keen that there is a  piece on blogs, electric cars and also the environment.
The piece on the environment may suggest the editor, Lawrence Booth, is a candidate for the Green party. He argues that while "Some may have rolled their eyes" at having such a section it is justified because, "The sport does have a role to play. If it chooses otherwise, there can be no complaints when it is limited to the countries which are still habitable in 50 years' time. That may not include Australia, where night-time temperatures in December in New South Wales never fell below 35˚C; it may not include India, where swathes of land risk becoming desert; or Bangladesh, which may be under water; or the Caribbean islands, continually flattened by hurricanes. As for mild English summers and lush green tops, forget it. Climate change is the biggest long-term issue facing cricket but, to judge by its collective response, you wouldn't know."
Wisden it must be said has its work cut out to make the cricket boards realise this. When they asked twelve Test nations "to declare their green credentials, the responses ranged from dispiriting to non-existent, with more in the second category." A marked contrast to "baseball's New York Yankees who recently appointed an "environmental science advisor" – and take its own conservation more seriously."
I would like to think that whatever happens on the environment front Wisden will go on.
I must confess I have been a lover of this publication since I was a boy growing up in Mumbai and indeed at the age of fourteen saved up all the meagre pocket money I had to try and buy a copy, only for the pavement bookseller who had promised to get it for me disappear and leave me bereft. I did eventually buy my first Wisden in 1969 when I arrived in England to study engineering. It is interesting to compare that edition with the 2019 edition. So much has changed in the last half-century that the 1969 Wisden gives the impression that it belongs to a different world compared to the 2019 Wisden.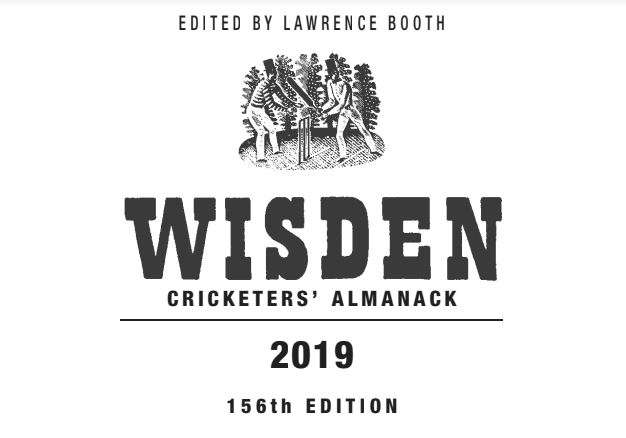 For a start unlike the 2019 edition, and many of the 21st century editions that have preceded it, 1969 was an English publication concerned with the world of English cricket.  Of its 1054 pages cricket not involving England took up 117 pages. The edition was overwhelmingly concerned with the 1968 cricket season with 53 pages devoted to Public schools cricket, with India's tour of Australasia in 1967-68 taking up 22 pages. This despite the fact that the Indian team under Nawab of Pataudi won its first ever Tests abroad. In 1969 the outside world did not really count for Wisden, reflecting the confidence it felt in the warm, cosy, embrace provided by England. The fact that so much space was devoted to public schools was clearly an inducement for parents to buy an edition to see what little Johnny had done. And just to encourage them further the first picture in the photograph section was not of the Ashes series of 1968 but of Prince Charles sweeping with the caption suggesting Charles was as natural a sweeper as Dennis Compton, one of the greats of the game whose signature shot was the sweep.
But perhaps the best indication of how things have changed since 1969 was the question of playing cricket with apartheid South Africa. 1968 saw England cancel its tour of South Africa after the Prime Minister of white South Africa, John Vorster, suddenly decided he would become an England cricket selector and said that Basil d'Oliveira could not be part of the touring England team. d'Oliveira was born in South Africa and because of the colour of his skin, he was classified as Cape Coloured by the apartheid regime, he was ineligible to play for the all-white South African team. He had come to England, became part of the England team but his selection was seen by Vorster as political interference. The editor, Norman Preston, in his notes gave his judgement on the issue. Entitled Basil d'Oliveira it is worth quoting  to show how people in this country in a position of influence saw race in 1968.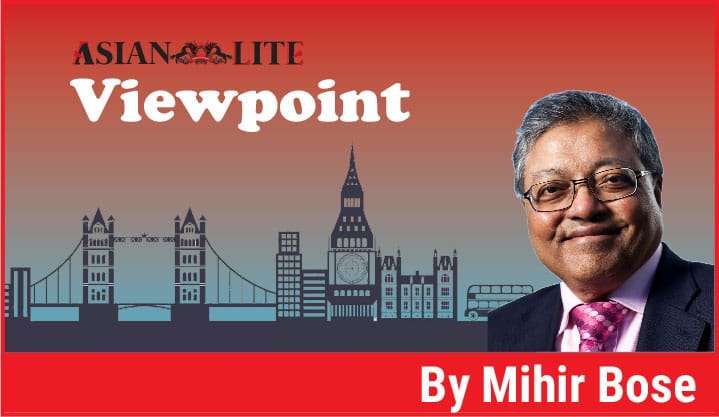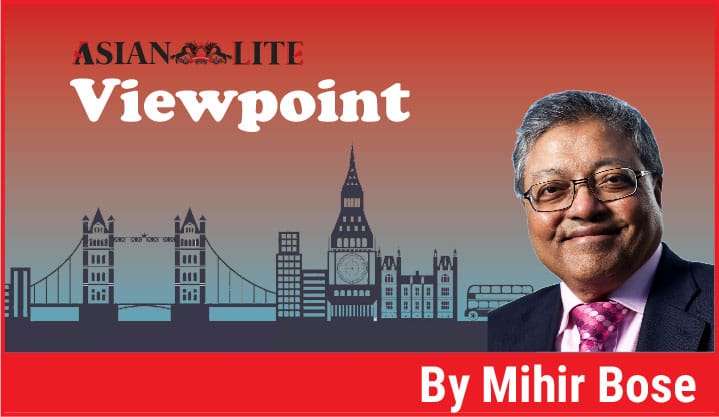 "The d'Oliveira controversy which shook cricket and political worlds could only have been avoided if he had not succeeded on his recall to the England team last August for the final test." Then, after praising d'Oliveira the cricketer, Preston went on to say, "I am sure that if the South African tour had taken place, d'Oliveira would have been a great success on the field, and off the field he would behaved with the same dignity which has won him so many admirers over here". Preston clearly did not feel this was patronising of d'Oliveira or that it implied that d'Oliveria had to prove he was the equal of a white man. But the real insight into Preston, and how Wisden and the cricket establishment saw things ,came in this final paragraph, "Cricket has been the  loser with its name tarnished and M.C.C. thrown into dived camps. M.C.C. has always fostered cricket wherever the game is played and for all their faults in this imperfect world I was pleased that the majority of members rallied to their support when the matter was thrashed out at Church House, Westminster".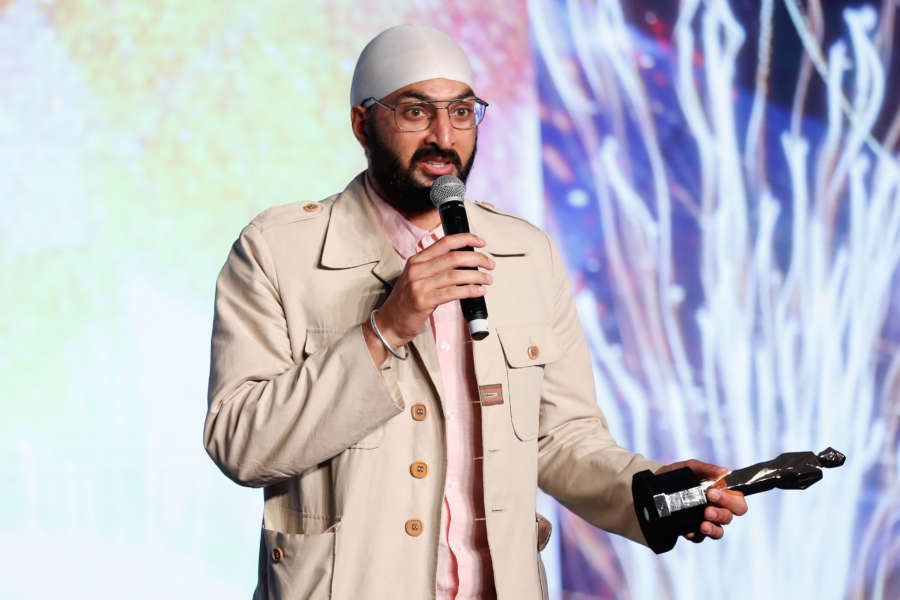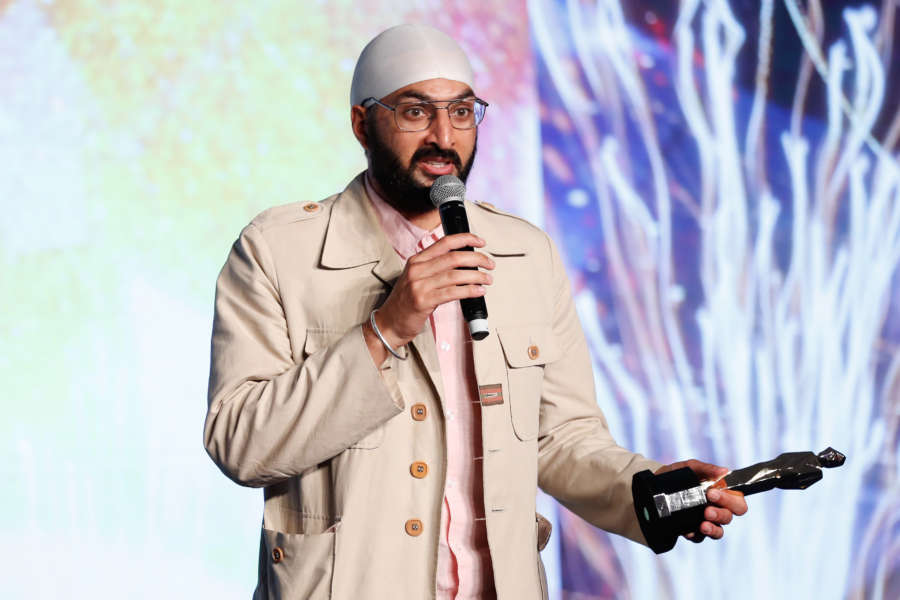 And what did the MCC members support? They rejected any censure of the M.C.C's handling of the issue. They rejected not planning any future tours unless South African cricket authorities gave evidence "of actual progress by South Africa towards non-racial cricket", or that a special committee be set up to examine progress towards non-racial cricket which would report to the next annual meeting of the club. Observe none of these resolutions called for imposing a complete ban of the white South African cricket body. The proposers wanted to make the white cricket authorities, which had never done anything for decades, now show some willingness to change. Nevertheless, all the three resolutions were defeated  by huge margins of nearly 3,000 votes in each case.
For the MCC members in 1968 playing cricket with white South Africa clearly raised no moral issues. And Preston, the editor of Wisden, endorsed that. Preston could feel the controversy had "tarnished" M.C.C.'s name but clearly did not feel playing cricket with South Africa for years had caused even greater damage to the  M.C.C.'s name
Wisden 2019 has moved on dramatically reflecting the very different and much better world we live in. You get a flavour of that from one of Booth's notes when he comments that "At the end of India's Twenty20 win at Old Trafford in early July[2018], many of their supporters stayed behind to watch the England footballers' World Cup shoot-out against Colombia on the giant screens. When Eric Dier scored the winning penalty, they jumped around with as much gusto as the England fans who had been shouting for Eoin Morgan's team. The fact they had cheered for India at cricket and for England at football confirmed that the question of national identity is complex. But at a time when some seem hell-bent on division, it was a glimpse of unity."
I was there at Old Trafford that night and during the England-India match Old Trafford felt more like Mumbai than Manchester but by the time the football finished the atmosphere had been transformed. Norman Preston would have found such a world incomprehensible. And Lawrence Booth would have no problem understanding how fraudulent the M.C.C's position on race and South Africa was when in the name of keeping cricket going it not only decided to sup with the white regime but through cricket prop it up, as defendants of the white regime have since admitted. And doing this while all the time claiming that by playing cricket with the white regime it was on a wonderful exercise of changing the hearts and minds of the white South Africans.
But then to be fair to Preston he would have found much that is in Wisden 2019 incomprehensible with 392 of the 1540 pages devoted to international cricket not involving England. This can best be judged if you compare the feature articles in 1969 with that in 2019. In 1969 they were  apart from the d'Oliveira affair articles on Statham, Cowdrey,  Bailey, Yorkshire. The 1969 edition had some great writers including Neville Cardus, John Arlott but, apart from Jack Fingleton writing about the 1968 Australian tour, the 1969 edition was a case of England speaking to England not to the world.
 The range of features in 2019 include an article on the 2014 Peshawar school terrorist attack, Australia's ball-tampering farrago, The Netta Rheinberg diaries, Imran Khan, prime minister of Pakistan by Peter Oborne and Richard Heller, two great experts on Pakistan cricket, the leading woman cricketer of the world Smriti Mandhana, and an article on Cricket's Windrush generation by Robert Winder who in a very evocative, nuanced, piece describes the rise and fall of cricketers of West Indian  origin in the English game in the last seventy years.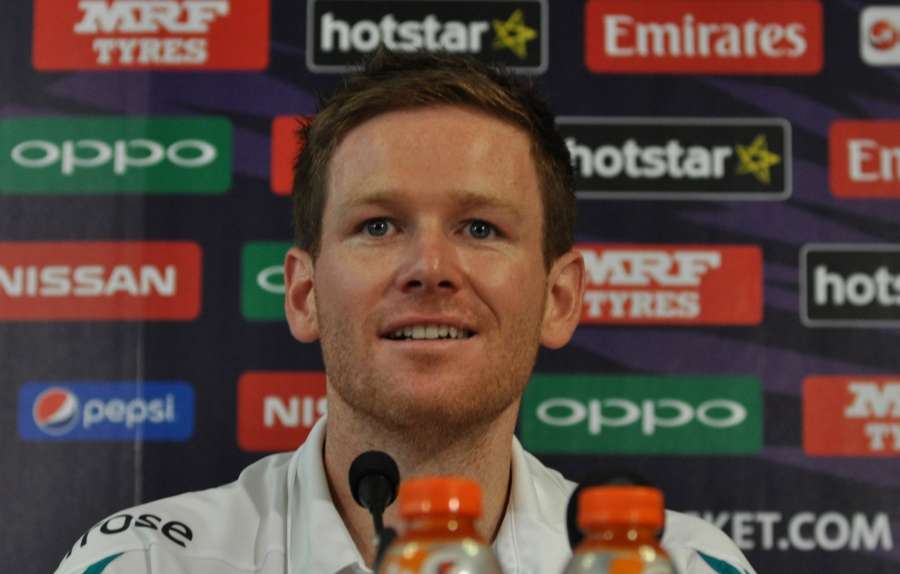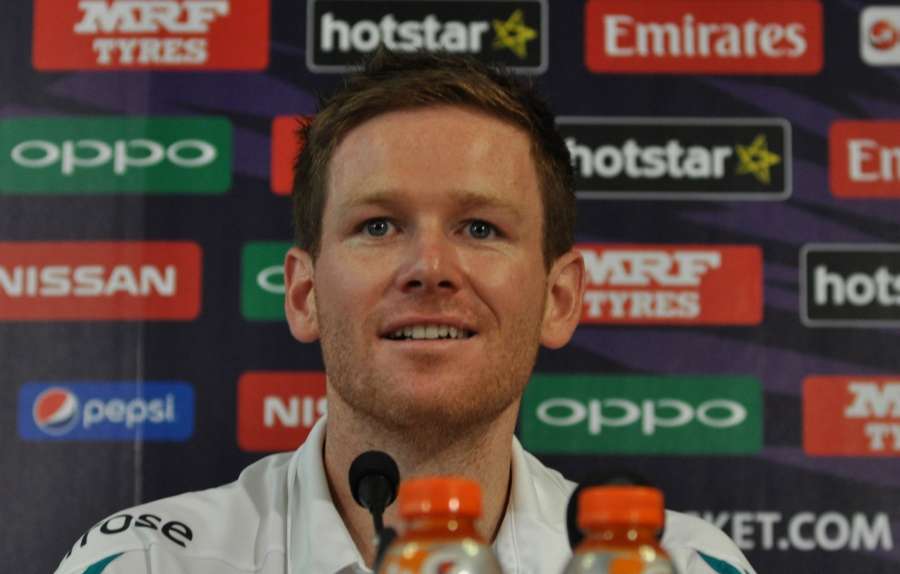 Some traditions are maintained. So, the five cricketers of the year are  those who have performed in the English season. This is something that when I was growing up in India would cause a great deal of resentment. We would look at the list and could not understand why no Indian was included little realising that they had to be playing in England to qualify and playing in the Lancashire League, as many of India's leading cricketers did then, did not qualify. So, as if to make up the 2019 edition has Virat Kohli once as one of the five cricketers of the year and also The Leading Cricketer in the World, a new category created some years earlier, providing us a double dose of the Indian captain.
But as in 1969 there is still a section on little Johnny's cricket, it is down to 38 pages and the title Public schools has gone and been replaced by schools' cricket. However, as I discovered  when I was writing Moeen Ali's book this does not include Moeen's school but as Douglas Henderson, who does this section, explained to me it is not because Wisden would not want Moeen's school but because the school did not provide the information.
I have always believed that an international edition of Wisden is possible, particularly one directed to India. Indeed, some years ago I drew up detailed plans for it and discussed it with Bloomsbury. It is good such a Wisden India has since been launched. And while the original Wisden is still an English cricket publication it has an international outlook far removed from the publication I so eagerly grabbed in that Fleet Street bookshop in the summer of 1969. It shows that contrary to the often expressed view we can have progress without making the past a totally foreign country.