Advertisement

Austrian President Alexander Van der Bellen announced snap elections in September after Vice Chancellor Heinz-Christian Strache resigned over a corruption scandal…reports Asian Lite News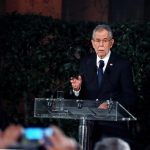 After a meeting with Chancellor Sebastian Kurz, the President told the media the beginning of September had been earmarked for the elections.
The two leaders had met to discuss how to proceed after the video scandal that led to the collapse of the coalition government.
The video shows Strache, leader of the right-wing populist Freedom Party, discussing government contracts with an alleged Russian investor.
In the footage, the woman says she is the niece of a powerful Russian oligarch. She offers to buy 50 per cent stake in Austria's Kronen-Zeitung newspaper and switch its editorial position to support the Freedom Party.
In exchange, Strache said he could award her public contracts, explaining he wanted to "build a media landscape like (Victor) Orban", a reference to Hungary's authoritarian Prime Minister.
Strache on Saturday resigned from all political posts, and blamed his actions on alcohol and acting like a "teenager", saying his behaviour had been "stupid" and "irresponsible" and that he was leaving to avoid further damage to the government.
The Chancellor told the media there must be "maximum of stability" in the country now, and that the snap elections were "not a wish, but a necessity." "After yesterday's video, I must say quite honestly: Enough is enough," he said.
"The serious part of this (video) was the attitude towards abuse of power, towards dealing with taxpayers' money, towards the media in this country," Kurz said, adding he had been personally insulted in the footage.
Van der Bellen said going forward there must be a "rebuilding of trust". "This is now solely about the well-being of our country and our reputation in the European Union and in the world," he said.