Advertisement

The Democracy Forum (TDF) organised a seminar at the Senate House of London University.The Introducing the topic Cross-Border Terrorism: Challenges in South Asia & its Neighbourhood, seminar chair and former BBC Asia correspondent Humphrey Hawksley spoke of the 'melee of insurgencies in South Asia' and how terrorism, wherever it happens is the world, is far bigger than its local elements, with insurgencies always requiring the support of big powers….A special report by Asian Lite News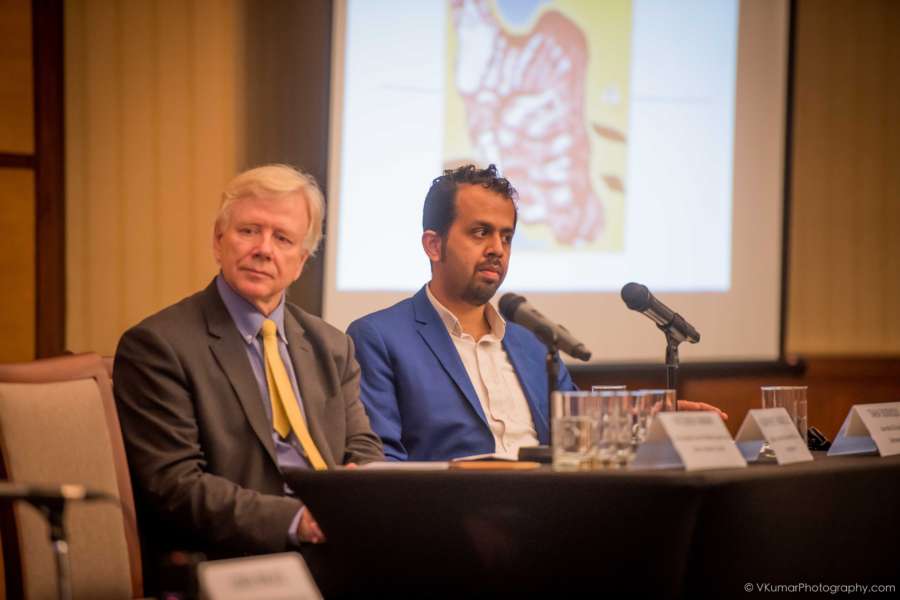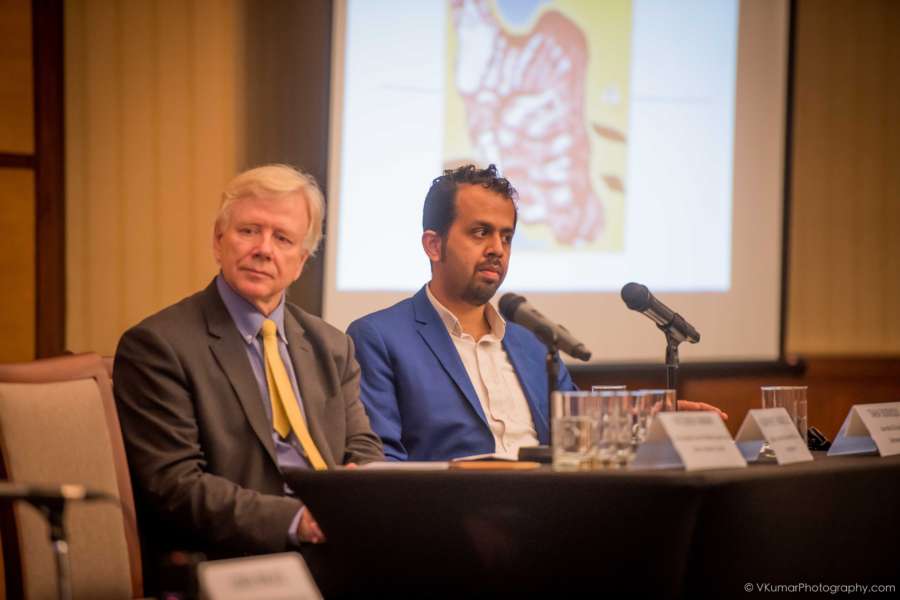 The very real threats South Asia faces from cross-border terrorism and the capacity for localised insurgencies to become widespread were among the topics for debate at a seminar hosted by The Democracy Forum (TDF) at London University's Senate House.
TDF president Lord Bruce dedicated the seminar to memory of Tom Deegan, who passed away on April 10. It will be a fitting legacy to Tom, he said, if TDF continues to expose the iniquity of political injustice, the erosion of free speech and denial of human rights in South Asia.
Introducing the topic, seminar chair and former BBC Asia correspondent Humphrey Hawksley spoke of the 'melee of insurgencies in South Asia' and how terrorism, wherever it happens is the world, is far bigger than its local elements, with insurgencies always requiring the support of big powers.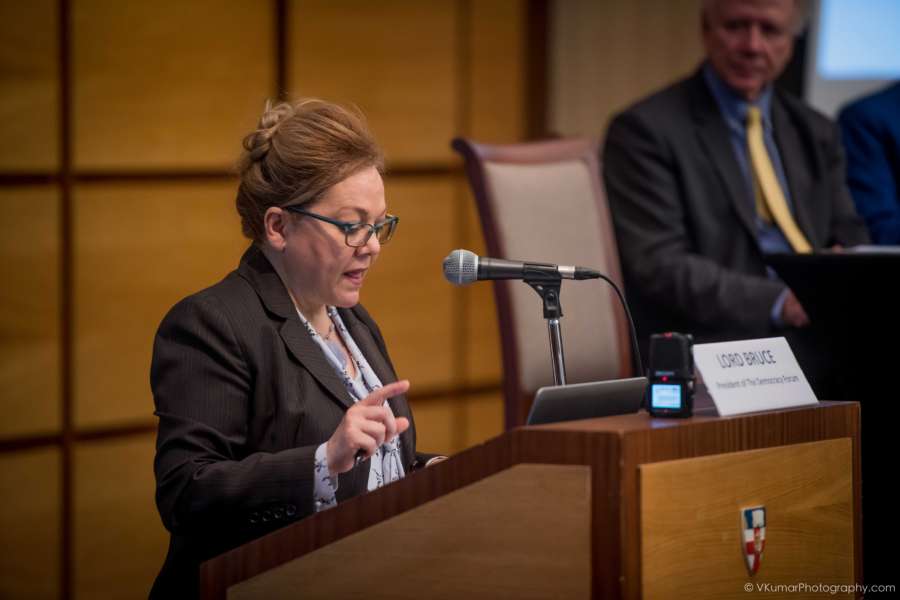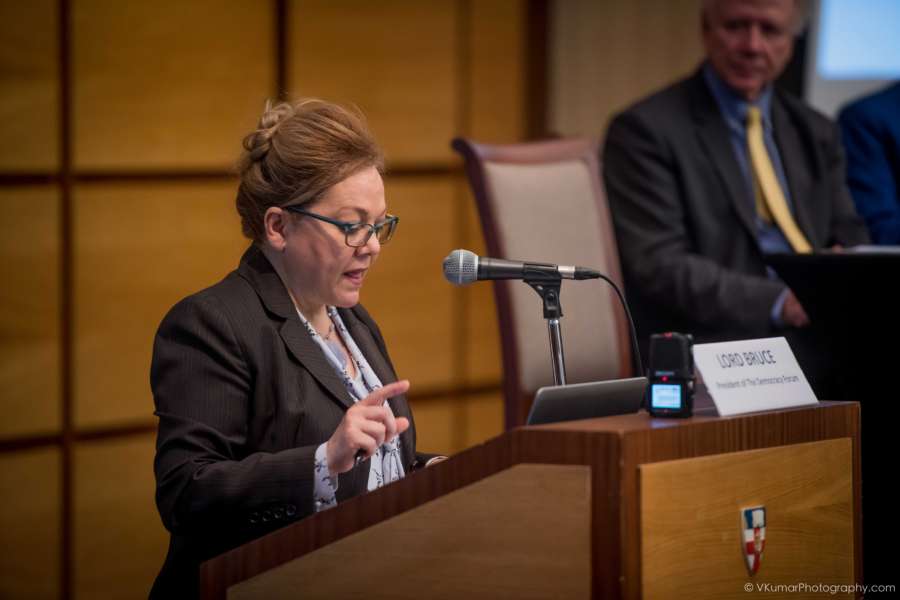 Fatemeh Aman, non-resident Senior Fellow at the Atlantic Council's South Asia Center, focused on insurgencies in Iran's eastern and western border regions, considering how the Iranian authorities' responses to cross-border terrorism have impacted on both the internal politics of the country and its relationships with its South Asian neighbours, especially Pakistan. She discussed the root causes of terrorism in different regions of Iran and how some insurgent groups such as the Salaafis enjoy the support of the Iranian intelligence community to fight other insurgents, and looked at the rise of ISIS and Islamic State Khorasan in Afghanistan. Despite what one hears from Washington, Aman said, 'I do believe Iran is interested in peace talks between the Taliban and the Afghan government.'
"Iran thinks the Pakistan government and military either tolerates cross-border attacks against Iran or is incapable of preventing them," said Aman, and elements between the ISI and the Pakistan military, with backing from Iran's Arab rivals, are actively supporting militants.
"Pakistan is too obsessed with India – it completely ignores its border with Iran," she said, warning that cross-border terrorism is threatening the whole region, as what had stayed local in the past has now spread and can fuel instability in the entire region. She was not too optimistic that insurgency would end any time soon, unless there is regional cooperation and intelligence sharing, which she thought unlikely in that part of the world.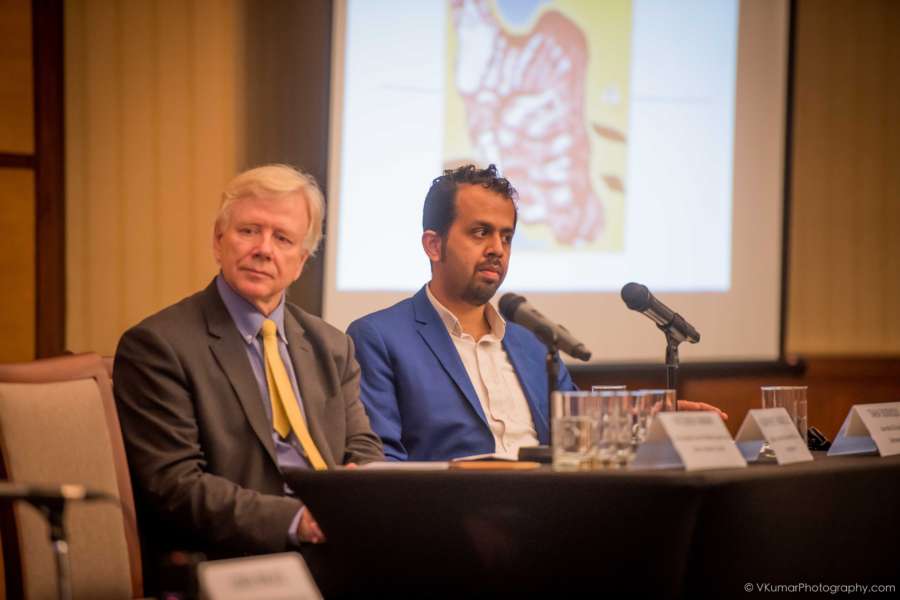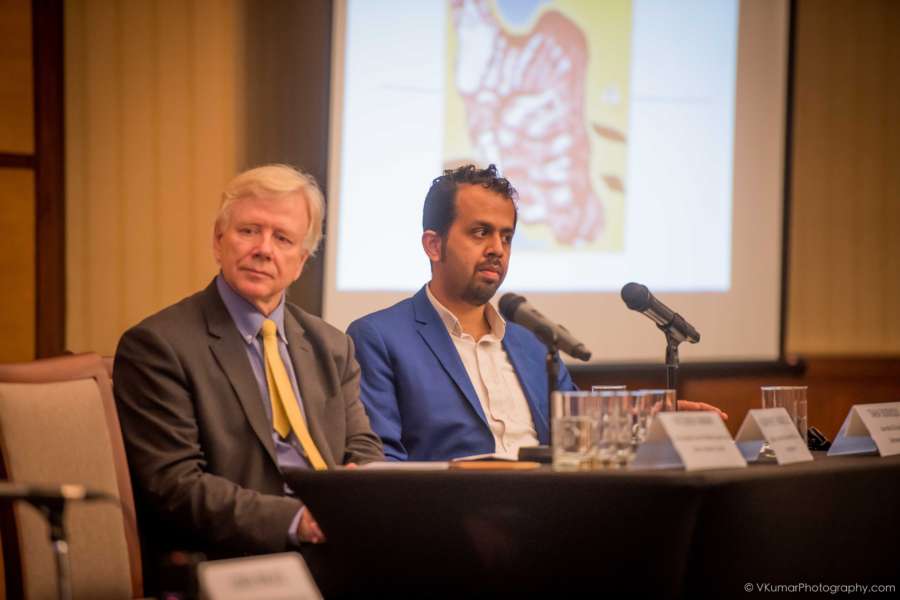 "Can the Financial Action Task Force (FATF), the UN and other international bodies and governments compel Pakistan to give up its jihadi proxies in the South Asian region?" was the key question posed by Taha Siddiqui, a journalist in exile and founder of safenewsrooms.org.  He spoke of the international commitments Pakistan should fulfil and the pressures it should face for its actions in sponsoring terrorism.
Siddiqui offered a brief history of Pakistan's "obsession with jihadi proxies in the region."
"The Pakistan military protects itself by keeping threat of India alive, he said, and though Pakistan initiated conflicts with India, it told the public it is only countering Indian aggression.  Pakistan relies on internally-based militant groups to keep tensions simmering, and the army has the 'perfect excuse for a tax burden' on the country's economy, creating a Mafia-like protection racket.
"The military creates its own demand in Pakistan," he said.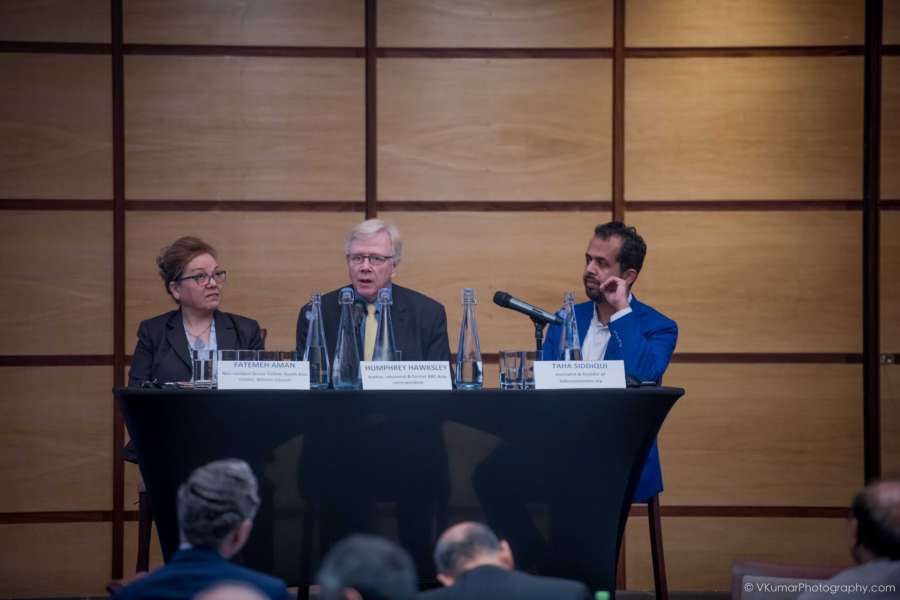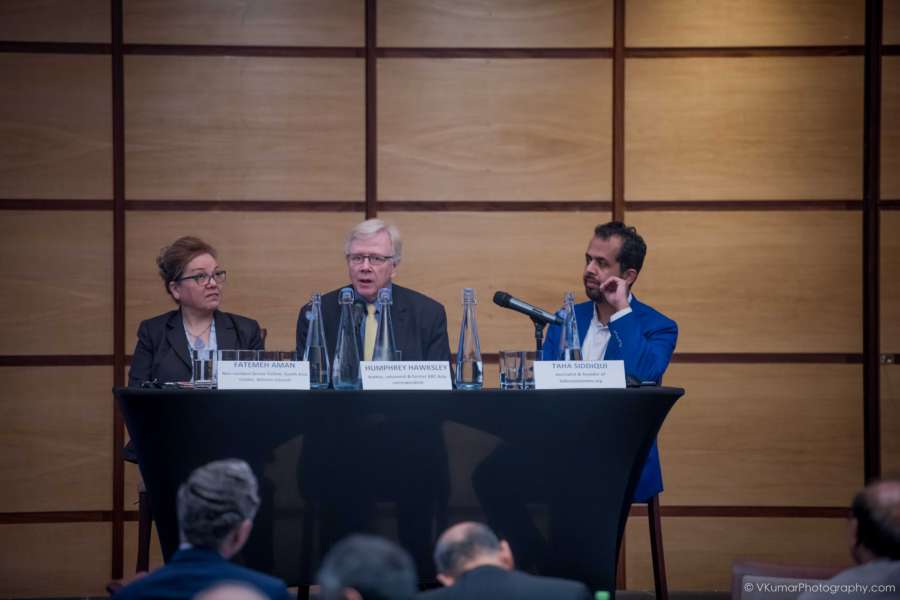 He also spoke of how military proxies have been operational during natural disasters in Punjab and Azad Kashmir, working within the public under the guise of 'charity groups', and addressed the issue of Balochistan as "a hotbed of terrorist groups."
"Can FATF and the UN pressure Pakistan into changing its course?," he wondered. "A decision is imminent about whether to shift Pakistan from a grey to a black list, as the country has not done enough to counter money-laundering and terrorist financing. The military manipulates the local and international media, said Siddiqui, so independent reporting is difficult. The solution could be to build networks on social media with Pashtuns and other ethnic and sectarian groups to assess the real situation in Pakistan, rather than relying on what the mainstream media or Pakistan government are saying."
During the first Q & A, a heckler disrupted proceedings with aggressive behaviour and had to be removed. As a result, it was believed this individual set off a fire alarm, further disrupting the seminar for 20 minutes.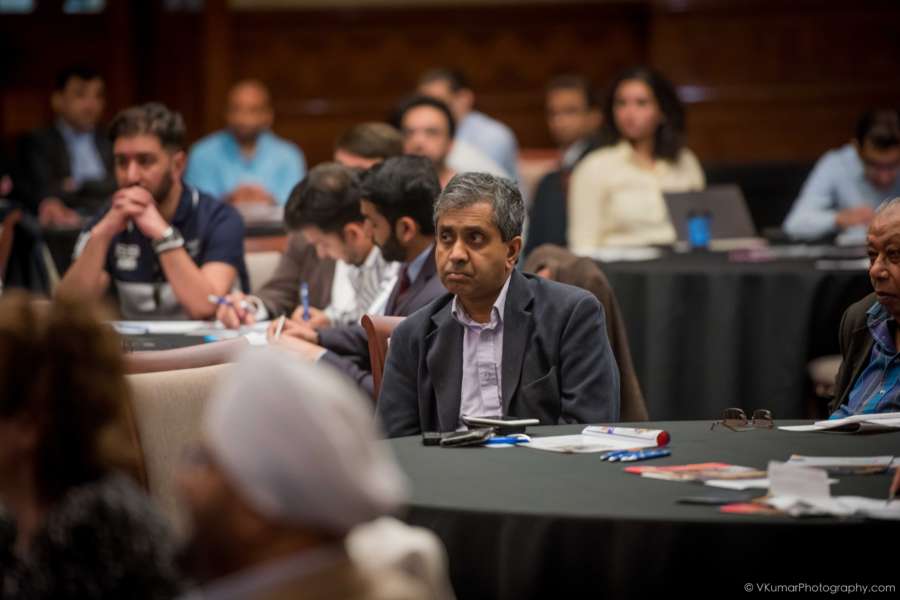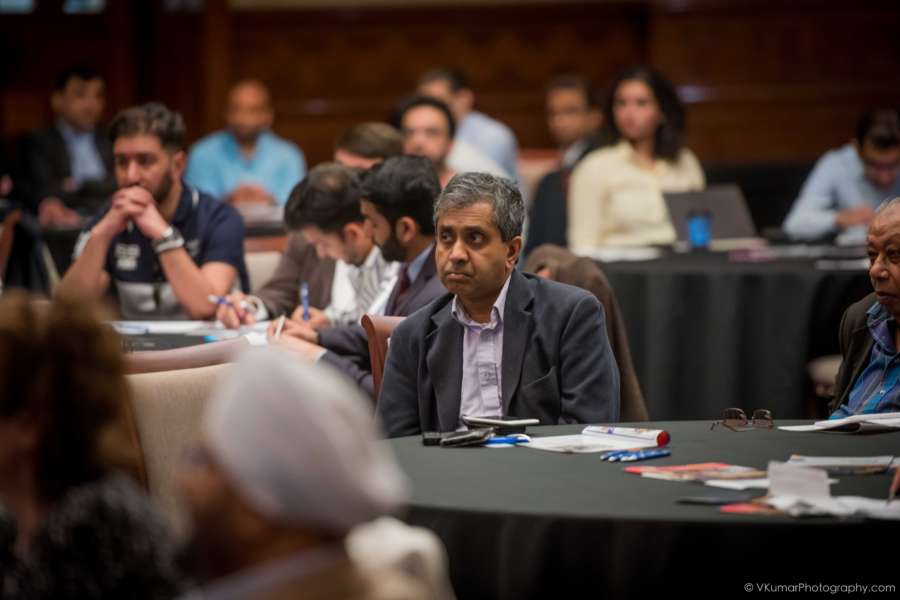 For Bashir Ahmad Gwakh of Radio Free Europe/Radio Liberty, a cause for concern was Afghanistan's potential to become a terrorist hub again if US-Taliban peace negotiations are too desperate.  It is a positive move that peace talks are happening between the Taliban and US representatives, he said, but the Taliban's refusal to talk to the Afghan government, as they see it as a 'puppet' of the US, in unhelpful.
Gwakh spoke of both Taliban and US demands, including the Taliban's proposal for a joint military commission with the Afghan government, with the Taliban having a bigger power share, and the US' desire to ensure Afghan soil is not used against any other country, eg the US or India. But, insisted Gwakh, they are talking to the Taliban as if it is a state, yet any promises they make carry no weight, as the Taliban has no means of controlling associated splinter groups.
Even if talks succeed, said Gwakh, what will the Taliban tell their foot soldiers, who are deeply committed to this ideology, on the basis of which they fought a war? Radicalised fighters will just go and join ISIS, al-Qaeda, etc. So if talks are to succeed, the Afghan government must be involved. Also needed is a comprehensive programme of de-radicalisation so Taliban foot soldiers/fighters can be integrated into society.
Other issues Gwakh focused on were the continued influence regional countries such as Pakistan will continue to have on the Taliban and any future set-up in Afghanistan, terror networks, and the huge question of power distribution, eg how to integrate the Taliban into Afghanistan's power structure in what is now a more progressive country. Also, ISIS is always waiting in the wings in Afghanistan, and neighbours like Pakistan and Iran have their own interests and will exploit any opportunities resulting from the talks. Although the UN can take credit for bringing the Taliban to table, concluded Gwakh, unless there is a de-radicalisation programme, the problems will persist. The US must put pressure on countries funding Taliban, and put military pressure on Taliban.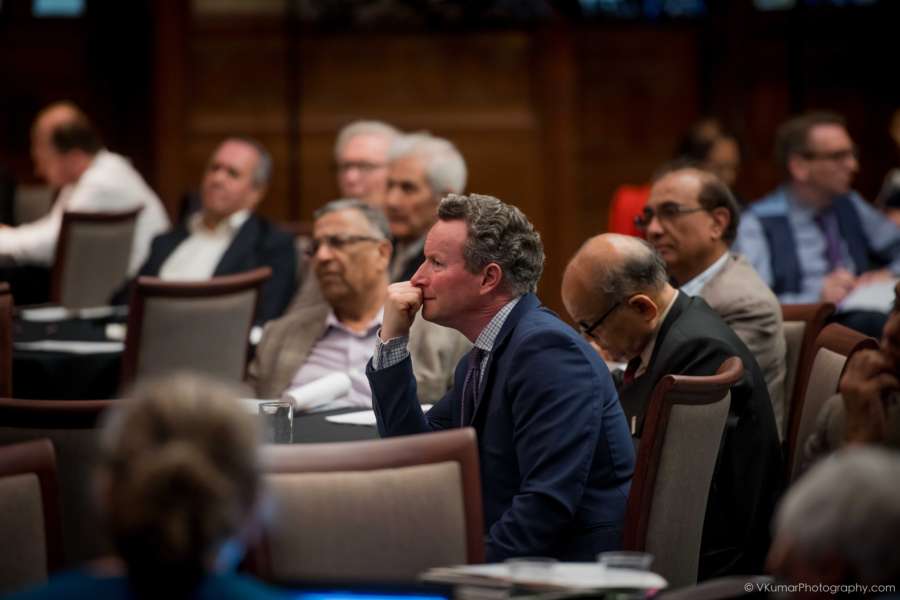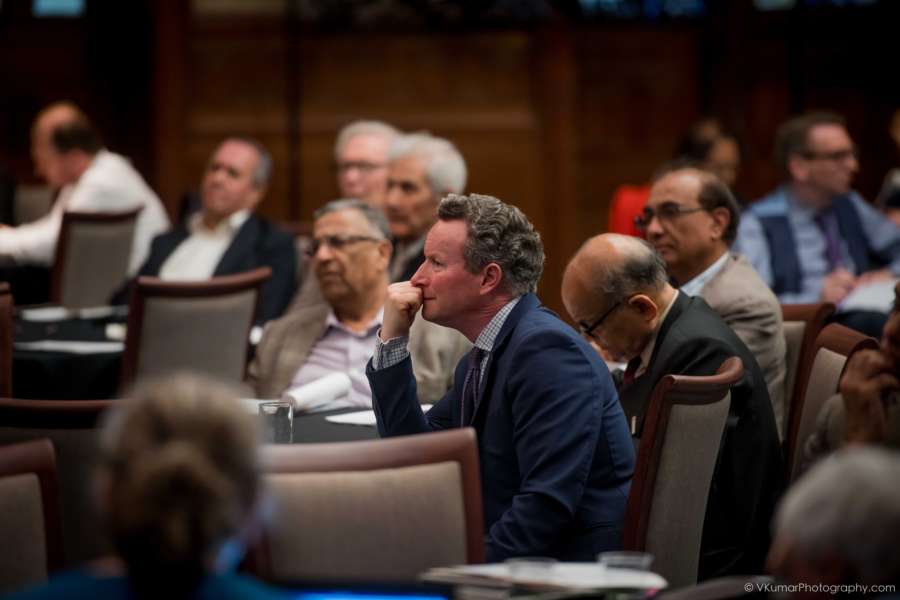 Dr C Christine Fair from the Edmund A. Walsh School of Foreign Service at Georgetown University examined Pakistan's enduring imperative to use cross-border terrorism to try and resolve its basic conundrum: it wants to try and change maps, but it has an army that cannot win wars and nuclear weapons it can't use.  So it has settled upon a strategy of proxy war in Kashmir and elsewhere in India under the safety afforded by its nuclear arsenal.
She looked at the Pakistan puzzle from the perspective of policy-makers, particularly the US, saying that, although people talk about an India-Pakistan dispute, most people who are knowledgeable know that 'this is really Pakistan's dispute with India'. She spoke of Pakistan's status as a revisionist power 'obsessed with obtaining territory to which it was never entitled', eg Kashmir. Speaking of the disruptive element during the seminar, she said this was common at all such events, as Pakistan's agenda is typically to try and destabilise themes that experts know to be facts.
Fair also addressed how Pakistan's nuclear umbrella has enabled it to engage in sub-conventional warfare with India with impunity, and Pakistan's 'geographic revisionism vis-à-vis India', having 'located itself as only country to resist India's rise'.
What explains the Pakistan puzzle, said Fair, is that Pakistan is not a security-seeking state but rather an ideological one. This is clear from examining the strategic culture of the Pakistan army, which has a duty to defend Pak's ideology and geography and must defend two-nation theory or preside over a state that is a 'failed version of India', a state not worth defending. Hence the insistence on Kashmir as the fulfilment of a two-nation theory, which legitimises its claim to that region.
The Pakistan army will never let peace happen, she insisted. Whenever India and Pakistan come close to rapprochement, something bad happens. Talks are not only unproductive but also impose opportunity costs, as India could be spending that diplomatic capital on other bilateral relationships that could be more fruitful.  'We should not be afraid when Pakistan says "I'm too dangerous to fail",' declared Fair. 'We should plan for day when Pakistan does fail so that we can handle the problem.'
Rounding off the proceedings, TDF Chair Barry Gardiner MP, Shadow Secretary of State for International Trade, highlighed the profound influence our neighbours have on us. 'Scratch history, find geography,' he said.
The seminar had thrown up lots of analysis but no solutions, and we need to think about how to get funding away from the wrong places and into the right places, to remove people's sense of economic injustices.