Advertisement

Bhatnagar, a senior journalist, who was a prime witness to the 1980-90 decade as a political reporter for newspapers like The Pioneer, Lucknow, and The Times of India, says the book is not his personal opinion on Rajiv Gandhi or his politics… reports Asian Lite News
BY VISHAL GULATI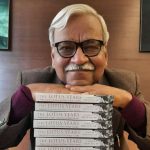 Rajiv Gandhi is perhaps the only Prime Minister through India's constitutional history who brought a dramatic paradigm change in the India story in the shortest possible time — the first three years of office, Ashwini Bhatnagar, author of the recently released 'The Lotus Years, Political Life in India in the Time of Rajiv Gandhi', said.
"The aspirational India," he said, "that we recognise so well today — India of the 21st century — as well as the benefits of our demographic advantage and its economic value are his substantive legacies, besides the telecom revolution, Panchayati raj, economic liberalisation and much else," he told IANS in an exclusive interview.
"Rajiv was not an arm chair visionary," Bhatnagar said.
"He was a doer. He could quickly identify problems and move swiftly to find viable solutions. Unlike other politicians, specially of the Congress, who believed in politics of platitudes or 'jumlas', Rajiv was extremely committed to the delivery mode. Remember, the day he took over after Indira Gandhi's assassination on October 31, 1984, he found the telephone system in disarray.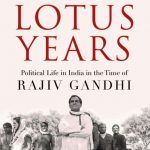 "He sacked the telecom chief and within three years set up a system which saw India move into its telecom revolution. Sam Pitroda was the architect of that plan and its perfect execution."
In reply to a question, Bhatnagar said: "Though Rajiv succeeded spectacularly as Prime Minister, his track record as a politician falls short. This is not because he lacked purpose or will but because he was betrayed as a politician, ironically by the very same Congressmen — the power brokers he had passionately spoken about at the Congress centenary session in Mumbai — whom his own mother Indira Gandhi had created.
"Rajiv's innocence about how deeply they were entrenched in the party cost him dearly."
Bhatnagar, a senior journalist, who was a prime witness to the 1980-90 decade as a political reporter for newspapers like The Pioneer, Lucknow, and The Times of India, says the book is not his personal opinion on Rajiv Gandhi or his politics.
"I am only reporting on a part of our contemporary history, retelling a sequence of events with Rajiv at its centre since he was the Prime Minister and then summing it up as any professional journalist would for his readers. So, my book offers a 360-degree view of politics in India during the time of Rajiv Gandhi."
Talking about why he titled the book 'The Lotus Years', Bhatnagar said with a playful smile, "Titling it the Rajiv years would have been unimaginative and lazy. Rajiv and lotus are synonyms, his grandfather named him Rajiv after the name of his own wife Kamala. So, I went back to Kamala — hence the Lotus Years. By the way, Rajiv was named Rahul by his parents when he was born and his name was change later on! Moreover, I thought the title will intrigue the readers because much of the reference to lotus is currently in the context of the BJP!
"And," he continued, "if you look at it closely much of the current BJP agenda is directly drawn from the ideas of the Rajiv regime. Rajiv initiated the majoritarianism process after his landslide win in 1984 by opening the locks at the Ram Janmbhoomi in Ayodhya, he brought in computerization (Digital India), tried to clean the Ganga (Namami Gange), launched the sanitation initiative (Swachch Bharat), and clean drinking water mission, lowered the voting age (Demographic Advantage), anti defection law, better roads, drive against corruption, cleaning up the banking system and last, but the not the least , his hectic foreign tours in which he was heartily feted by governments across the world. Compare even the PM Rajiv's sartorial style with the current dispensation and you will quickly realize where the inspiration is coming from! Many, many things are being repackaged now and are being palmed off as original ideas."
"Wasn't pandering to majority or minority politics Rajiv's huge mistake?"
"Yes, it was," Bhatnagar agreed, "As I said Rajiv not only triggered the Aspirational India but also Delusional India. Arun Nehru, his cousin and political chaperone in 1985-86, convinced him of the power of the Hindu vote and how it could consolidate the Congress rule forever. In fact, if one is to go by the testimony of Arif Mohammad Khan, then a Congress minister and now BJP appointed Governor of Kerala, Rajiv had arrived at a deal with the Muslim clerics — the Shah Bano judgement would be upturned if they did not oppose the opening of the locks at Ayodhya. It could have never worked — given the nature of our polity. It was delusional to expect so. It opened the proverbial Pandora's Box — religion based politics shot off in various directions — caste, region, language, minority appeasement, etc."
In reply to a question whether majoritarianism will work in a context different from that of Rajiv Gandhi, Bhatnagar said: "It will never work in a democracy. It's a fallacy that the democratic principle of election through majority vote is about the vote of the majority community. The majority has to be achieved across the whole spectrum of voters, not by the exclusion or inclusion of one section or the other. It is pity that most of are falling prey to the fallacy and becoming citizens of Delusional India."