Advertisement

Reimagining Silken Skeins of a Phygital Runway – By Tarun Tahiliani,  Photographs: A Style Statement
In this world of fear, chaos, and COVID, humanity has buffeted tremendous challenges, facing rapid change our lives are riddled with white noise. It is during this time that we need to listen to the quietest voice within. Tarun Tahiliani too, found his new direction, listening to his inner voice which helped him reset his deign compass "I know that this is hardly the time to talk about fashion. Our priorities are now more in sync to our sensitivities which have dramatically changed. But the show must go on."
"Today we have an opportunity to reset, restart and reimagine, and create style that is sustainable and relevant to our evolving lifestyle. Form, functionality and fit are all important to the modern Indian women" Tarun explains.
"But today, sustainability of fabric, tractability on how our ensembles are created, brand authenticity, responsibility towards our makers are more important than trends."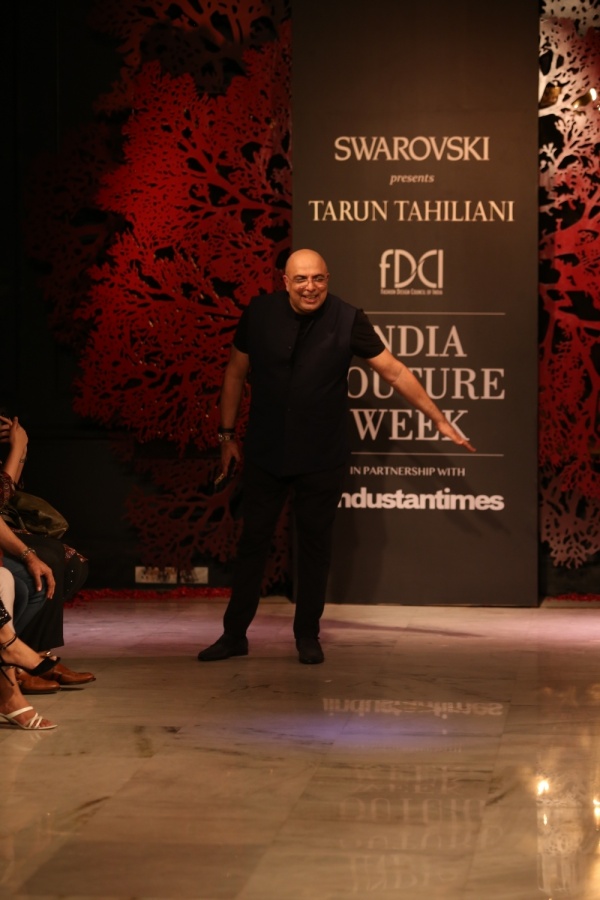 Going back to his roots, Tarun built his collection with affordability. "For a while now, I have been eager to go back to something that had the lightness and finesse of clothes that I saw when I was growing up. Out of this was born, 'Kashida' which uses our love for color, the magical technique of single tar aari. Working with natural fabrics, silk, cottons, texturing in rare kashida embellishments I created Fall Winter 2020 Collectio."
Tarun says "Kashida has a beautiful way of making an impact without overwhelming with opulence." Tarun's studio reinterpreted this technique to recreate the delicate artistry of floral motifs in fine silken threadwork which seamlessly marries the opulence of the Rajput and Mughal era into modern sophistication.
Anarkalis, Lehengas, delicate draped saris, graceful dresses, were all put out on Tarun's 1st digital virtual show, shot with safety measures and precautions, Tarun premiered a – a beautiful Fall-Winter collection via Instagram and social media. "Though the Big Phat Indian Wedding is not going to be as Big, we are also working our ensembles with a new lightness without compromising on the rich traditions."
READ MORE: Lakme fashion Week