Advertisement

40 days! That's the precious phase China wasted. The failure to identify and contain the Coronavirus undermines China's global and regional standing. The virus, now officially designated as Covid-19, has already infected more than 100,000 people worldwide and has caused over 3200 deaths globally, 2500 in China alone. The quarantines and other restrictive measures enforced by the authorities to contain the virus are severely handicapping the economy, with spill-over effects elsewhere in Asia and around the world …. Writes Ram Kumar Prasad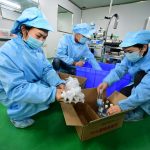 The outbreak of the coronavirus has posed a new challenge for China, particularly its economy which is still reeling from its slowest growth in three decades after a prolonged trade war with the United States. Apart from its economic impact, the virus threatens the tight grip of the Chinese Communist Party over its citizens, apart from Beijing's standing in the region.
The virus, now officially designated as Covid-19, has already infected more than 100,000 people worldwide and has caused over 3200 deaths globally, 2500 in China alone. The quarantines and other restrictive measures enforced by the authorities to contain the virus are severely handicapping the economy, with spill-over effects elsewhere in Asia and around the world.
Local authorities have already locked down Wuhan and several other cities. Most of the local governments in Hubei province have enhanced control of entry points including airports, railway stations, highways and waterways, virtually islanding cities, towns, counties and villages. Numerous cities and towns have implemented their own quarantine measures. Among the most restrictive are those in Wenzhou, the city worst hit by the virus outside Hubei and a major hub for China's maritime trade.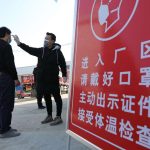 All this has affected the Chinese economy as major sectors such as transport, airlines and tourism, trade and investment, hospitality and retail, insurance, and manufacturing absorb the consequences of restrictions. The road trips this year compared to last year after Chinese New Year has reduced by 78% indicating delayed return of 300 million migrant workers back to cities. It indicates that about 300 million migrant workers are expected to return only by March end.
This has affected manufacturing as Chinese and foreign corporations struggle to resume production as a result of shortage of workforce- mainly the migrant labourers. The latter are particularly badly hit as they deal with widespread prejudice against them as perceived carriers of the virus and because New Year is usually when they seek new employment. Fearing the harassment about 80% of migrant workers have self censured themselves in returning to cities.
Ripple effects of this are being felt on supply chains. Provinces most affected by the virus are home to 49,884 branches or subsidiaries of foreign corporations, including nearly 9,500 American ones
Stringent administrative procedures notified by local governments coupled with restrictions on movement of migrant workers have resulted in almost nil economic activity. Local government has put the onus of preventing and controlling the epidemic on the enterprises and each enterprise has to submit a plan for carrying out prevention and control of epidemic. Such plan is mandatory before any plan of   starting its production. However, the difficulty in meeting the requirements and financial cost to implement the norms has discouraged the enterprises to resume their production. Most of the companies have only opened administrative offices, with other offices remaining closed indefinitely, and rest operating at dramatically reduced hours.
Technology giant, Alibaba has already said that the virus has changed buying patterns with consumers pulling back on discretionary spending, including travel and restaurants. China's overall consumer price index, which had been at 1.5% in January 2017 and between 2% and 3% during most of 2019, has now leaped to 5.4% in January 2020, as residents hoard on essential items. Many airlines have chosen to cancel or reduce flights while trade shows and sporting events have been cancelled or postponed.
Ripple effects of this are being felt on supply chains. Provinces most affected by the virus are home to 49,884 branches or subsidiaries of foreign corporations, including nearly 9,500 American ones. As a result big corporations reliant on Chinese suppliers are facing production and sourcing troubles including the major automakers such as Hyundai, Nissan, Volkswagen, Toyota, General Motors, Renault, and Honda. Foxconn, a major electronics producer for Apple, has said it will be the end of the month before even half of its facilities are operating.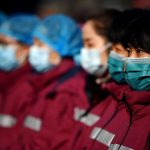 It is certain that Chinese economy especially services and industrial sector constituting 90% of Chinese GDP will be impacted negatively at least in the first quarter. Official growth rates last year showed 6% increase in the GDP which is lowest for China since 1990. With clouds of the U.S.–China trade dispute still hovering, and now the impact of the coronavirus, many expect the growth to slow down to 4.5% in the first quarter of 2020. Others expect the growth to be below 5.6%, which will have implications for Chinese Communist Party's 'centenary goals'.
The current outbreak of coronavirus dwarfs the 2003 SARS outbreak. Apart from wiping out an estimated 1% or more from China's growth rate, the virus had killed about 800 people. Since the SARS outbreak, not only Chinese economy has grown bigger but is also more integrated with the world economy. At that time China's GDP was USD 1.6 trillion as compared to now when it is USD 13.6 trillion. Coronavirus is bound to affect foreign investment too, as there will be weariness and caution among the investors as they actively look out for alternatives to avoid commercial and other risks.
Among the other sector to be impacted is the Chinese defence industrial base as companies such as Jiangnan Shipyard in Shanghai, Wuchang Shipbuilders and PLA Naval University of Engineering in Wuhan and Shenyang Aircraft Corp. in Liaoning have temporarily shut down their operations. These units are in charge of critical weapons platforms for the PLA such as aircraft carriers, submarine, and fighter jets which will adversely affect the PLA's modernisation plans. China has utilised the PLA troops in its fight against the coronavirus in logistics, medical supplies and medical facilities. However the outbreak of virus has also meant that the PLA recruitment schedule starting from March 2020 has been rescheduled.
Interestingly, coronavirus has also given rise to anti-China sentiments in many countries worldwide. In late-January, a French newspaper Courier Picard' s front page published a headline "Yellow Alert" next to an image of a Chinese woman wearing a face mask. Countries with substantial Chinese immigrant population too are reporting multiple anti-China activities. In Pakistan, for instance, where thousands of Chinese engineers and other workers remain stationed for the China-Pakistan Economic Corridor project, locals are demanding screening of the Chinese workers. A makeshift hospital is being set up in Karachi to quarantine those returning from China before being allowed to go to Thar coal block plant. There are about 700 Chinese engineers/employees at the plant. In Central Asia's Kazakhstan, locals in Zaisan district in east Kazakhstan region bordering China protested on February 19, against housing coronavirus infected patients from China. The protestors reportedly ransacked one of the local hospitals earmarked for Chinese patients.
Clearly as the virus spreads more and pressure mounts on Beijing to take additional measures, such kind of incident will be even more frequent. Chinese officials are scrambling to contain the fallout. Ou Xiaoli of the National Development and Reform Commission, the state planning agency recently advised resumption of normal activities and end to transport bans in the regions deemed at low risk from the coronavirus outbreak. He added that China needed to take a more nuanced approach to controlling the epidemic to ensure the economic impact is minimised.
Given Beijing's earlier attempts to cover up the spread of coronavirus, there is inherent distrust of information disseminated by it. So as the epidemic spreads, there will be greater pressure on the Chinese authorities to demonstrate transparency, regarding all factors relating to the virus. Additionally, China will need to inject substantial financial incentives into the economy to balance against commercial and optical risk so as to maintain its regional and global standing.