Advertisement

Advantage President Donald Trump as the US and the Taliban have signed an agreement in Doha to end the 18 years conflict which claimed the life of 2400 US soldiers. The US invaded the country weeks after the September 2001 attacks by the Afghanistan-based al-Qaeda group. More than 12,000 US troops are still stationed in the country. President Trump has promised to put an end to the conflict …. reports Asian Lite News #Taliban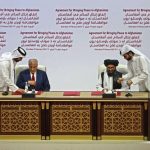 The US and its Nato allies have agreed to withdraw all their troops from the country within 14 months if the militants uphold the deal, BBC reported.
US Secretary of State Mike Pompeo, Taliban leaders and envoys from 27 countries attended the signing ceremony in Doha in Qatar.
Under the agreement signed in Doha, the militants also agreed not to allow al-Qaeda or any other extremist group to operate in the areas they control.
Since 2011, Qatar has hosted Taliban leaders who have moved there to discuss peace in Afghanistan. It has been a chequered process. A Taliban office was opened in 2013, and closed the same year amid rows over flags. Other attempts at talks stalled.
In December 2018, the militants announced they would meet US officials to try to find a "roadmap to peace". But the hard-line Islamist group continued to refuse to hold official talks with the Afghan government, whom they dismissed as American "puppets".
Following nine rounds of US-Taliban talks in Qatar, the two sides seemed close to an agreement.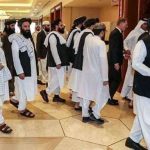 Washington's top negotiator Zalmay Khalilzad announced last September that the US would withdraw 5,400 troops from Afghanistan within 20 weeks as part of a deal agreed "in principle" with Taliban militants.
Days later, Mr Trump said the talks were "dead", after the group killed a US soldier. But within weeks the two sides resumed discussions behind the scenes.
A week ago the Taliban agreed to a "reduction of violence" – although Afghan officials say at least 22 soldiers and 14 civilians have been killed in Taliban attacks over that period.
US Special Representative, Zalmay Khalilzad and Taliban deputy leader Mullah Abdul Ghani Baradar signed Afghan Peace Deal in Doha, Qatar. pic.twitter.com/Ds0mmCOpvB#Taliban

— Shakir lemar (@Shakirlemar) February 29, 2020