Advertisement

The protesters who were chanting anti-Pakistan slogans advocated giving a well-measured response if the Pakistani forces resort to a similar action in the future … reports Asian Lite News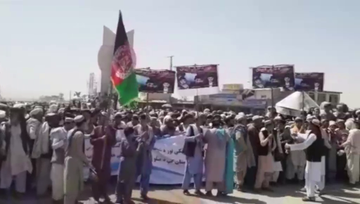 Hundreds of Afghans staged a protest in Spin Boldak district to condemn last week's deadly incident at Chaman crossing between Afghanistan and Pakistan. On July 31, at least nine civilians were killed and 50 others were wounded in Pakistani forces artillery attacks on "residential areas" in Spin Boldak district, Kandahar province, the Afghan Defense Ministry said at the time.
The protesters who were chanting anti-Pakistan slogans advocated giving a well-measured response if the Pakistani forces resort to a similar action in the future.
The Afghan Ministry of Foreign Affairs in a statement rejected Pakistan's claim that it was attacked from Afghan soil across the Durand Line last week and said Afghans are the victims of terrorism and will never allow any terror group to stage attacks from its soil.
According to the Ministry of Foreign Affairs, a meeting was also held between Afghan and Pakistani officials on Thursday to help prevent such incidents in the future.