Advertisement

Over 43 percent of the Afghan opiates are trafficked through Pakistan, which is distributed in India through Punjab and Nepal. Drug trafficking and terrorism look to be two different forms of global crimes but there is symbiotic relationship between them. They generally exist in combination as drug trafficking help raise money to carry out expensive terror activities …. A special report by Ram Kumar Prasad
The Financial Action Task Force puts Pakistan in the grey list for their failure to stem terror financing and money laundering. Drug trafficking and terrorism look to be two different forms of global crimes but there is symbiotic relationship between them. They generally exist in combination as drug trafficking help raise money to carry out expensive terror activities. And Pakistan is a classic example of the deadly nexus. Pakistan acts as a major hub for distribution of drugs— cannabis and heroin— and a major player in a $68 billion global opiates industry, according to various watchdogs including United Nations Office on Drugs and Crime (UNODC). Over 43 percent of the Afghan opiates are trafficked through Pakistan, which is distributed in India through Punjab and Nepal.
India is the major victim of the drugs industry brewing in Pakistan, which has used it as a weapon of proxy war to avenge the defeat in the then East Pakistan (now Bangladesh) in 1971. Punjab state, with which India shares the border with Pakistan, has been used as a major transit route in the drug smuggling trade. According to a government study, around 900,000 Indian men in the 15-35 age group take drugs, with heroin is the most preferred.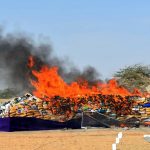 In fact, mafia and terrorists receive $70 billion from narcotics in Afghanistan, of which $2 billion of which goes to the Taliban in Pakistan. A Pakistani narco-terrorist Imam, who was believed to be a major player in the global heroin supply chain, was designated an international narcotics kingpin by then US President Barak Obama in 2008. In 2017, another Pakistani named Muhammad Asif Hafeez was arrested by Britain's National Crime Agency (NCA) and US Drug Enforcement Administration (DEA) in 2017 in connection with the drug procurement of ephedrine.
According to the United Nations' estimates, the number of the drug users across the world is between 200- 300 million, through which the illicit drug industry generates the revenue of about US$ 300- 500 billion annually. While Pakistani authorities including all-powerful Army have turned a blind eye to the nexus between drug operations and global terrorism, the nation's Anti-Narcotics Force announced a week ago about seizure of 5,965 kilograms of drugs worth Rs. 41.198 billion in 30 cases. According to some studies, about 300,000 people are killed due to illegal drugs annually. In Pakistan, average 700 people die every day. At least six news reporters were killed by drugs mafias in Pakistan in 2018. They wrote about the drug lords despite getting frequent death threats, which were conveniently ignored by police agencies.
As per the UNODC, Pakistan was the seventh largest country in the world when it comes to origin, departure and transit of cannabis resin during 2013- 2017. The drug peddlers in Pakistan have been misusing the licit trade agreements for opiate trafficking as there has been an increase in heroin trafficking from dry ports and seaports in Pakistan across the globe.
Iran is another victim of the Pakistan's involvement in the movement of illicit drugs.  "In 2017, about 90 percent of cannabis resin entered the Islamic Republic of Iran via Pakistan and only 10 percent came directly from Afghanistan. Most (60 per cent) of the cannabis resin was trafficked by land and 39 percent was shipped by sea, mainly on boats that had begun their journey in Pakistan," reads the UNODC's World Drug Report 2019.